The Astropad team is packed with differing personalities, complementary skill-sets, and a wide array of interests. One common bond we all share is that we're all obsessed with our pets. While working remotely can be isolating, having furry friends around can really improve your mood. Take a look behind the scenes as we introduce you to the pets of Astropad.
Inspired by Pets
You may have noticed that our two product logos, for Astropad and Luna, feature a dog and a cat. That's no coincidence. From the start, our Co-founders have bonded over a love of pets and instinctively chose to use them as the mascots for our company.
Happy Pets, Happy Life
Being surrounded by pets has its benefits. Research has found that working in an office setting, or at home, with pets can reduce stress and boost productivity. This Business Insider article shares insights from a study that found that petting a dog while working can reduce stress, promote relaxation, and increase happiness.
Productivity is what our team builds products around. Could the secret to having a more efficient workflow be a combination of having the right tools and having pets nearby? We think so.
Although we like to work behind the scenes, when it comes to our pets at home, we tend to overshare.
Party Animals
Software Engineer and pet connoisseur, Jeremy, has three cats and one dog. During team video calls, we're often treated to appearances by Van Gogh, Rylie, Hemingway, and Qwerty. Sometimes there are even bonus pets that are visiting and pop into our weekly meetings.
Frida, our Marketing Director Savannah's cat, likes to make her mark during team calls. A showboat by nature, Frida likes to somersault off of tables, jump up on the desk, and very occasionally barf on a nearby rug. Her favorite spot to hang out is on the patio, filled with plants and sunshine.
Silent Partners
Corwin, also on the Engineering team, has a dog named Islay (pronounced "Eye-la"). As the perfect home office companion, she used to bug him for attention in her earlier years, but she's now content to snooze next to him while he works on his Rust code.
Islay is also an expert in detecting when a package will arrive. She grumbles and moans when she can hear a delivery truck coming – usually a good 30 seconds before anyone else in the house can hear it.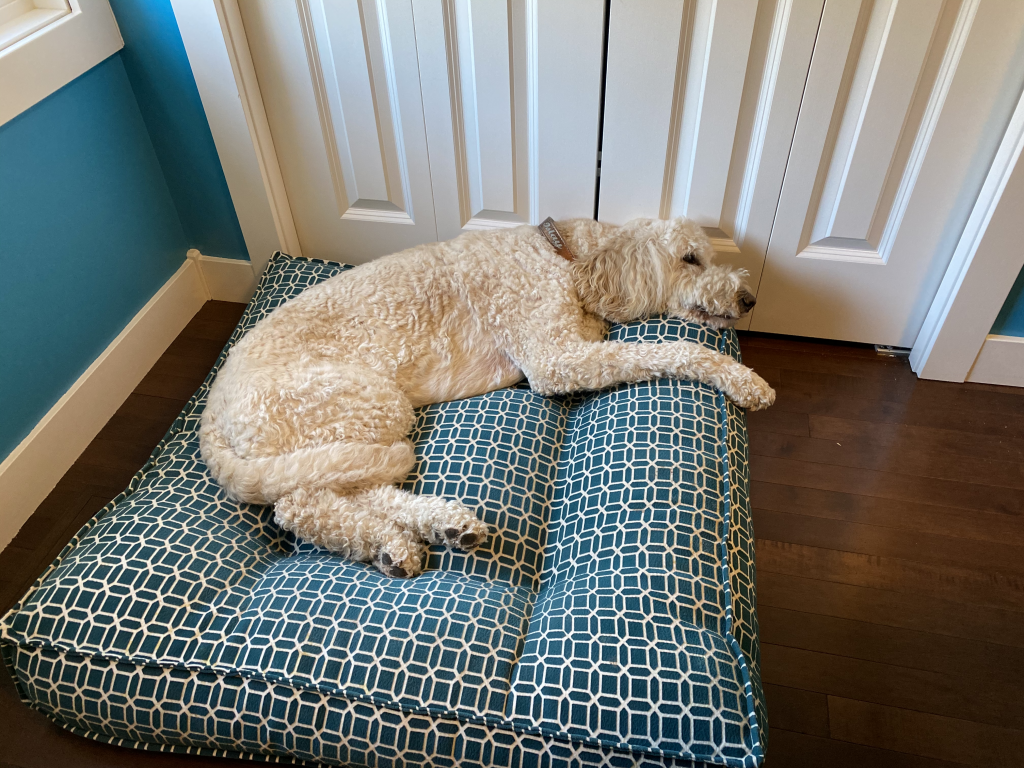 On the Support side, we have a handful of furry friends who help keep things running smoothly while answering emails and troubleshooting technical issues.
Rachel, the Technical Support Manager, is accompanied by her loyal Shepherd mix Stella. Most often, Stella naps silently in the background. Once in awhile, she has been known to jump up on Rachel during video calls to get a peek at who she's meeting with.
Support Team member Hoang has two beautiful cats. These two don't interrupt meetings much but we do get to see pics of his fluffy furbabies on our team's social Slack channel.
As for me, my pup Duck is my shadow. All-day long, she sleeps beside me and only checks in when it's time for a break. Her favorite ways to spend time away from the office are taking long walks around the neighborhood and closing out our break time with a treat.
Pets of Astroweek
Back in October, we hosted our biannual work retreat in Minneapolis which is where a handful of our team members are located. As a result, we got to spend some time with local pets! Our CEO Matt brought in his two pups, Bell and Bear, and our Firmware Engineer Jake brought in his playful Spaniel, Sally. Malyse, of our Q+A department, has also been known to bring in her adorable puffballs, Koko and Vivi.
On the last night of our retreat, we were treated to a team dinner at Theron's house. Theron, our Hardware Engineer, has a playful kitten named Jojo, and an other-worldly English Bulldog named Stout.
All in all, it's clear that being in the company of animals has positive outcomes. Many of us who work from home sometimes have a sense of isolation that only remote workers can relate to. We love what we do but it does come with its own set of obstacles. Pets will never replace actual coworkers but sharing funny cat pics and goofy dog videos can help us get to know one another more. And, squeezing in pet snuggles while on the clock isn't so bad either.
Share pics of your pets! We love seeing your furry friends with Astropad and Luna on social! Tag us on social using #Astropad and #LunaDisplay.