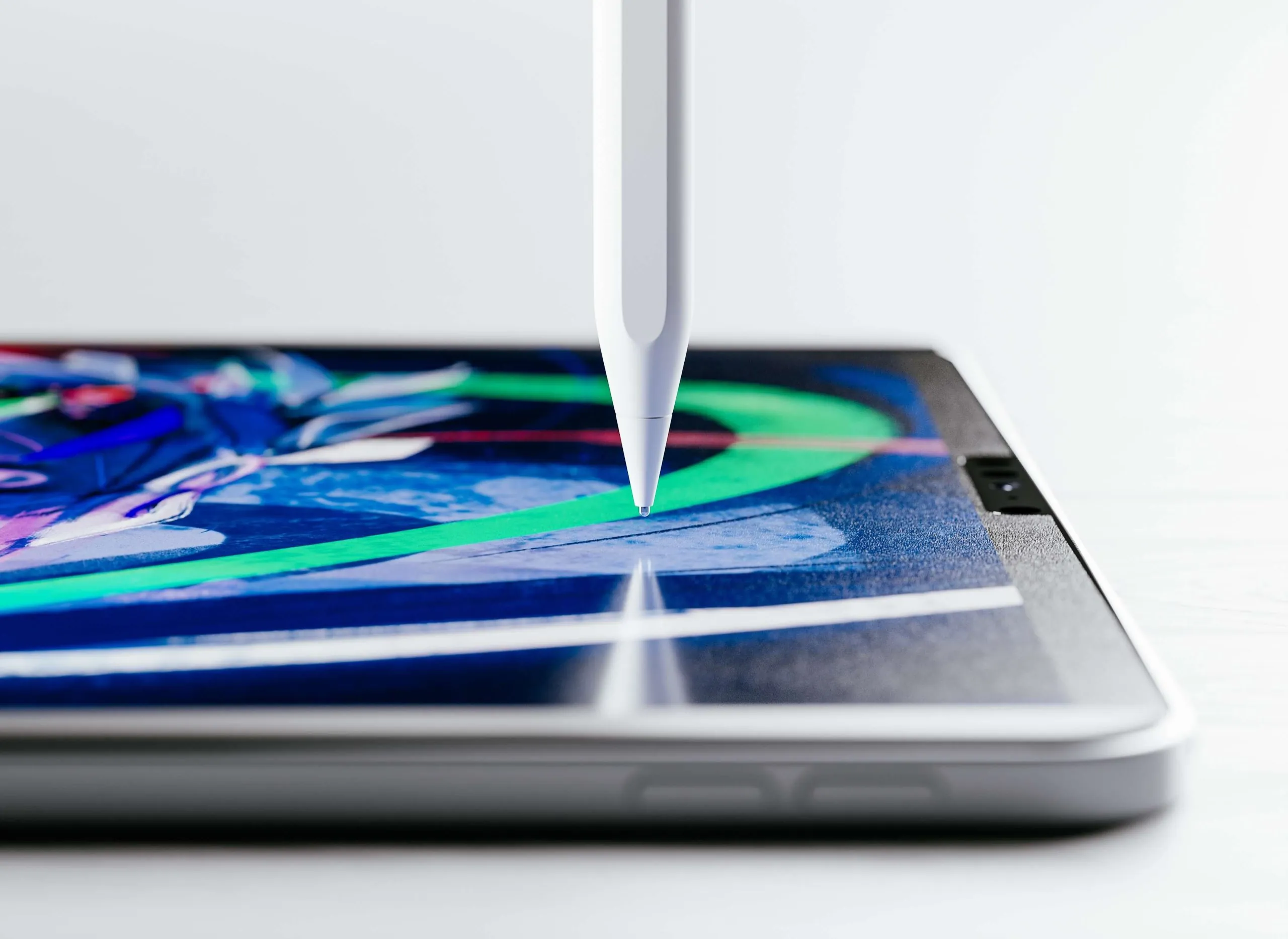 Rock Paper Pencil
iPad Screen Protector + Precision Apple Pencil Tip
Designed to work together for the most realistic pen-on-paper feeling.
shop now →
It takes two to tango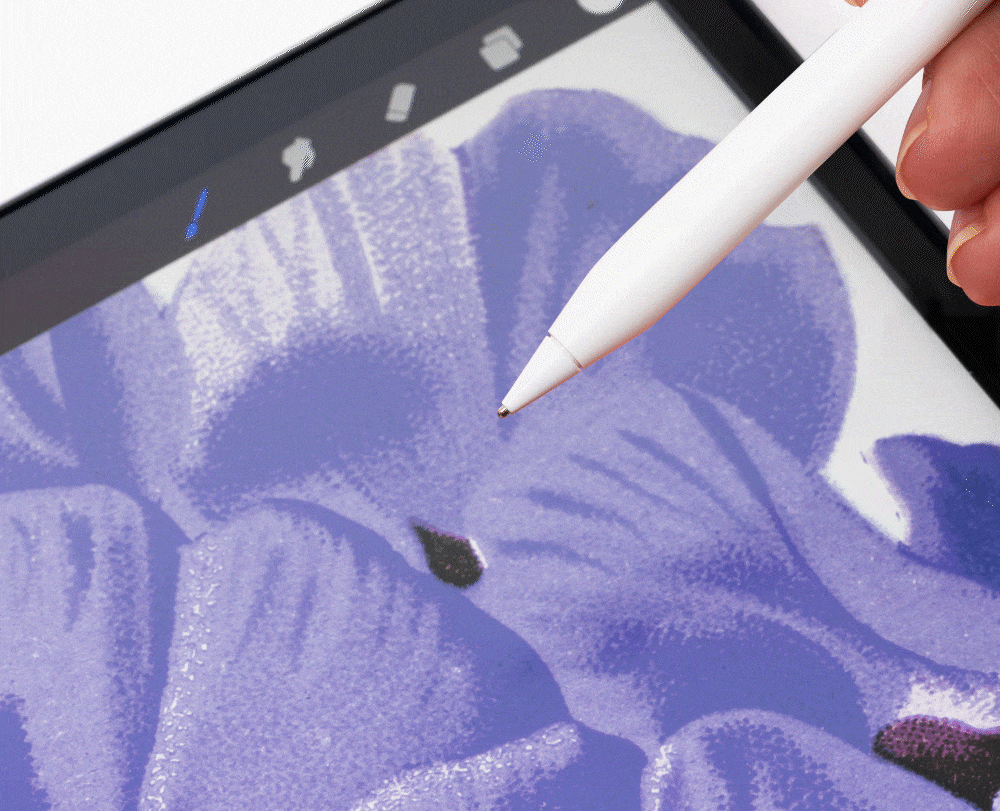 The only screen protector and Apple Pencil tip pairing for iPad
Unlike other products that only swap the Pencil tip or the screen texture, we've crafted unmatched realism by combining a custom Apple Pencil tip and a precisely engineered screen protector.
Together, they create the most realistic pen-on-paper feeling for iPad.
We start with a carefully engineered magnetic screen protector...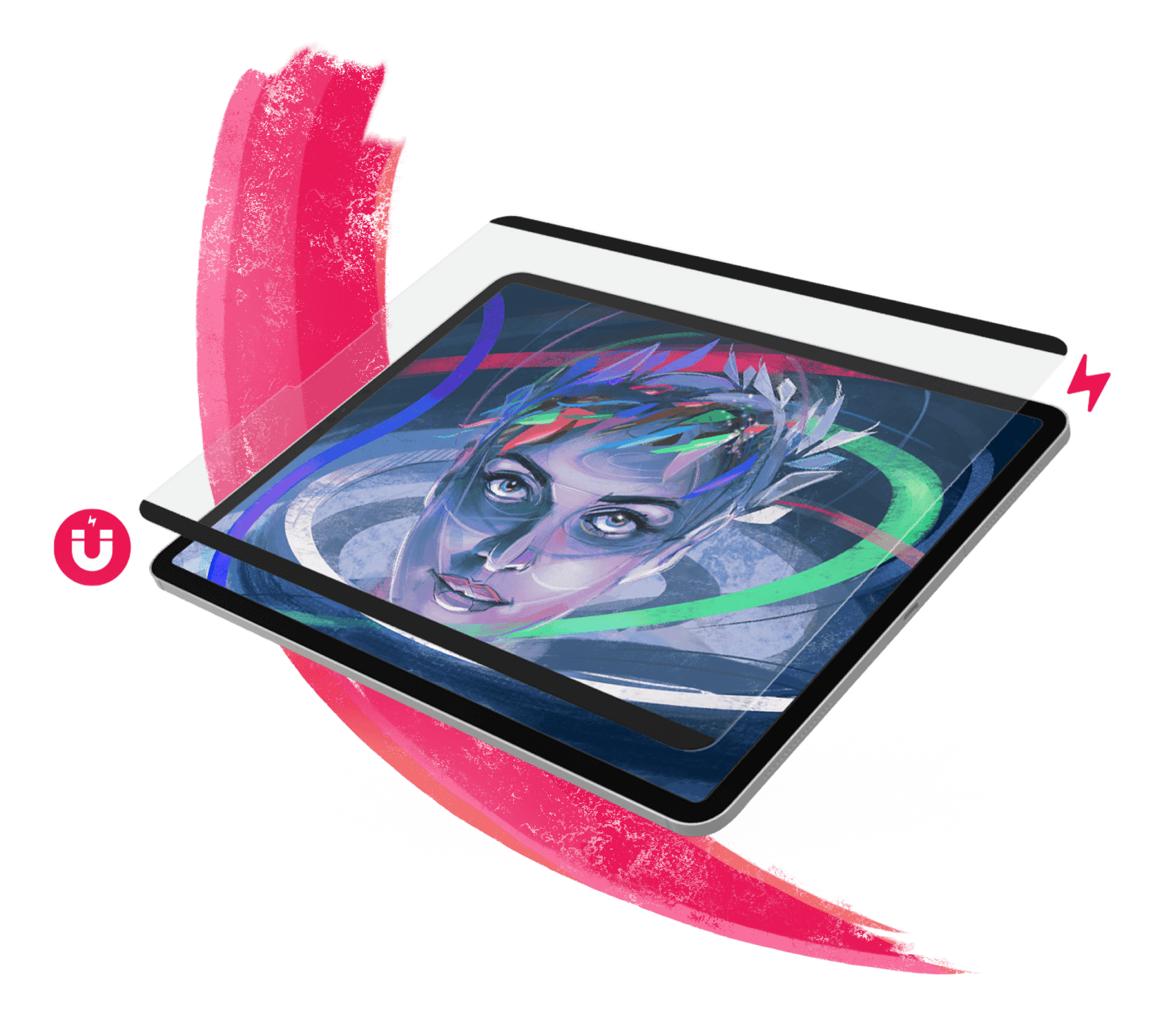 The same great texture of other paper-feel screen protectors (with MUCH easier installation).
✔️ Magnetic Application: With integrated magnetic edges, you can apply and remove your screen protector in seconds.
✔️ Matte Finish: Made with nano-texture technology to mimic the texture of paper and minimize glare.
✔️ Removable & Reusable: Enjoy the matte finish of your screen protector for some projects and the crystal-clear display of your iPad for others.
...Paired with fine-point, precision Apple Pencil Tips
A super-fine ballpoint tip for precision in every stroke.
✔️ Precise Control: Fine ballpoint tips allow for controlled and precise lines when drawing and writing
✔️ Wear Resistant: Your Pencil tip won't wear down, and neither will your screen protector!
✔️ Straight to the Point: Like your favorite smooth ballpoint pen on paper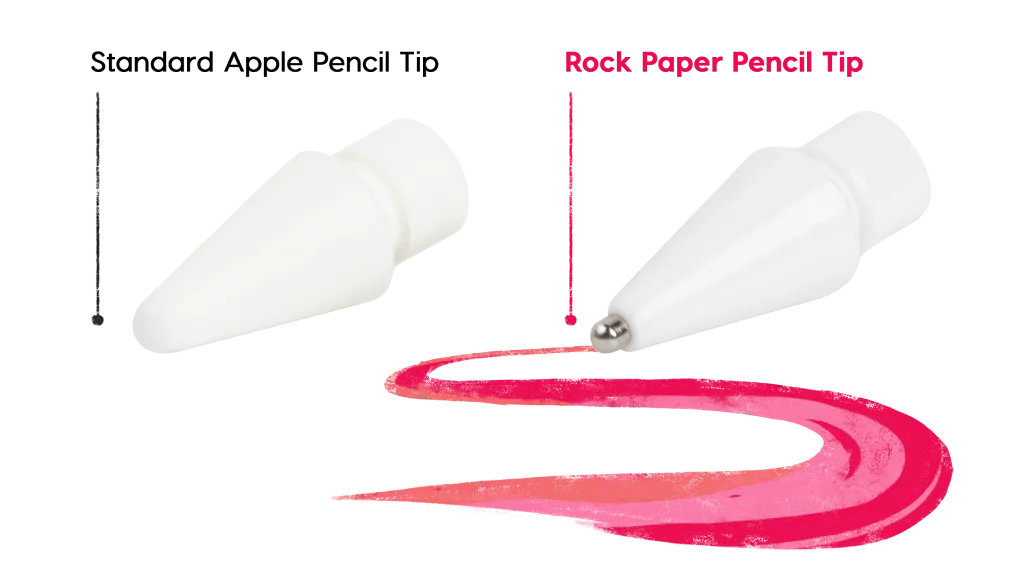 the result is incredible pen-on-paper realism
Draw and write on iPad like ballpoint pen on paper.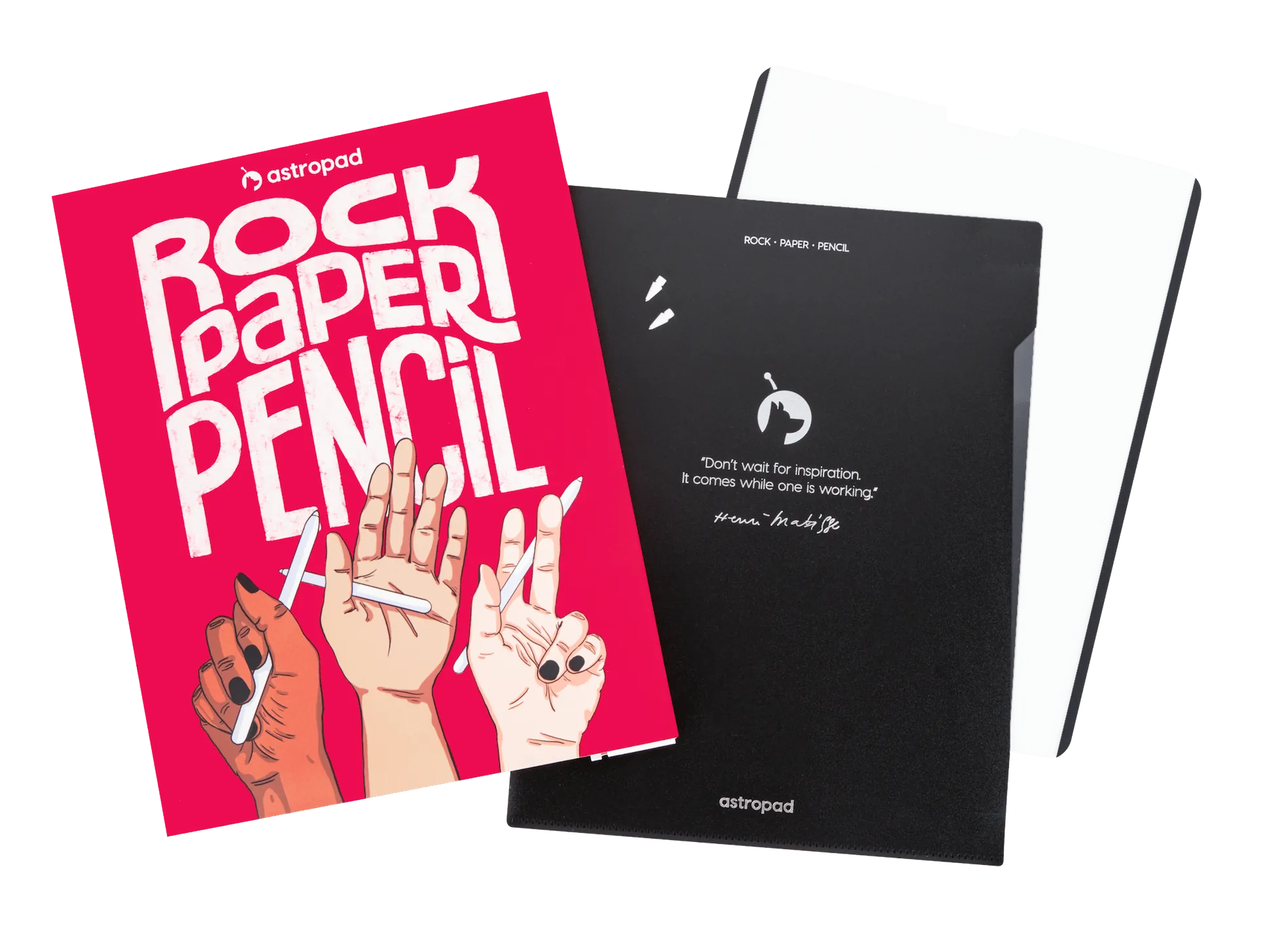 Rock Paper Pencil
$41.99
meticulously designed for artists and notetakers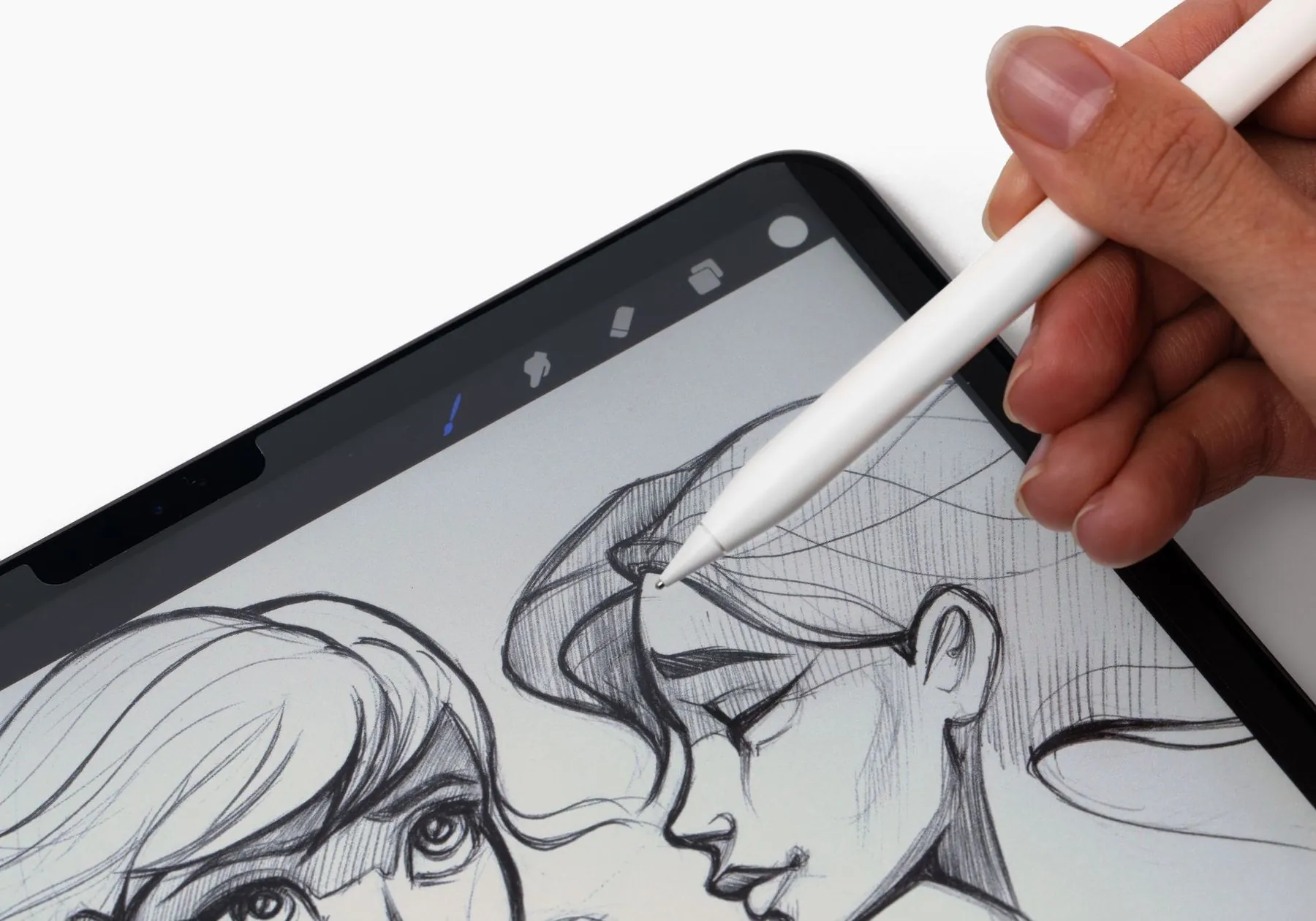 Sketch, Paint, Draw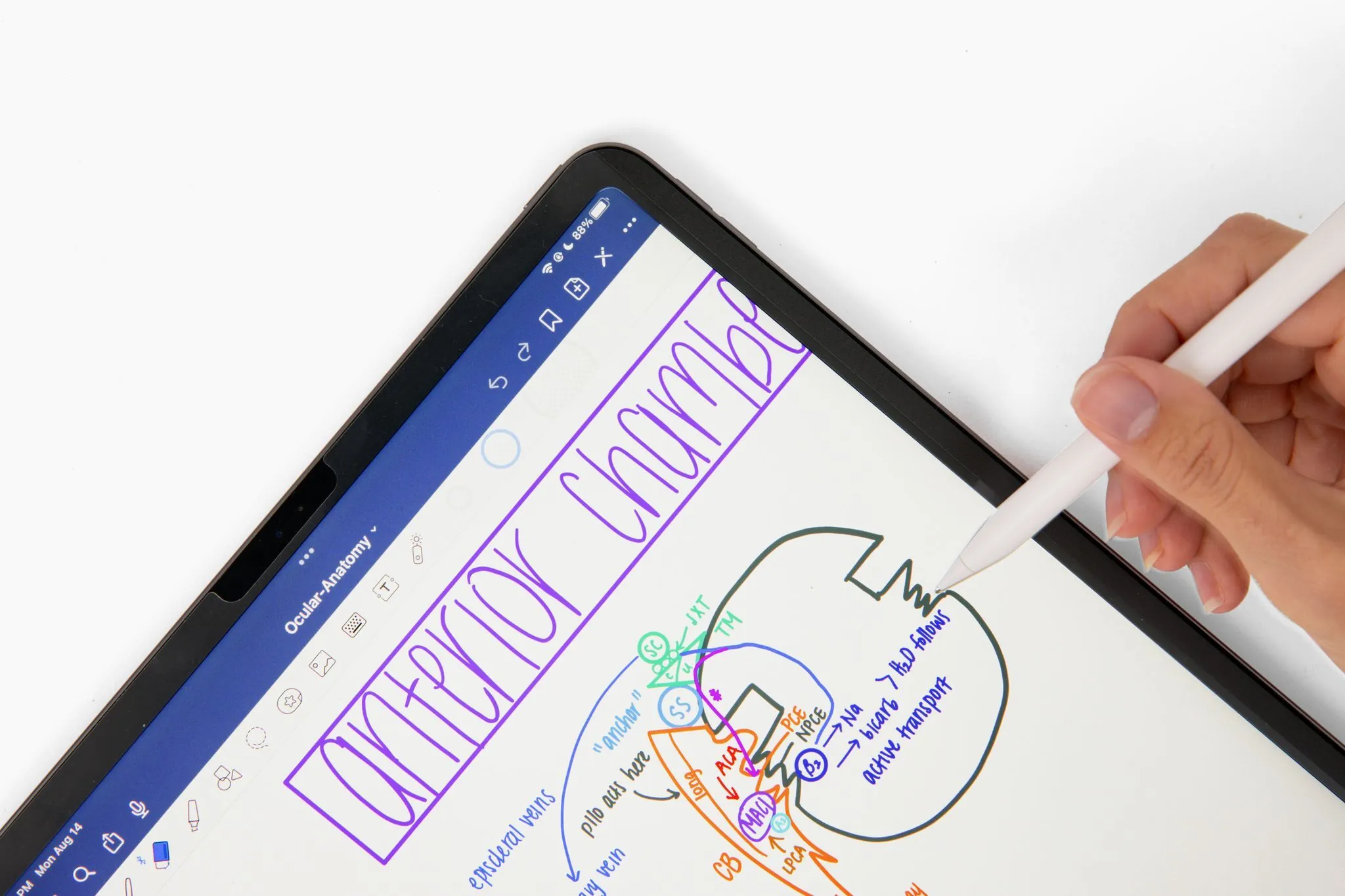 Write, Annotate, Notetake
Ditch the slip: On its own, the iPad's glass screen is a slippery surface that creates an inconsistent drag on your Apple Pencil.
Smoother, more precise strokes: Rock Paper Pencil adds subtle friction between your screen and Pencil tip, giving you more control with each stroke output.
We Think You'll Get Attached...
See how Rock Paper Pencil stacks up against popular alternatives: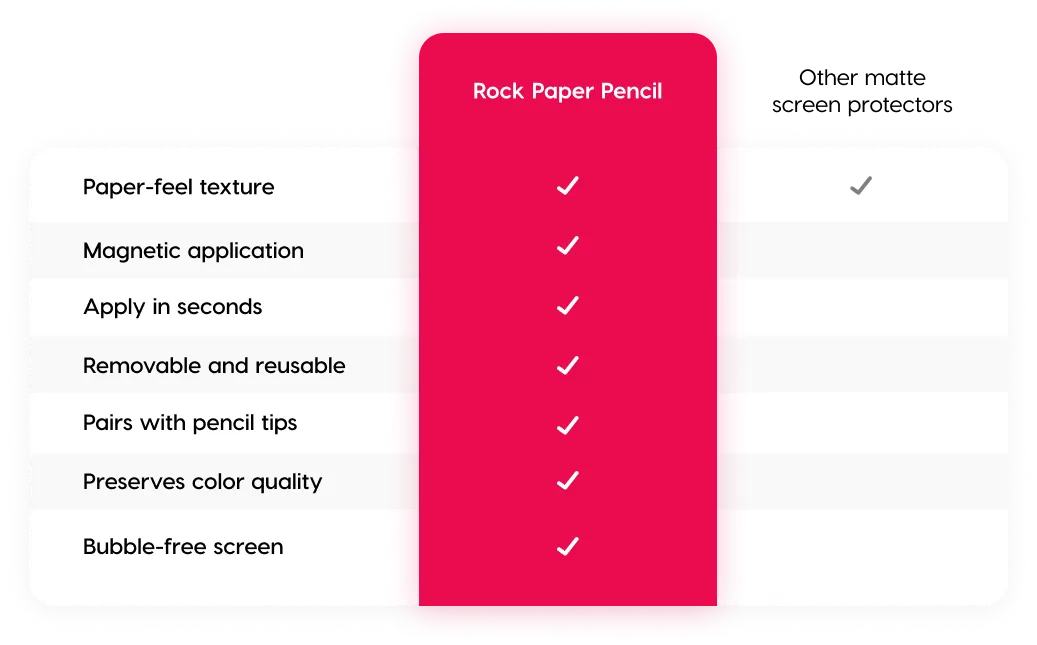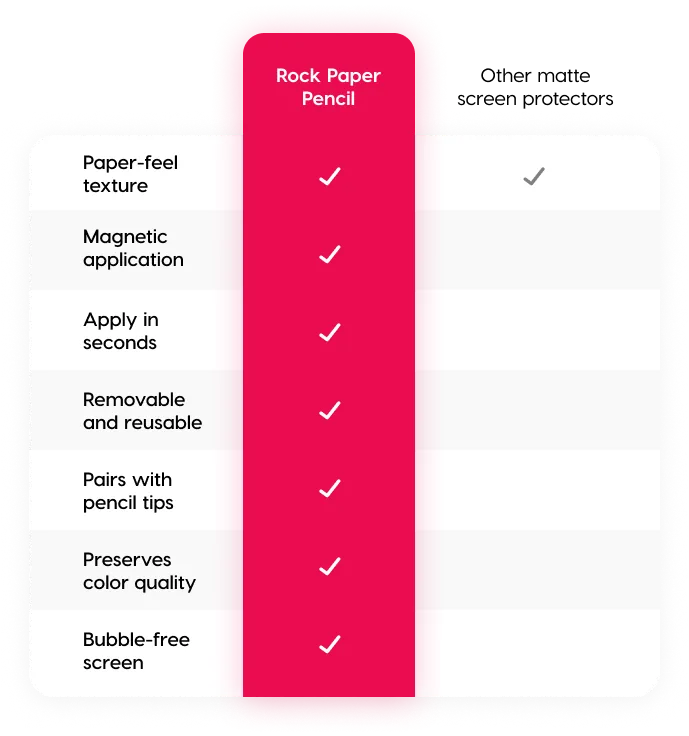 Put to the test against similar screen protectors, Rock Paper Pencil passes with flying colors.
While other screen protectors often dull your image display, our nano-texture screen protector preserves color quality by reducing glare and reflections, ensuring a clearer and more vibrant display.
The microscopic texture diffuses incoming light, minimizing distracting reflections and optimizing color accuracy, resulting in an immersive viewing experience with true-to-life colors.
Easy to install, remove, and reuse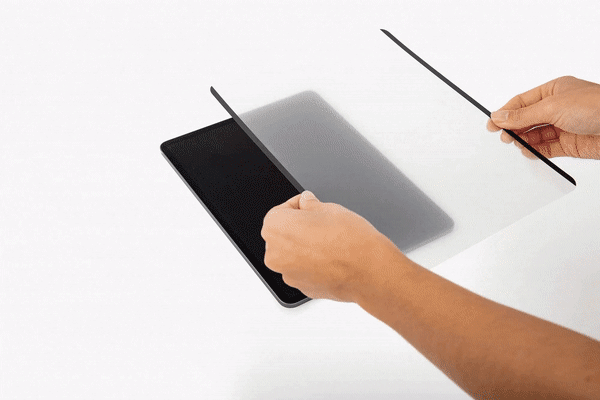 1. Apply Your Screen Protector
Snap your screen protector into place with integrated magnetic edges.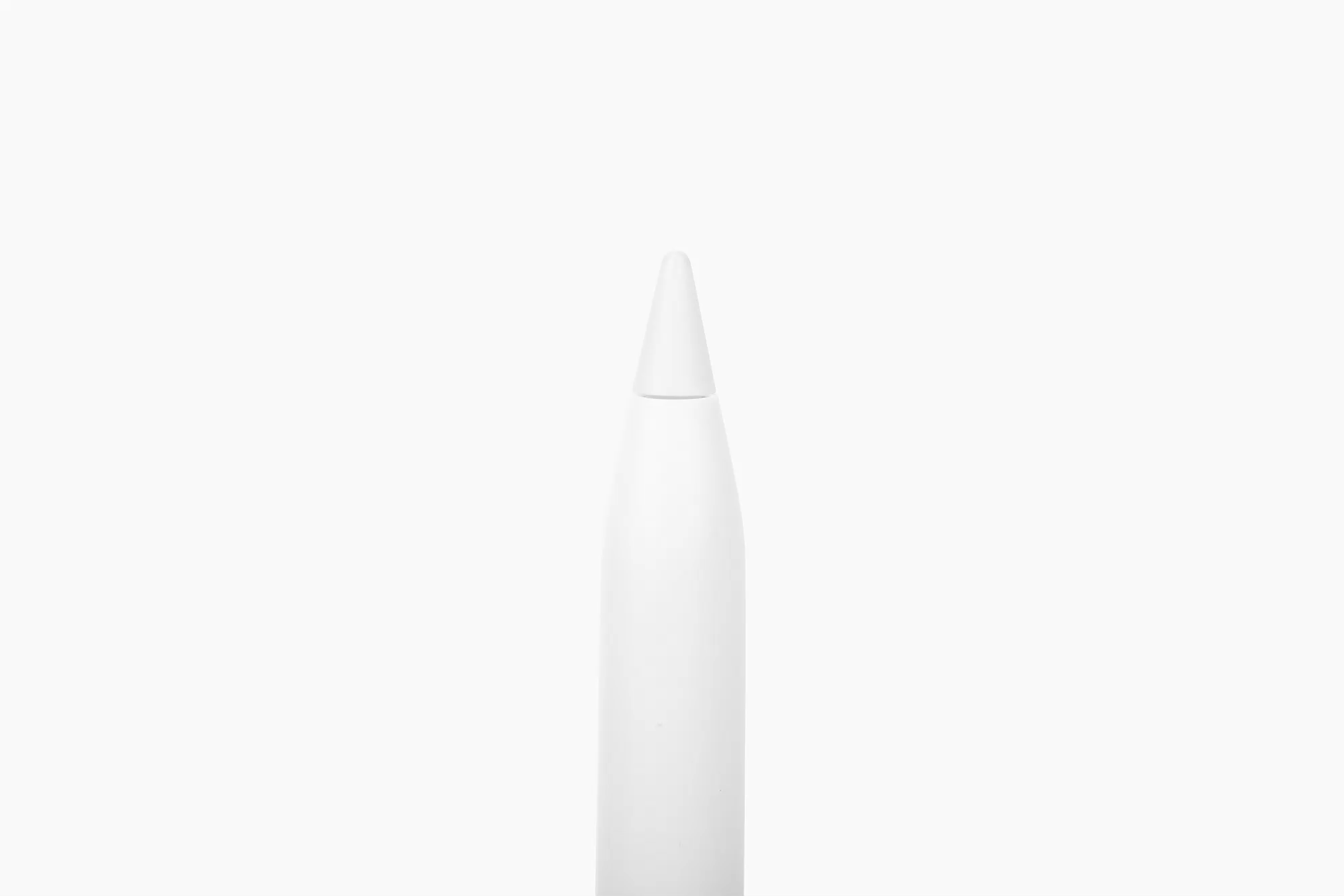 2. Replace Apple Pencil Tip
Unscrew your current Apple Pencil tip and easily replace with your new ballpoint tip.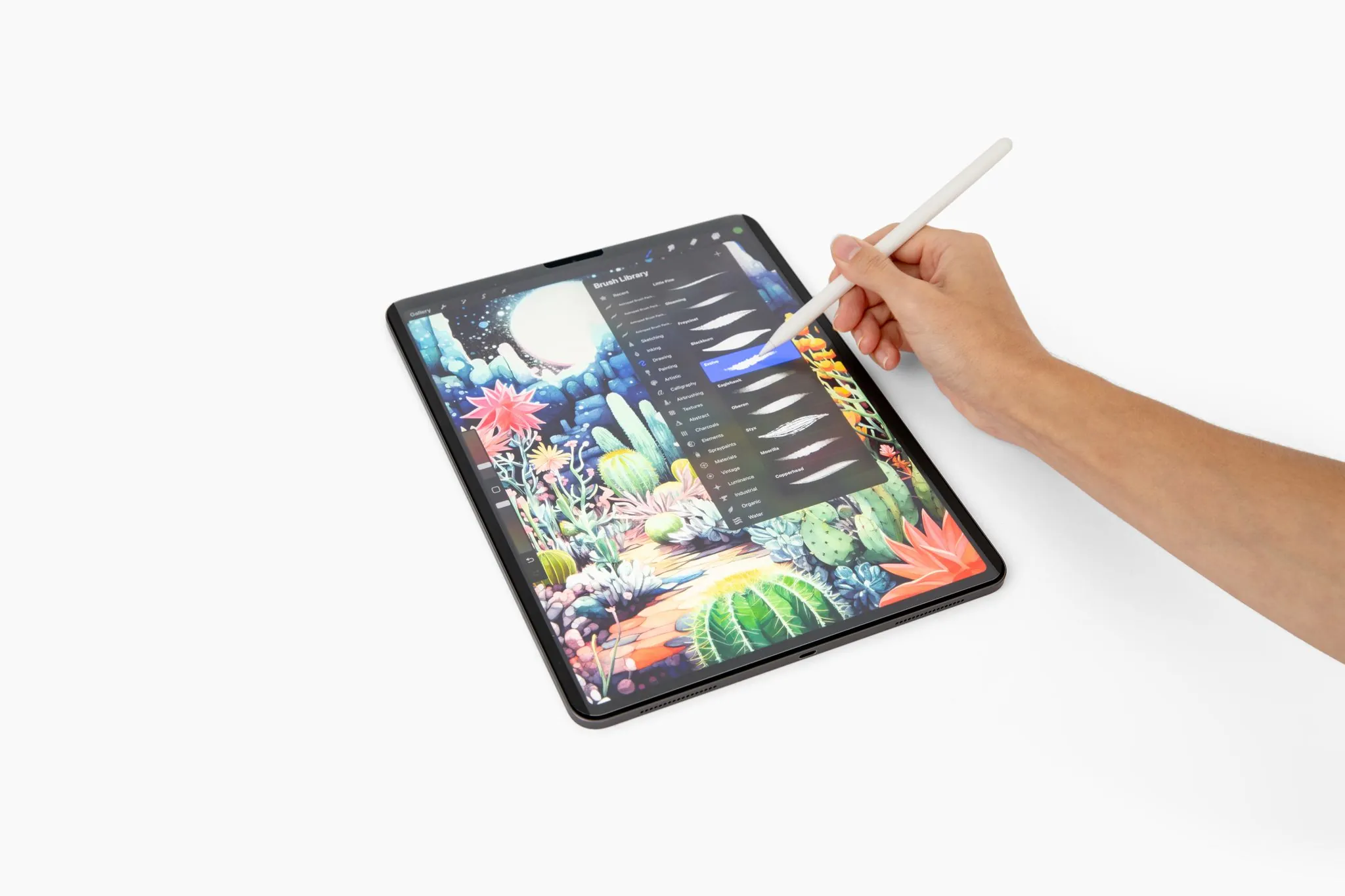 3. Start Creating!
Enjoy the pen on paper feel and get started drawing or writing.
digital art is in our dna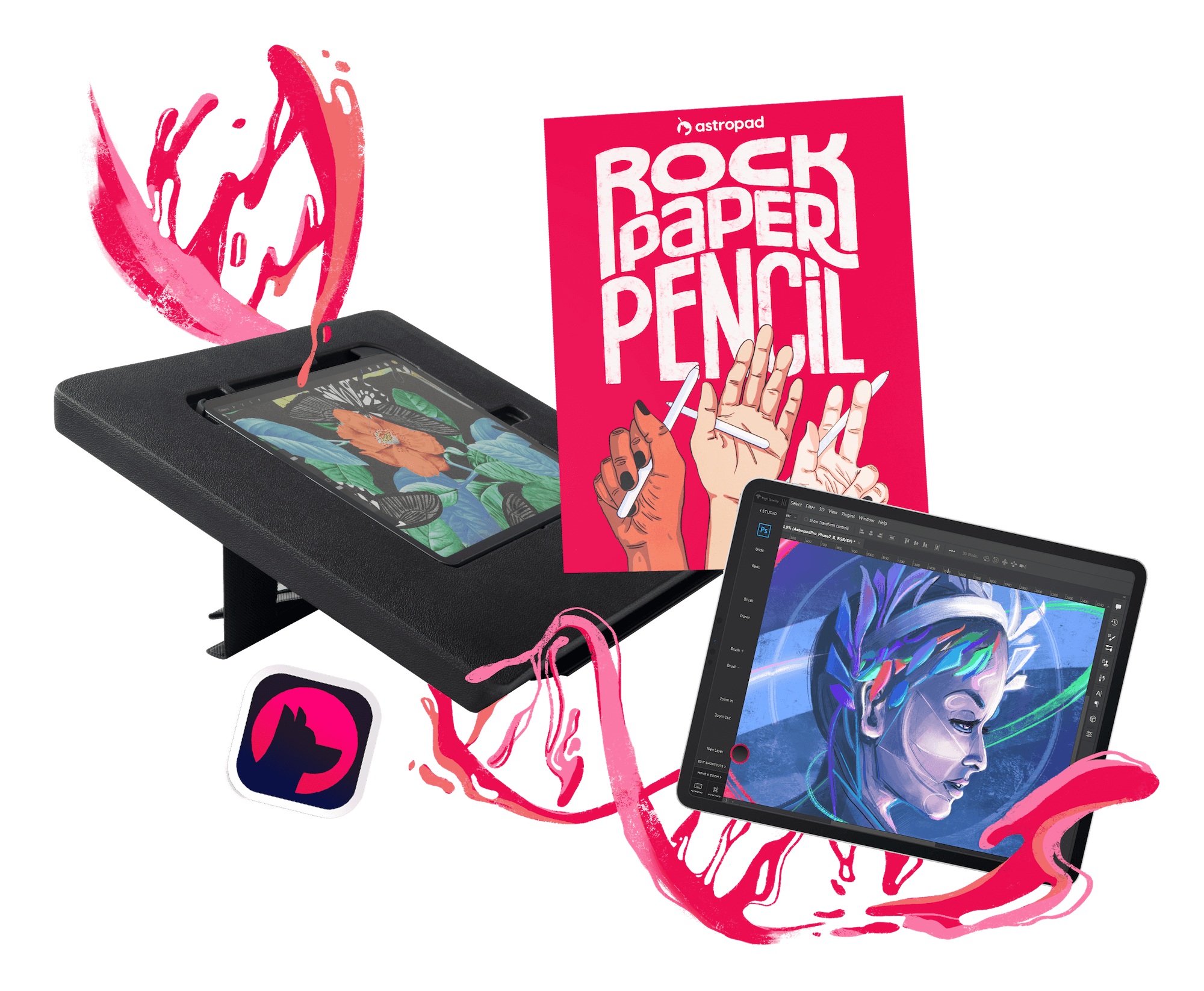 For 10 years, we've worked closely with hundreds of thousands of digital artists who use the iPad in their drawing workflows.
What we've learned? Precision is everything. We know that no two artists work alike — so the ability to precisely control every element of the drawing experience is key. That's why we built Rock Paper Pencil.
Rock Paper Pencil allows smoother, more precise Pencil strokes on the iPad.