Transform any
school-managed iPad into a drawing tablet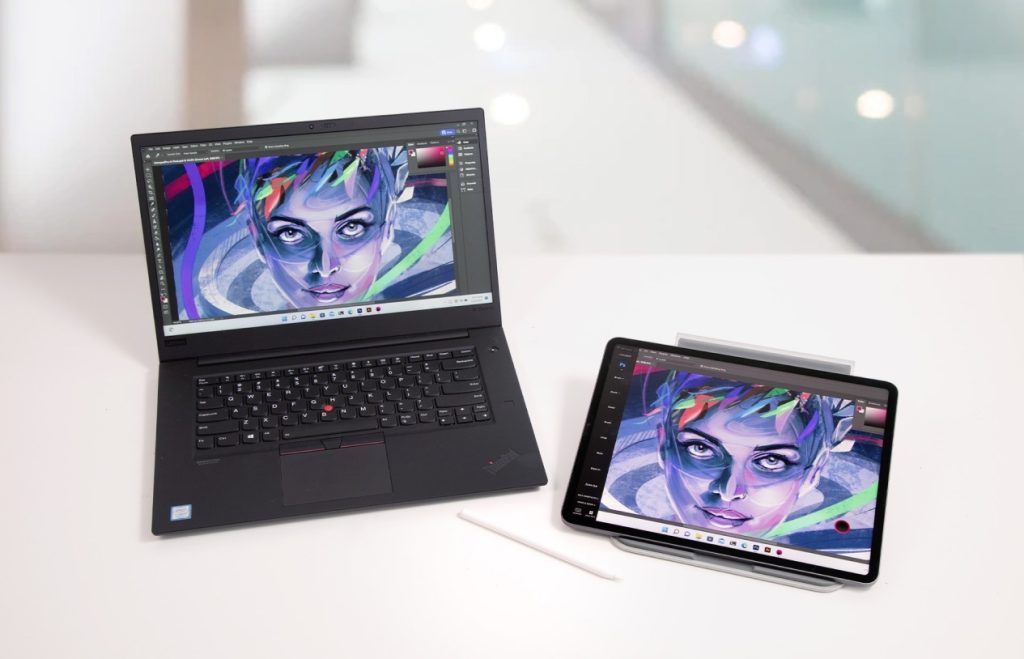 Lower the barrier to digital art using familiar and versatile technology that students already know how to use.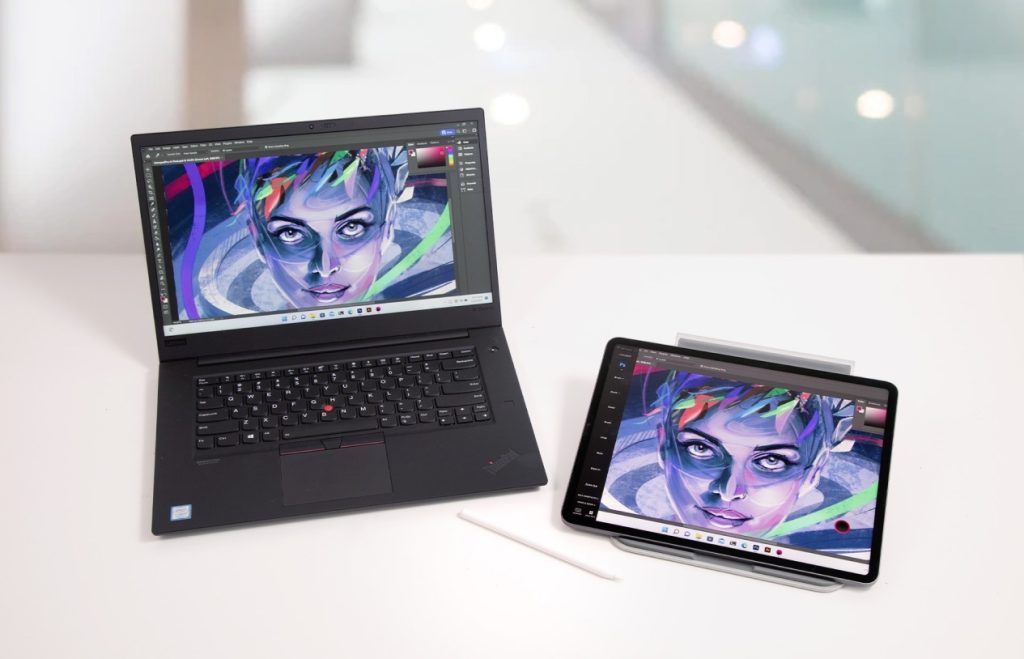 new tools. familiar devices.
iPads can be much more than a drawing tablet. Astropad Studio eliminates the need for dedicated hardware like Wacom tablets and lowers the barrier to the artistic process.
The result: faster learning and incredible results seen in classrooms and professional art studios around the world.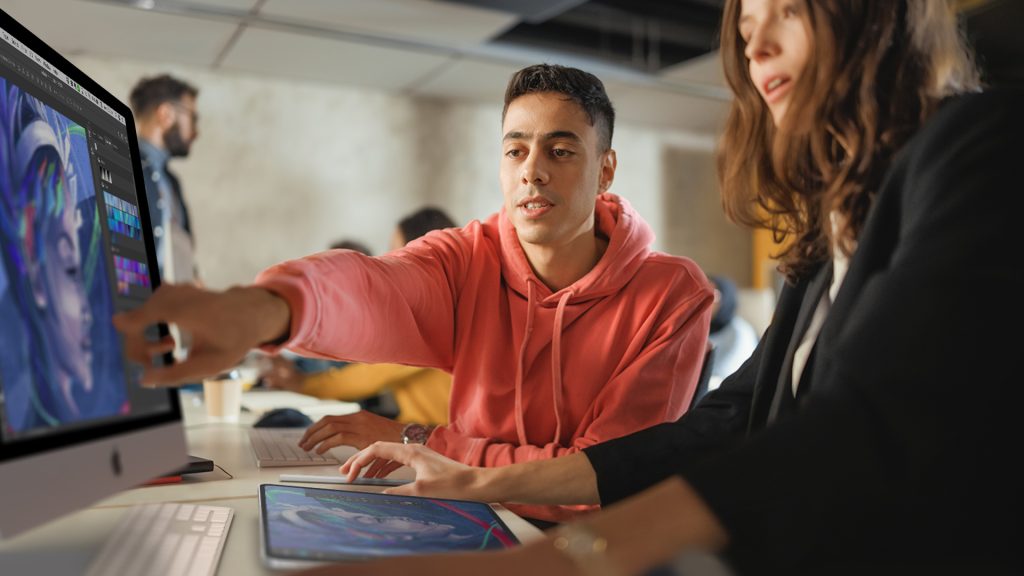 bring studio to your school.
Digital art has empowered the creative process for students, teachers, and professional creatives over the world.
Astropad Studio helps students use technology they already understand to interface with drawing apps in a way that goes far beyond a mouse and keyboard — for far less than the price (or inflexibility) of a dedicated drawing tablet.
Give your students a best-in-class creative experience. Let us show you how.
in the classroom with ringling college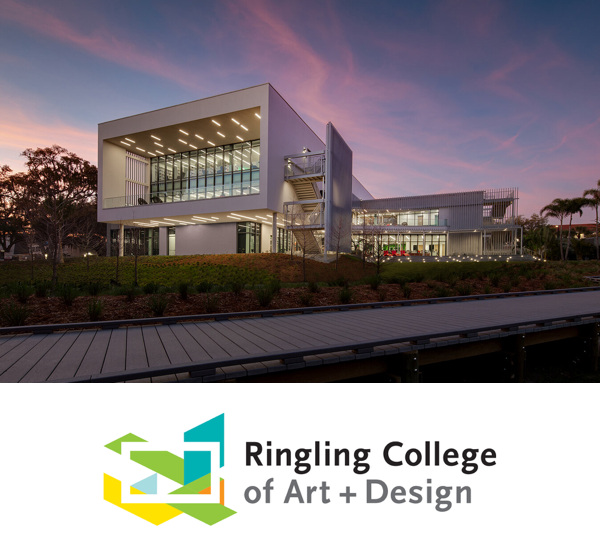 Ringling was once Wacom's largest customer in North America.
But in the 2022-2023 school year, instead of buying Wacom tablets for their incoming freshman class, Ringling set up all 500 freshman with iPad Pros and Astropad Studio.
Astropad Studio was used in any class that required digital art in the freshman curriculum:
Drawing 1 and 2
2D and 3D Design
Figure Drawing
The result? The new setup was popular amongst both students and instructors, and Ringling renewed their licenses for the 2023-2024 academic year.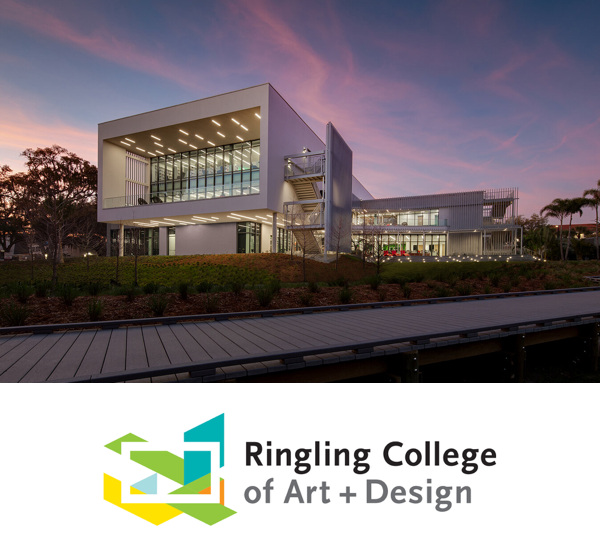 personalized technology for every artist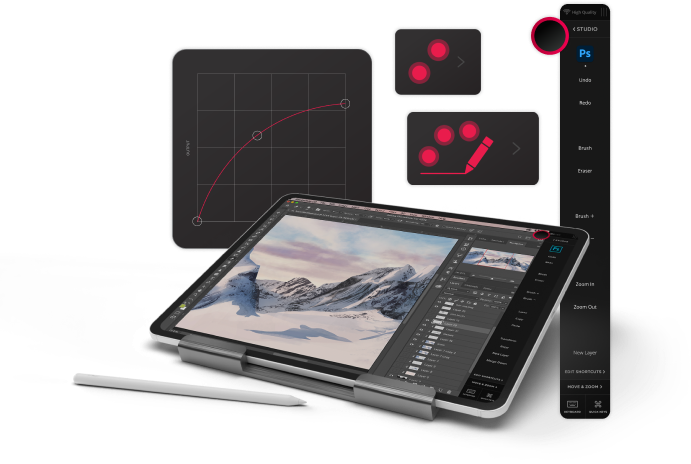 Creativity is a personal journey, and no two artists are alike.  
Astropad Studio gives students the tools to make art their way by customizing their experience from top to bottom.  Adjust pressure sensitivity.  Tweak how the app interprets every stroke.  Create a custom workspace based on your favorite drawing app.
It's all possible with Astropad Studio and iPad.
Astropad Studio versus Duet Display →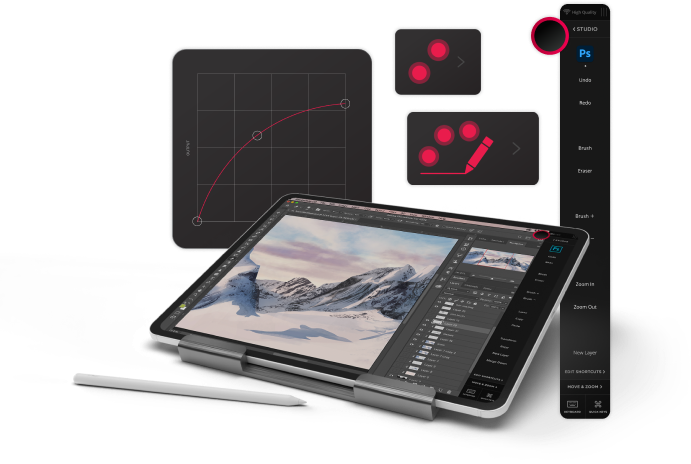 learn using devices you already know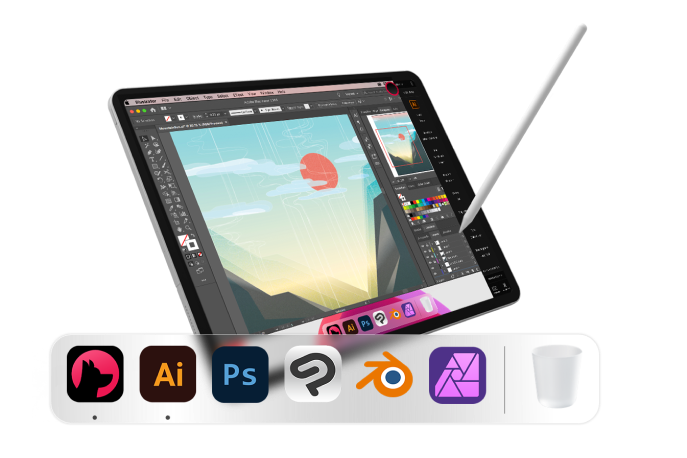 For many students, dedicated drawing tablets are new and confusing — especially when they need to learn brand new software at the same time.
iPads are familiar and easy to understand.
Give students the opportunity to excel with tools that they already know how to use, and lower the barrier to the learning process.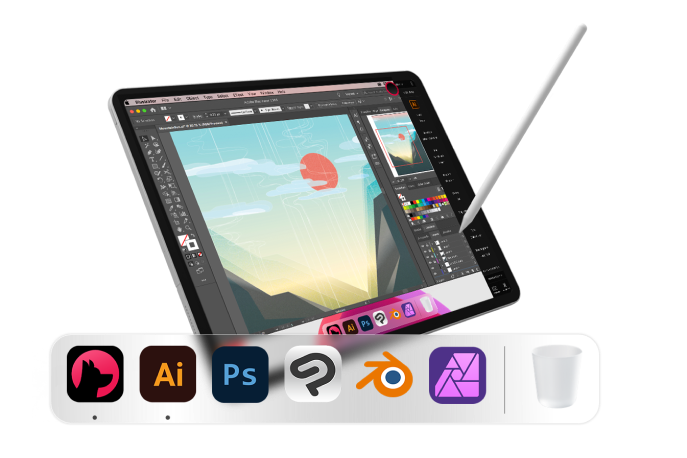 lower overhead and fewer managed devices
By using Astropad Studio, you can eliminate the need for graphics tablets and other drawing input devices. That's fewer devices to manage, update, and replace.
Plus, thanks to robust mobile device management platforms from Apple, Adobe, and other leading brands, it's easier than ever to push updates and manage school-owned devices.
Keep costs low and device management simplified by eliminating excess hardware from your maintenance roster.
See how Astropad Studio compares to Wacom tablets →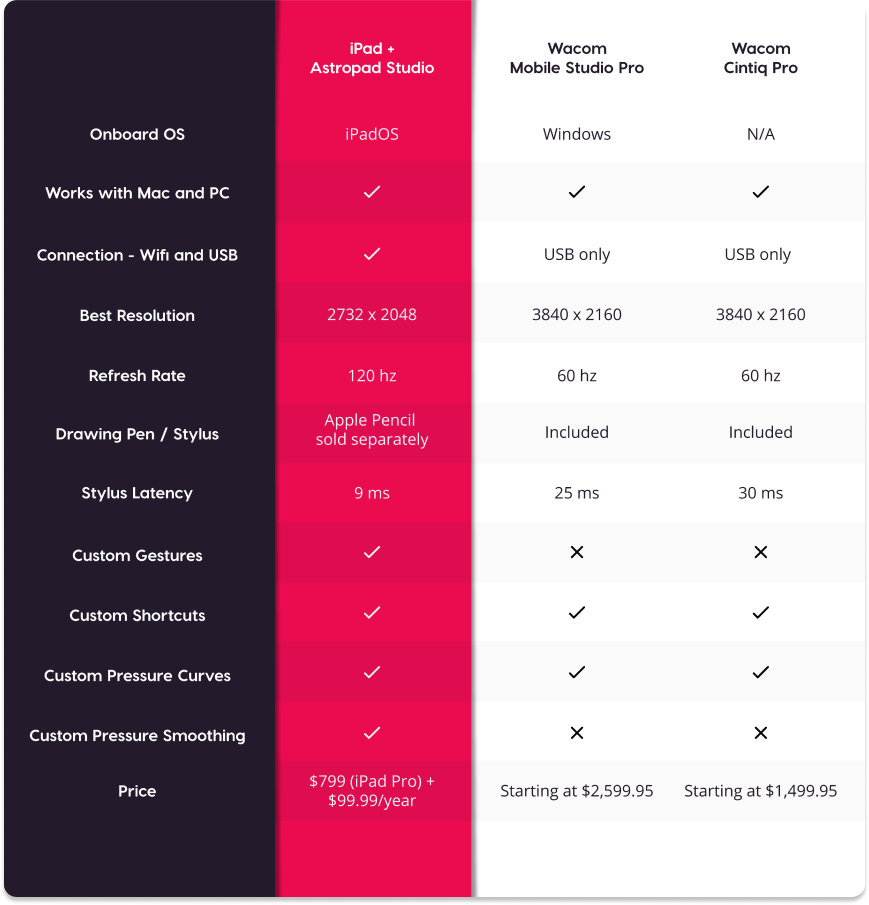 *Astropad Studio pricing: Astropad offers discounts for education based on volume and term.
in the studio with
lucasfilm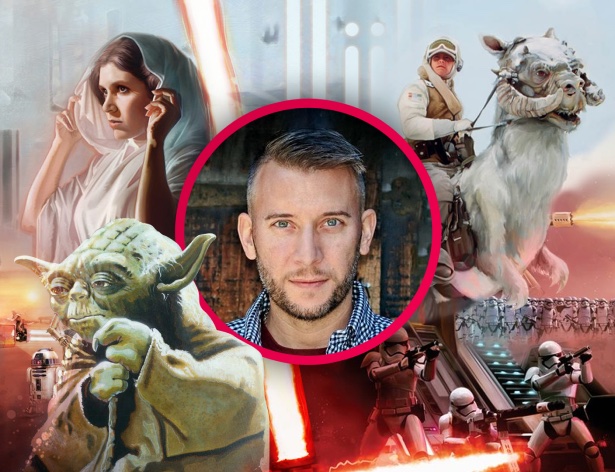 Star Wars Lucasfilm illustrator Brian Rood uses Astropad Studio every day in his workflow:
"Astropad Studio merges the power of your main computer with the intuitiveness of the iPad Pro and Apple Pencil. It's a perfect marriage — a lightweight, comfortable, and powerful graphics tablet."
Read about Brian Rood's workflow →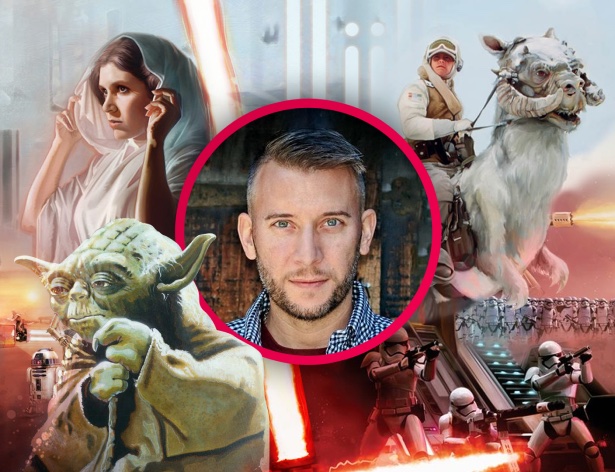 frequently asked questions
Are my licenses tied to the school or to the students?
Licensing is available on an individual or media lab basis.
Individual licenses are best when students have an assigned iPad and desktop. Media lab licensing is best when desktops and iPads are used interchangeably in a lab environment.
Astropad Studio does not require, collect, or interact with any private student information.
Do I purchase licenses for the number of computers or the number of iPads I have?
Licenses are tied to the iPad. If you have 10 iPads and 20 Macs, you will purchase 10 licenses.
Does Astropad Studio require an iCloud account?
No. A common frustration from schools using iPad and Mac is that the same iCloud account must be signed in for both devices in order for Sidecar to work.
While great in theory, this is impractical for shared environments like computer labs and shared workstations.
Astropad has no such requirement. Multiple users can use a single workstation without worrying about changing user accounts.
Can the accounts be assigned to individual students using 'Sign in with Google'?
Yes, 'Sign in with Google' is available when using Astropad Studio.
The licenses can also be integrated with your school's login system, and are easily deployable with Jamf and other MDM's.
Do you offer a free trial for education licensing?
Yes, we can provide an extended free trial for instructors and media lab technicians.
I'm a student – can I get a discounted license?
Yes, we offer a discount for students looking to purchase their own Astropad Studio license. → Learn More
ready to get started?
Astropad Studio is a great fit for every academic institution. Help your students unleash their creative potential by turning any iPad into a powerful drawing tablet.
Enter your details to receive a quote with any relevant discounts or connect with an Astropad Studio expert to learn more.