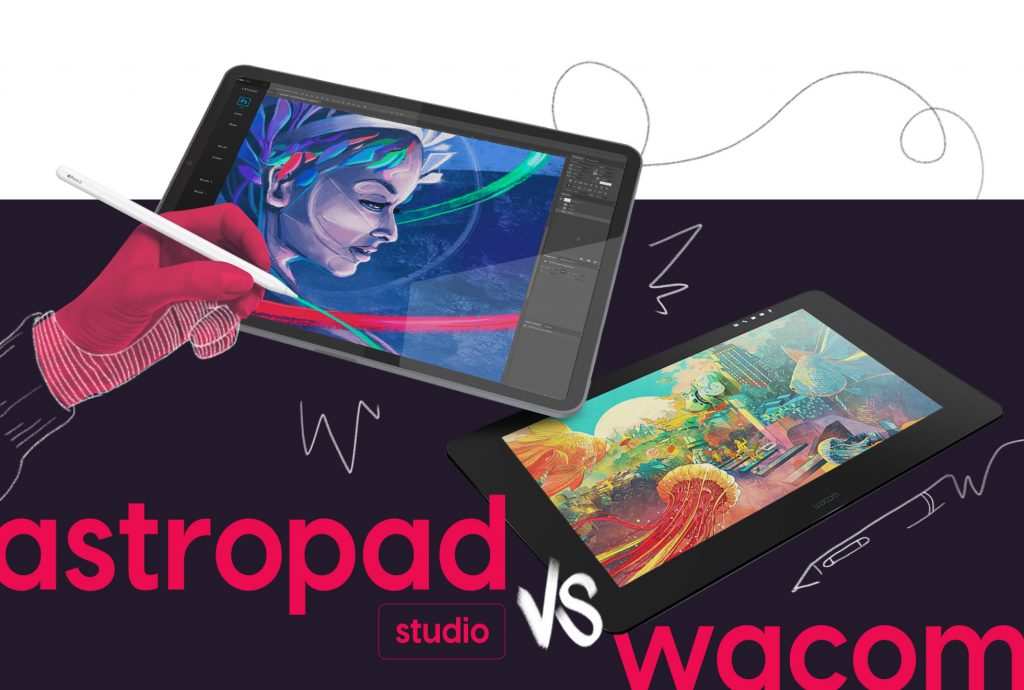 If you're a digital artist, you already know that having the best tools at your disposal is essential to producing high-quality work. In this article, we'll take a closer look at the Wacom vs iPad so that you can make the best choice for your setup.
Twenty years ago, Wacom would've been the obvious choice. Today, things aren't as clear because you don't necessarily need a dedicated drawing tablet to complete your digital workflow.
Multiuse tools like the iPad, especially when combined with a stylus and a drawing app like Astropad Studio, can deliver an incredible drawing experience (here's an example) without the need to purchase extra hardware.
Let's jump right in.

Choosing the Right Setup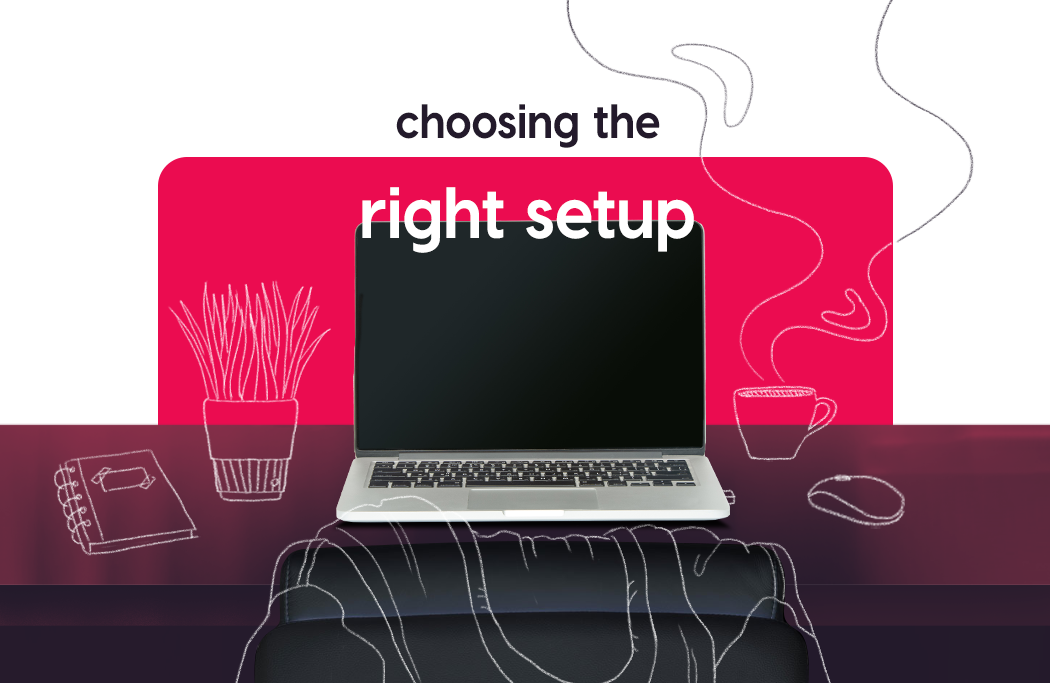 In many ways, whether or not you choose to go with a Wacom tablet may come down to what you already own.
If you have a recent iPad Pro or iPad Air, it might make more sense to stick with that and convert it to a drawing tool using an app like Astropad Studio rather than rushing out to buy an entirely new, dedicated device.
Wacom tablets are powerful graphics tablets that come with a ton of great features for artists at every level, but they definitely aren't the be-all, end-all of professional hardware that they used to be.
In the next few sections, we'll cover the pros and cons of each setup. Before we get started, keep in mind that the tools we're covering here:
Are compatible with both macOS and Windows devices.
Offer many customizable options for your workflow.
Can be used as a second screen (Wacom Intuos excluded).
Support touchscreen and keyboard shortcuts.
It's also worth keeping in mind that, regardless of which hardware purchase you make, you'll still need software to go along with it. We'll cover all of that in-depth below.
Apple iPad: Powerful & Versatile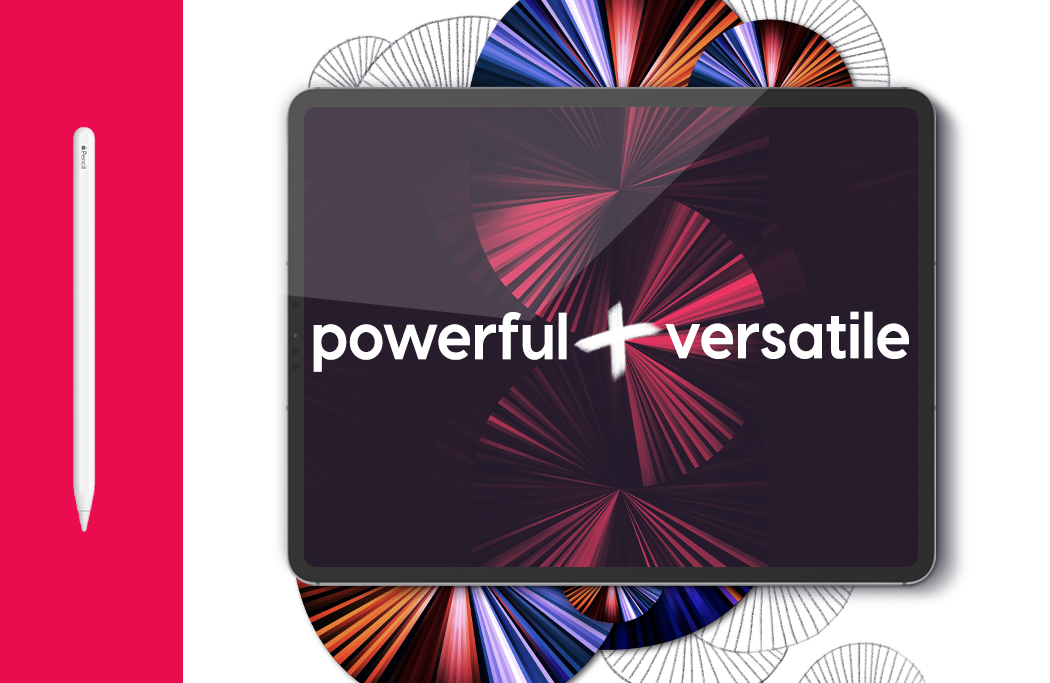 The iPad is one of the most powerful digital tablets on the market today, and that can't be overstated.
Many art professionals use an iPad equipped with Astropad Studio as a stand-in for a traditional graphics tablet due to the ease of use, simple setup, and powerful features.
It's the obvious choice if you already own an iPad, especially since it can save you hundreds or thousands of dollars when compared to buying a specialized device.
Here's a look at why the iPad is so popular for digital art:
Advantages & Strengths
Right out of the box, the iPad can be used as a drawing tablet and, with just a few tweaks, it has the potential to become a powerful workstation whether you're at home or on the go.
Here's why:
Robust hardware. Modern iPads are powerful computers in their own right. Each model comes equipped with dedicated processors, onboard RAM, and a high-resolution Retina Display — everything you need to make great art.
Versatile software. Depending on the suite of applications you download, your iPad can be a productivity tool, an entertainment device, or something more. As an artist, this versatility can also influence your creative workflow.
Specialized drawing apps. In addition to using Astropad Studio to convert your iPad into a drawing interface while at home, you can also use drawing apps that are specifically built for mobile devices while on the go. Procreate, Adobe Fresco, and the Affinity Suite are available, so you can create anywhere, anytime.
Better color space and refresh rate. Display P3 is Apple's variant on the DCI-P3 color space, and it's standard on all Apple devices. Combined with the iPads 120Hz refresh rate (double what you'd see on a Wacom tablet) and the 1,000,000:1 contrast ratio, Apple technology is cutting edge when it comes to display technology.
Widespread compatibility. Whether you want the latest and greatest apps from Adobe or the best accessories, the iPad tends to be the industry standard for tablet computing.
On-the-go solution. Because the iPad functions completely independently from your desktop hardware, you can use it anywhere. Wacom's MobileStudio Pro manages to replicate this versatility, but only with limited success and you won't see this kind of flexibility from the Cintiq.
It's hard to ignore the overall versatility of the iPad. The product line is over a decade old, and it's only gotten more powerful with each iteration.
The iPads you see on the market today are capable computing devices that can fill a variety of roles and niches — including that of a graphics tablet.
It's also worth noting that while Astropad Studio can help you transform your iPad to serve as a graphics tablet, it's just one important function that your iPad can perform as part of your artistic workflow. At the end of the day, you can transform your iPad into a standalone canvas, or turn it into a productivity tool and go from there.
It's fast, simple, and easy.
Disadvantages & Shortfalls
As great as the iPad might be, no device is perfect. Here are a few downsides to consider while deciding if the iPad is right for you:
Glass screen. The iPad screen is comprised of laminated glass, which is troublesome to use when writing or drawing. A matte screen protector can alleviate this problem.
Stylus required. The Apple Pencil and a few third-party styluses offer pressure sensitivity for compatible iPad apps, but they'll be a separate purchase. This is different from Wacom tablet devices, which include a stylus when you buy them.
Limited screen size. The 12.9-inch iPad Pro is the largest iPad on the market. Compared with some of the pro tablets like the Cintiq 16-inch or the 32-inch Cintiq Pro, the screen size may feel somewhat lacking.
Lifespan & cost. Compared with a dedicated drawing tablet like a Wacom Intuos, you'll probably end up replacing your iPad more regularly (as you might with your desktop computer). While you probably won't use your iPad solely as a drawing tool, the cost of an upgrade is something to consider.
However, if you already own an iPad — for any number of reasons — it can actually be cheaper to use what you already have rather than rushing out to buy a completely new device.
What About Astropad Studio?
This is where things go beyond a conversation about hardware since Astropad Studio is part of the buying equation.
Functionally, Astropad Studio helps you bridge the gap between desktop and mobile. Our technology can mirror any Mac or PC application to your iPad and also provides complete gestures and touch support so that you can interact with your apps over wireless or USB.
This is what allows Astropad Studio to function like a graphics tablet.
With a traditional tablet, you'll connect it to your computer and then use it as a secondary input. It's basically a pressure-sensitive mouse that can interact with your desktop software.
Astropad Studio allows your iPad to do the exact same thing — and more. In addition to that basic functionality, our software also adds unique features like magic gestures and app shortcuts to improve your workflow. This is similar to Wacom's built-in shortcut tools, only better and faster.
Plus, our super low-latency technology means that everything is always lightning fast. This is a big improvement over Apple's Sidecar, the onboard mirroring software built into the native operating system.
But don't just take our word for it.
If you already own an iPad, you can take Astropad Studio for a free test drive for 14 days.
Wacom: Dedicated & Specialized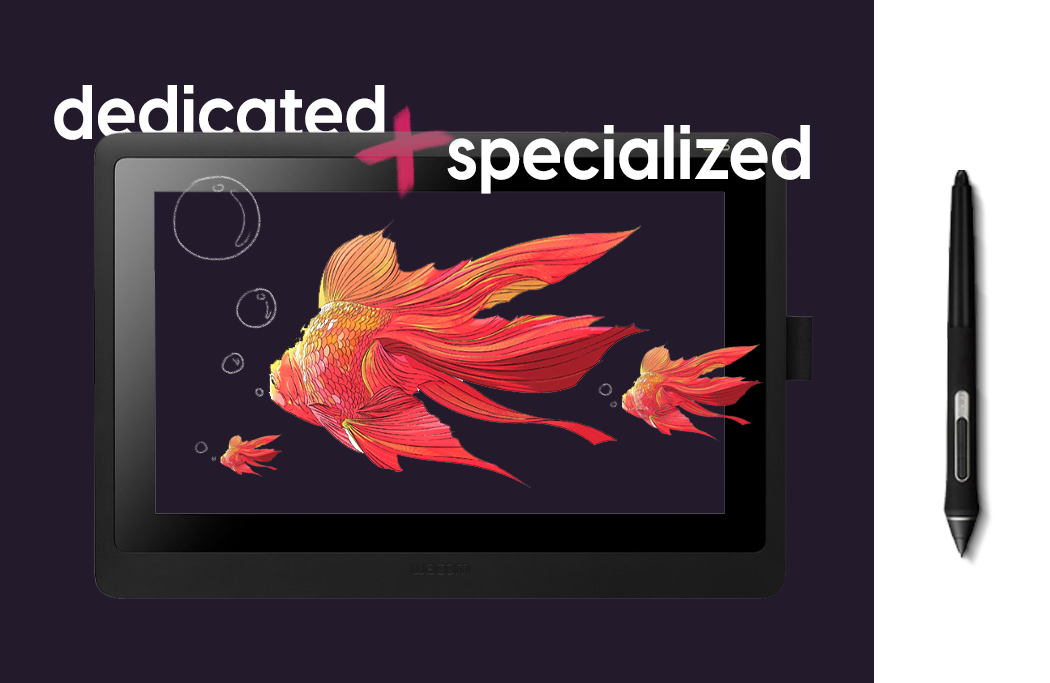 As a hardware supplier in the digital art space, Wacom is dialed into what digital artists need to create outstanding work.
The brand has been around for a long time, and Wacom tablets were once considered by many to be the industry standard when it comes to dedicated drawing hardware.
While that's still true in some circles, computing tablets like the iPad offer flexible alternatives to this collection of more specialized tools.
Advantages & Strengths
Wacom tablets definitely bring a lot to the table, especially in terms of variety. You'll find plenty of sizes while shopping, and each is equipped with features and tools to help you have a great and productive drawing experience.
Here's a quick look at the high points for this hardware:
Fun drawing experience. Without a matte screen protector for your iPad, you'll have a better time drawing with Wacom. These drawing tablets used etched glass to mimic the feel of a pen on paper. Plus, though Apple has never given exact specifications on its pressure sensitivity, it's fair to say that Wacom probably offers a more precise drawing experience.
Comes with everything you need. A Wacom tablet comes with everything you need right out of the box, including a Wacom pen (stylus). You might need to download a driver so that it can talk to your iMac or PC, but that's it. You won't need a specialized screen protector to create the perfect drawing conditions, but you'll still need to buy and download the app you want to use and install it on your desktop.
Versatile buying options. Wacom offers more buying options at a variety of price ranges. Tablets come in various sizes and dimensions to suit your drawing style. Plus, cost varies. The Cintiq Pro starts at $1,499.95 and works its way up from there, climbing well over $3,000+ for the MobileStudio Pro.
Keep in mind that all of these advantages are exclusive to the tablet itself.
Unlike with the iPad, you'll still need a computer powerful enough to run Adobe Photoshop or Lightroom, since your tablet is only an active interface to facilitate your art.
Disadvantages & Shortfalls
While there's no doubt that Wacom is a powerful tool for the right artist, it may not fit the bill for everyone.
Here are a few considerations before you buy a Wacom:
Limited versatility and use case. At the end of the day, a Wacom is a dedicated drawing tablet. It does what it does very well — but that's all it does. In a world of multi-use devices like the iPad, having a device that serves one purpose feels very limiting. The MobileStudio Pro tries to get around this, but at a $2,500 price point, an iPad is probably a better fit.
Lack of mobility. When you're using a Wacom, you'll need to be seated at your desktop. This further limits the device to its niche by removing your ability to take it with you while on the go. Only the MobileStudio Pro has a built-in battery life, which offers lackluster performance compared to the iPad.
Variable Pixels Per Inch (PPI). This is a big one that you have to watch out for, and it's easy to overlook. Wacom's displays are bigger, but the overall resolution varies based on size. The smaller screens will actually provide much better PPI, but the resolution doesn't increase with screen size. This means that you'll see a notable decrease in clarity when using larger Wacom screens.
Lower refresh rate and color quality. Wacom screens only refresh at 60Hz and offer a 1000:1 contrast ratio. While that's formidable, it's Apple offers a 120Hz refresh rate with Display P3 and a 1,000,000:1 contrast ratio.
Price tag. Wacom tablets might offer some great features, but it'll cost you. The Cintiq Pro starts out at $1,699, and the MobileStudio Pro starts at a staggering $2,599. Assuming that you don't need terabytes worth of storage space on your iPad, you could pick up an iPad Pro and an Apple Pencil and still have some change left over for a case, a screen protector, and an Astropad Studio subscription!
Potentially excessive. Purely from the perspective of drawing, Wacom's technology is superior. But many professional artists use iPad every day to create stellar artwork. At some point, you have to ask: Is the tradeoff between versatility and power really worth it?
As it stands, Wacom brings a lot to the table in terms of price points, power, and tools for the job. Unfortunately, some of that is undercut because it's a niche device with a limited use case.
When you buy a Wacom, you're making a conscious decision to own a graphics tablet that has no other function aside from drawing. Plus, unless you're buying the MobileStudio Pro, you're also limiting your digital drawing experience to a very specific set of conditions — at home, near your workstation, with your tablet.
If you have a dedicated setup, a Wacom might make sense. But, if flexibility is the name of the game, this may not be the way to go.
So Wacom vs iPad, which one is best?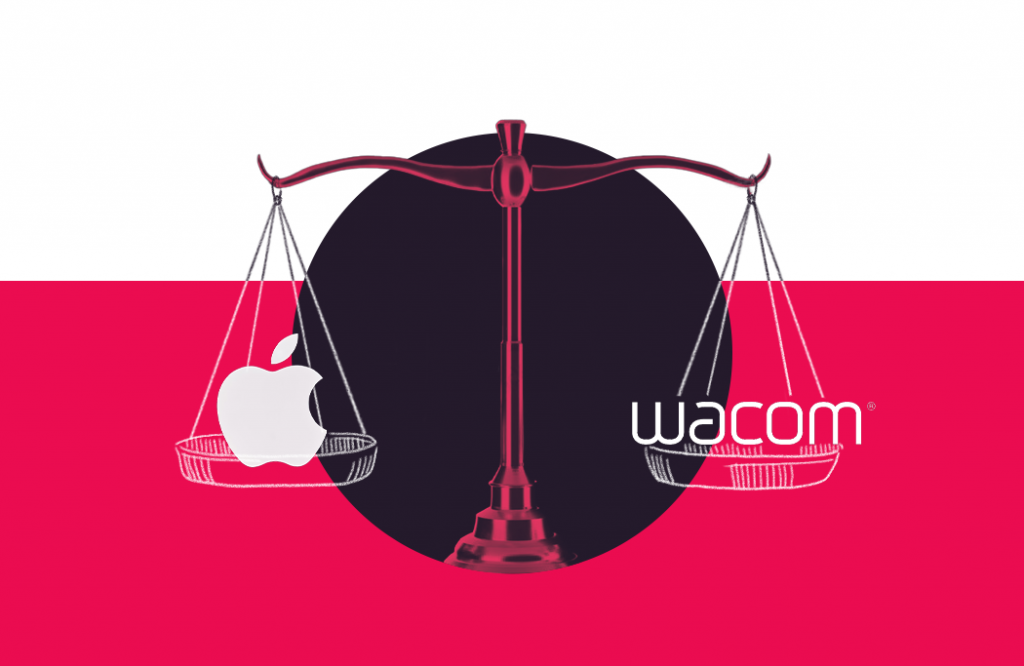 In some ways, choosing between iPad and Wacom will come down to personal preference. Sometimes, having all the bells and whistles is the way to go. Other times, versatility is the name of the game.
From our perspective, the versatility of the iPad far outweighs the technical prowess of a Wacom tablet. As a device, the iPad just does more and is more likely to suit a wider range of users and needs.
Plus, using tools like Astropad Studio and Luna Display, it's easy to transform your iPad into a drawing tablet that can function at a professional level.

Want to give it a try? Sign up for a free 14-day trial of Astropad Studio.