Darkboard versus Sketchboard Pro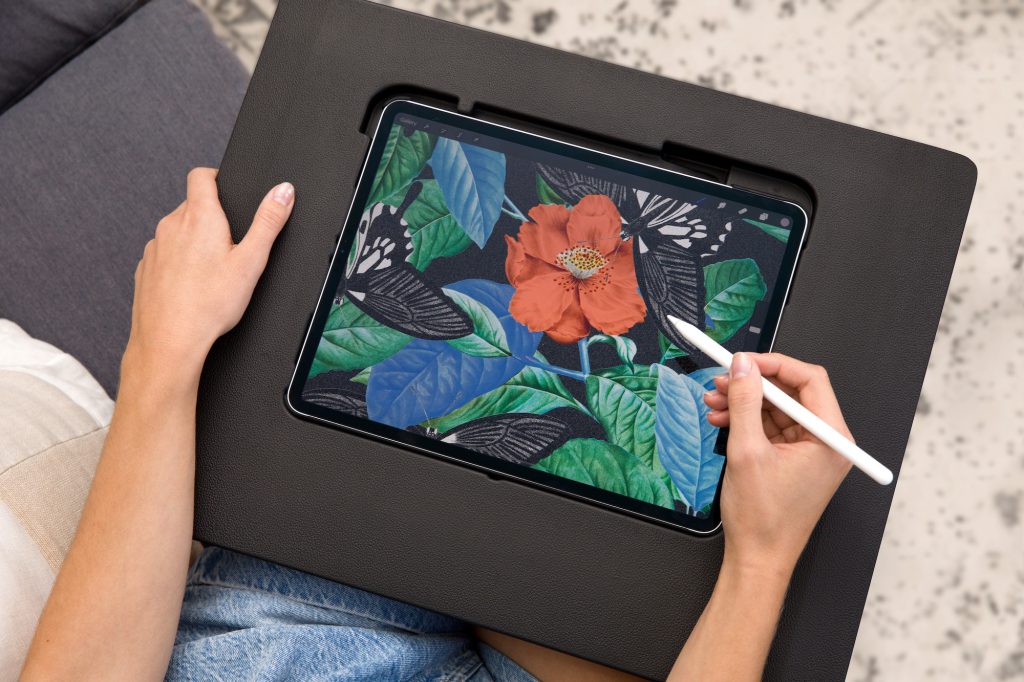 Choosing the best iPad drawing surface for digital art
If you're a digital artist, you're likely familiar with the struggles of drawing on an iPad. With nowhere to grip around the edges of the iPad, it can be hard to find a comfortable drawing position. This can lead to hand cramps and bad posture that make it difficult to enjoy long drawing sessions.
This is where drawing surfaces like Darkboard and Sketchboard Pro come in. But how do you know which one is right for you?
When it comes to choosing the right drawing surface for your digital workflow, it's important to consider where and how you like to draw.
Do you prefer an angled drawing set up?
Do you primarily draw tethered at your desk?
Do you like to move around to different spots while you draw?
Do you like to cozy up and draw on your couch or in your bed?
These preferences will have a big impact on which product is best for your workspace. Let's dive into it:
Sketchboard Pro
Great for: If you primarily draw tethered at your desk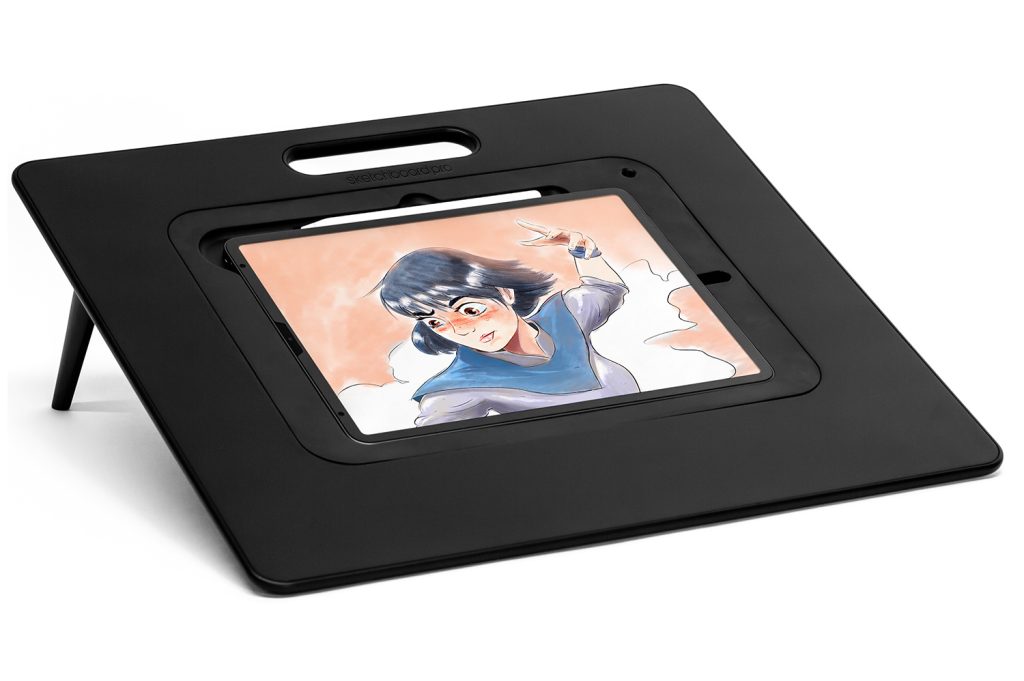 Sketchboard Pro is an iPad stand designed to provide you with the comfort and support you need while drawing at your desk. The Sketchboard Pro is unique in its built-in kickstand and wide range of compatibility options.
The Sketchboard Pro features built-in legs that easily fold out to create a comfortable 20-degree angled drawing surface. This is great for artists who are looking for an improved drawing setup at their desk.
Its wide range of compatibility options for over 36 iPad models makes it a great option for anyone with an older iPad. They also offer "upgrade kits" so you don't have to buy a new Sketchboard Pro if you get a new iPad. You can just swap out the center of the Sketchboard with a different casing that fits your new iPad.
Darkboard
Great for: If you like to move around and get comfy while you draw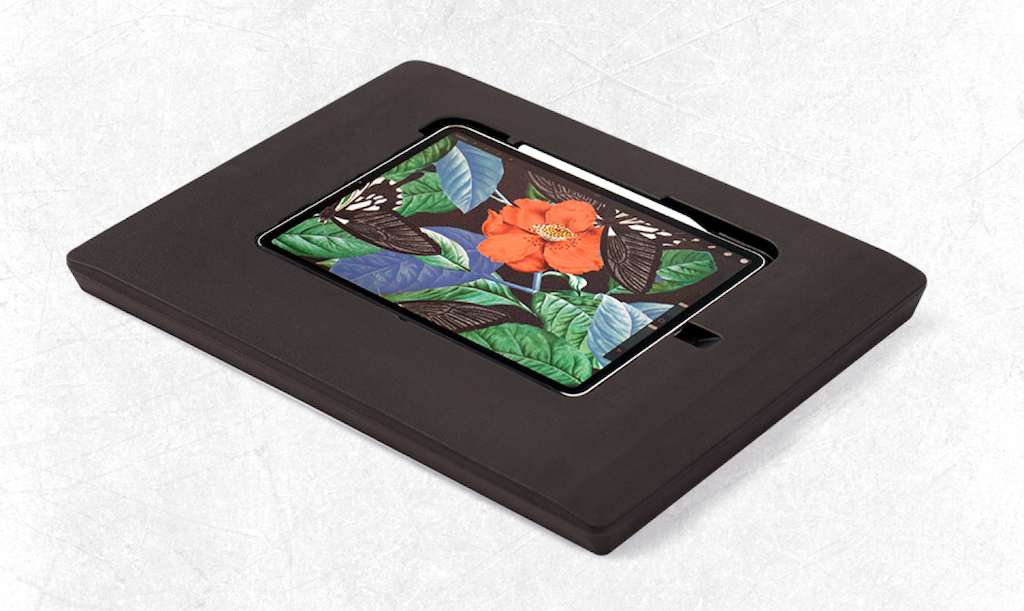 Darkboard was inspired by over 9 years of working with digital artists. After launching our drawing software Astropad Studio, we started to hear from artists that they don't always work in a "sit down at your desk and draw" type of way. So we designed Darkboard to optimize for all of the non-traditional ways that artists like to work — like on the couch, in bed, and on the go.
Darkboard is an ultra-lightweight and ergonomic drawing surface for iPad. In designing Darkboard, we focused on three key features:
Comfortable: Darkboard extends the surface around your iPad, providing a cushion for your arms and wrists. The design was modeled after steering wheel ergonomics, meant to provide comfort for long drawing sessions.
Lightweight: Darkboard is made from a Molded EVA Unibody — the same high-performance material used in professional sporting equipment. It's rigid enough to provide support and durability while maintaining a lightweight profile for portability.
Secure: Darkboard's secure hard enclosure keeps your iPad and Apple Pencil locked in place for portability. You can tilt the Darkboard at any angle and your iPad will stay secure in the protective cradle.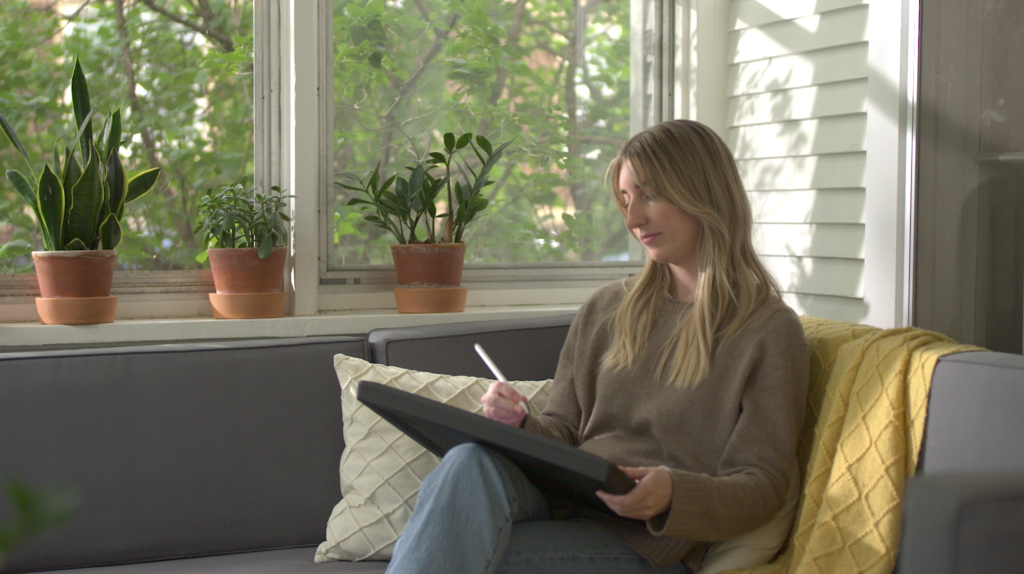 Sketchboard Pro versus Darkboard Feature Comparison
Here's a side-by-side look at Sketchboard Pro and Darkboard to help you determine which setup is right for you.
Sketchboard Pro
Darkboard
Price
$129 USD
$99 USD $79 on Kickstarter
Weight (for 12.9" model)
4.2 lbs (1905g)
1.4 lbs (635g)
Dimensions (for 12.9" model)
19.5 x 17 inches
18 x 14 inches
Thickness
¼ inch
1.3 inches (optimized for ergonomics)
Surface material and texture
Hard plastic
Grippy EVA (same material used in sports equipment)
Cushions your arms
✖️
✅
Soft surface to prevent injury and fatigue
Kickstand
✅
Legs fold out to create a 20-degree angle
✖️
Kickstand accessory in the works!
iPad enclosure
Magnetic cradle
Polycarbonate cradle with 1mm drop cushion
iPad compatibility
Supports various iPad models
Supports 12.9" and 11" iPad models with USB-C charging ports
Apple Pencil pocket
✅
✅
Carrying handle
✅
Oval opening on the top of the surface
✅
Angular grooved handles on the back surface
Camera hole
✅
✅
Charging port
Fits only standard Apple chargers
Fits standard Apple chargers and most non-Apple USB-C chargers
Works in landscape and portrait mode
✅
✅
Which iPad drawing surface is better — Darkboard or Sketchboard Pro?
While Sketchboard Pro and Darkboard have similar purposes, the designs and materials of the products are very different. The decision of which drawing surface is right for you ultimately comes down to how you like to work.
If you're someone who tends to only work from your desk, Sketchboard will be the best choice for you. Its built-in kickstand allows you to draw comfortably at a 20-degree angle. However, if you like to switch up your work environment throughout the day, you may find Sketchboard a bit heavy to carry around and uncomfortable to sit with on your lap for long periods of time.
If you're an artist who likes to move around the house and get comfy on the couch or in bed while you work, Darkboard is the best choice for you. The ultra-lightweight and ergonomic design makes it easy to stay comfortable during long work sessions no matter where you go.