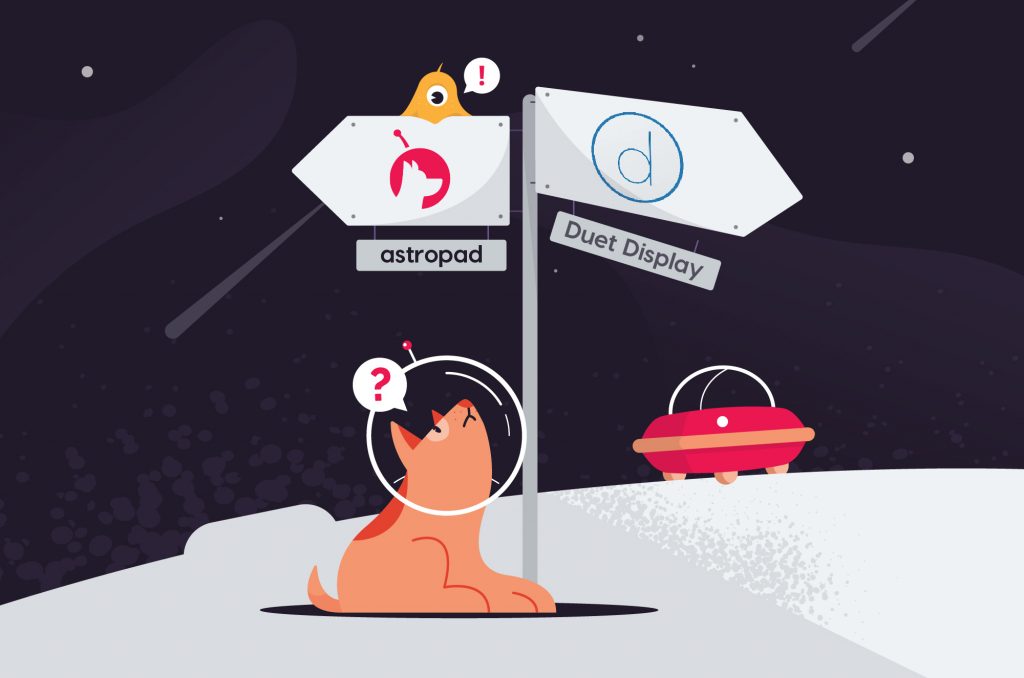 It's not an exaggeration to say that the iPad and Apple Pencil have been a gamechanger for today's digital artists.
Some artists have even ditched desktop computers completely and now create exclusively using mobile devices, but it's not a great fit for everyone.
There are a lot of great reasons to stick with a traditional setup, including greater computing power and more flexibility when working in multiple software setups.
That's where apps like Astropad Studio and Duet Display Pro come into play.
These powerful apps allow you to take advantage of your iPad's hardware and incredible display by turning it into a graphics tablet.
In this article, we'll take a closer look at each solution so that you can see how they compare.
Let's get started!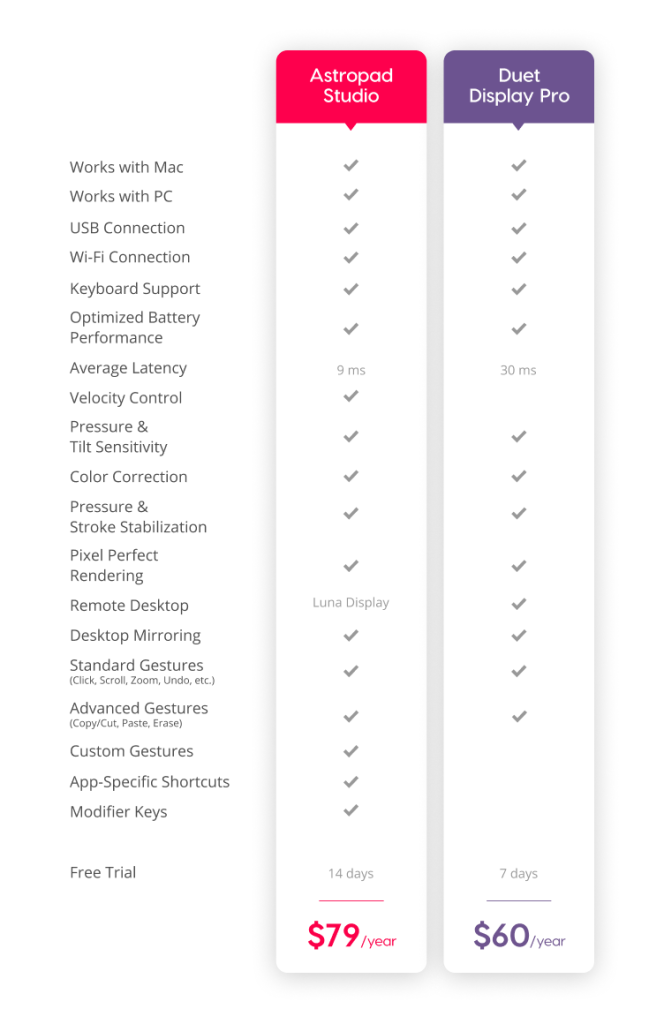 Looking for high-performance screen extension?
See how Astropad's Luna Display stacks up against Duet Display when mirroring and extending your desktop.
Two Apps — Different Goals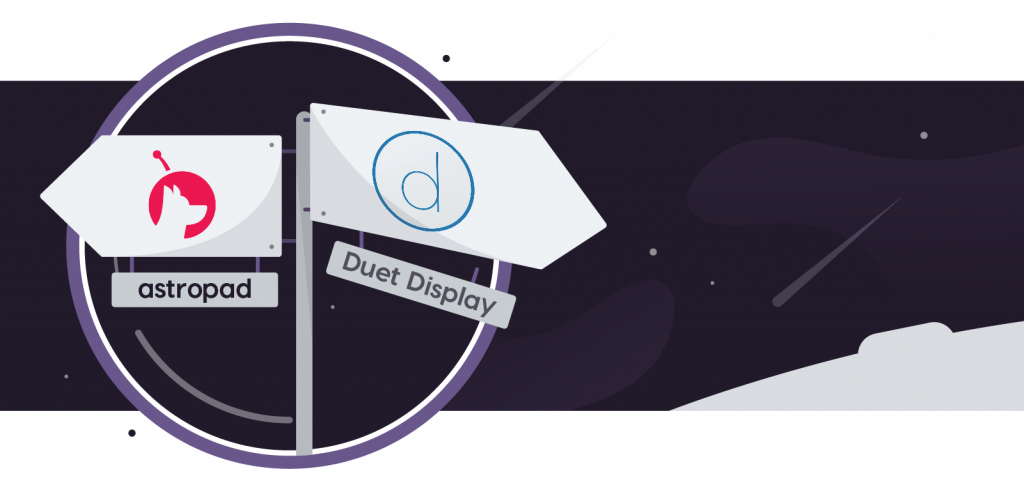 Before we dive into all the gritty details, it's important to note that Astropad Studio and Duet Display have two separate goals in mind.
Astropad Studio is designed specifically to turn your iPad into a professional graphics tablet. Our app is equipped with that single goal in mind. Every feature, from customizable gestures and shortcuts all the way to our proprietary low-latency technology is designed to maximize responsiveness and help you stay efficient while you work.
Duet Display is primarily designed for app-based desktop mirroring and extension, similar to (but not as powerful as) what you'd see with Luna Display. While this app does offer gesture control and some great productivity tools for power users, it falls short when it comes to the customization and tweaking that are an essential part of your artistic workflow.
Keep in mind that there is some overlap between these two apps. Each app can mirror your screen. Each offers connectivity via cable and wireless networks. Each app is well-optimized and battery efficient.
Duet's strength lies in its flexibility — but that's also its weakness when it comes to delivering the best and most professional toolkit for digital art.
And that's where Astropad Studio really shines.

Astropad Studio: Built for artists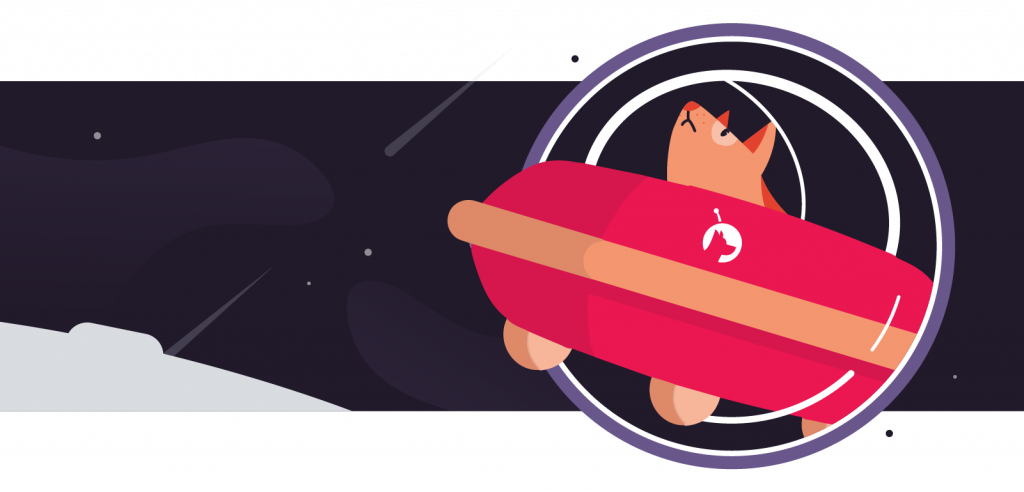 So, what does Astropad Studio bring to the table for digital artists?
Great question!
Astropad Studio is a hardware-free app that allows you to mirror any desktop application onto your iPad. Once you've synced Astropad Studio to your desktop, you can use your iPad and Apple Pencil to draw and write using your digital apps like Adobe Photoshop or Illustrator.
But it's not as simple as mirroring your screen. Astropad Studio gives you the ability to create customizable workspaces within your apps. You can improve this further with magic gestures, so the shortcuts you need are always at your fingertips.
While the iPad may not be as technically capable when it comes to pressure sensitivity and pressure levels compared to the Wacom Cintiq, the difference in performance is negligible. Astropad Studio also provides more granular control by adding functionality like customizable pressure curves so that you can control exactly how your stylus interacts with your iPad screen.
Performance and quality also play a huge role in making sure that you can do your best work. That's why we built LIQUID, a proprietary technology that improves image quality while reducing latency. We combined that with something we call Velocity Control, which monitors your network and optimizes image quality so that your drawing experience is always highly responsive.
Duet Display: Hardware-free desktop extension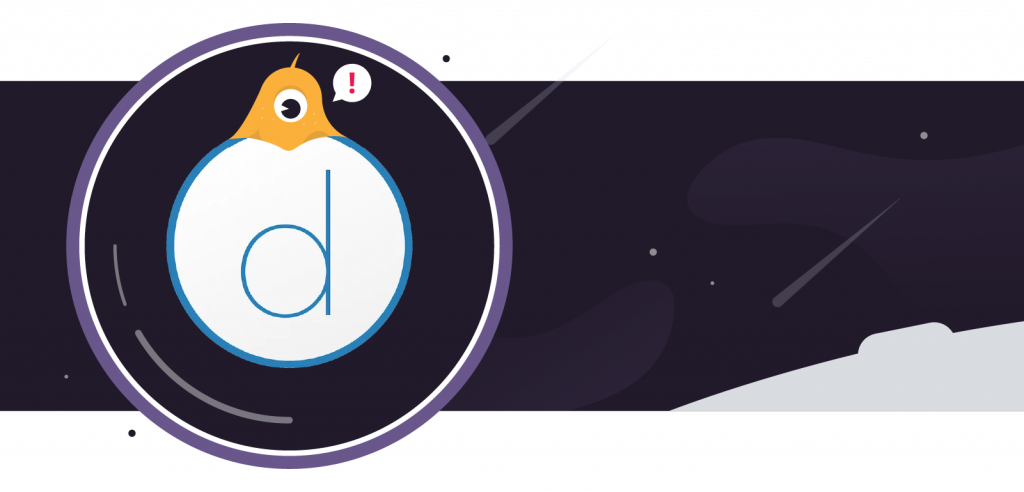 Compared with Astropad Studio, Duet Display aims for something a little less specialized.
The app acts as a hardware-free mirroring solution, so you can extend your desktop by cabling your iPad or broadcasting your screen over a wireless network. This is similar to Apple Sidecar, but with additional features. Keep in mind that Sidecar only has a 30-foot range, and it lacks the advanced gestures and supports that Duet Display can provide.
While mirroring your display, you'll be able to control your Mac from your iPad using Duet Display's unique TouchOS interface. If you use it as a second monitor, your iPad will act as an extension of your desktop. You'll be able to drag windows onto your iPad screen, interact with them, and send them back to your main desktop at any time.
As a display solution, Duet Display takes up a unique niche between Apple Sidecar and our own Luna Display, which offers superior performance using a hardware component.
If you subscribe to Duet Pro, the most expensive plan that the company offers, you can benefit from features targeted specifically to artists. This includes a mix of features like custom pressure curves, color correction, and pressure sensitivity (all of which are also built into Astropad Studio), so there is some level of competition here.
How do these apps compare?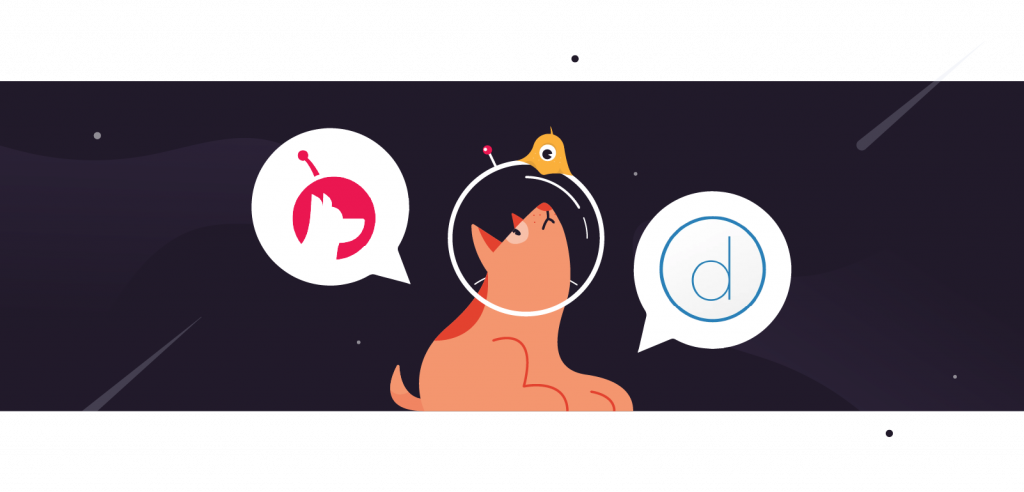 As we mentioned earlier, even though both apps have some overlap, they're built with two different purposes in mind.
Astropad is designed specifically for artists. Between the custom gestures, stroke optimization tools, and low-latency technology, you can achieve maximum performance no matter what app you're using. Duet Display brings some of the things to the table, but not at the level of quality and output that you'd get from Astropad Studio.
And you don't have to take our word for that, by the way. Everyone from professional photographers to mural artists and top-level illustrators all say the same thing: If you're looking for maximum performance, Astropad Studio is the way to go.
All that being said, Duet Display could be the right fit for someone who wants more versatility and less specialization. You can trade off some of Astropad Studio's more art-focused tools for the ability to wirelessly extend your screen or push your mirroring capabilities beyond what you'd see with Apple Sidecar.
Without a doubt, being able to mirror your Mac display over to your iPad Air or iPad Pro is great when you're giving presentations. The screen extension is also a blessing when you're working on a small Macbook Air and you just need a little more room!
While Astropad Studio can mirror your screen, Duet Display is better suited for it.
However, if you're looking for ultimate performance when it comes to mirroring and extension, Luna Display is the final answer, but it might be overkill for casual or intermittent users.
FAQ
Is Astropad better than Duet Display?
In many use cases, yes. While Duet Display comes equipped with a versatile set of features, Astropad Studio offers superior performance and functionality for professional artists. If you want to turn your iPad into a graphics tablet, Astropad Studio is the way to go.
On the other hand, if you need wireless desktop mirroring or screen extension — or if you only do art-related work sometimes and like the appeal of something with a bit more versatility, Duet Display is worth a look. Luna Display is also a good solution if you're interested specifically in high-performance screen mirroring and desktop extension.
If you don't have an iPad, Duet Display is the better fit by default since it works on Android and Windows tablets. It also works on iPhones.
Astropad Studio connects your iPad to your Mac or PC, but it's not available on other tablet computers.
What's the difference between Duet Air and Duet Display?
Duet Display offers a few different purchasing options.
The base app, Duet Display, is a one-time, personal-use-only purchase that allows you to use your iPad as a wired second screen. This option only comes with minimal features and options, so you'll want to be sure that it's the right fit before you buy.
Duet Air and its updated version, Duet Pro, are the wireless versions of the product. These options require an annual subscription and are loaded with extra features to provide maximum compatibility and performance.
Though it's not immediately clear on the Duet Display website, Duet Air and Duet Pro are different versions, with Duet Pro being slightly more expensive than Duet Air and with more features.
Should I get Astropad Studio or Luna Display?
Ultimately, this comes down to whether you need a second display or an art-focused software tool. Both apps offer superior performance within their areas of expertise.
While Astropad Studio brings superior art performance and can mirror your macOS screen to your iPad in a pinch, Luna Display is a cut above the rest for desktop extension.
Learn how Luna Display compares to Duet Display.
I'm worried about lag and performance. What do I do?
If you're worried about lag, tethering your iPad to your computer with a cable will always deliver the best performance.
That's true for both Astropad Studio and Duet Display because cabled connections provide more throughput for the information traveling between your devices.
Astropad Studio offers Velocity Control, which optimizes image quality based on network speed. This can go a long way in creating a seamless experience, but a wired connection is a surefire way to guarantee better performance.
Better Art with Astropad Studio
There's no doubt that both Astropad Studio and Duet Display are great apps for the right user.
Duet Display has a lot to offer for users who need versatility, but not all the bells and whistles of Astropad Studio. Duet's wireless mirroring and extension options are powerful, and their touch-based support will be a great fit for anyone looking for a productivity boost. The app even offers Touch Bar support, and it's definitely an upgrade from Apple Sidecar, the iOS default screen sharing tool.
But, if you really want to put your iPad to work as an art-focused graphics tablet, Astropad Studio is the way to go. The app gives you everything you need to put your iPad's Retina display to work, allowing you to replace even professional-grade equipment like the Wacom Cintiq or the Wacom Intuos.
Want to give it a try?
Download Astropad Studio from the App Store today and sign up for a 14-day free trial to experience next-level performance every time you sit down to draw.
We know you'll love it from day one.