How to customize your workspace with Astropad Studio
Astropad Studio mirrors your Mac or PC desktop on your iPad, so you can draw directly into your favorite creative programs.
But we know every artist has a unique way of working. That's why Studio offers endless customization and rich features that adapt to your workflow.
Take a deep dive with us as we break down some of Astropad Studio's most powerful features.
Customize your sidebar with unlimited shortcuts
Astropad Studio allows you to make as many shortcuts as you want per app. The sidebar adjusts automatically to accommodate additional shortcuts.
Shortcuts automatically adjust when you switch apps, too. Even if you haven't already established shortcuts for a desktop app, the sidebar comes equipped with defaults for the most common tools in each app to get you started.
You can also switch between desktop apps from within the Astropad Studio interface. Simply click the app icon in the sidebar and select from any of the apps you normally keep in your dock.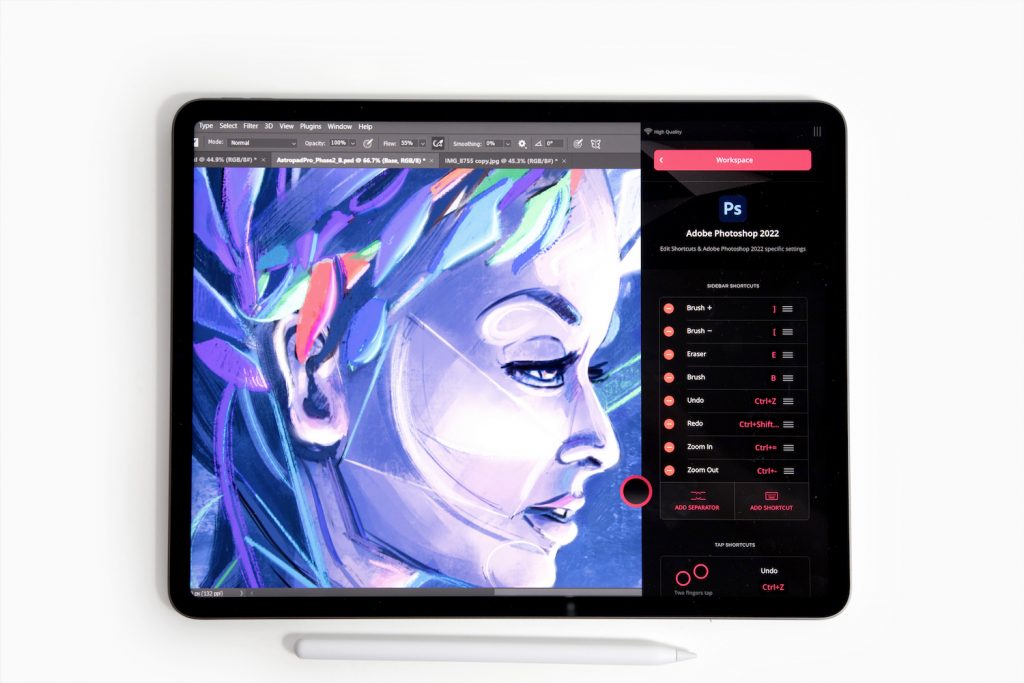 For some inspiration, here are some examples of the types of commonly-used shortcuts you can set up in your Studio sidebar workspace based on the app and work:
Adobe Photoshop for painting: Brush, Eraser, Duplicate Later, New Layer, Merge Down, Transform Image, Copy and Paste, Layer Mask, Lasso, Eyedropper/Color Picker
Adobe Lightroom for photography: Convert to Black & White, Crop and Straighten, Before and After, Adjustment Filter Mask Overlay, Magic Selection tool, Healing Brush
Adobe Illustrator for design: Selection tool, Pen tool, Anchor Point, Rectangle/Shape, Type, Rotate, Artboard, Blender, Gradient
access your favorite shortcuts with
Magic Gestures
Save room in the Studio sidebar by assigning frequently-used shortcuts to 'Magic Gestures.'
Studio's Magic Gestures allow you to set shortcuts to different tap gestures and finger + Pencil combinations, so you don't have to pause work to search for a tool.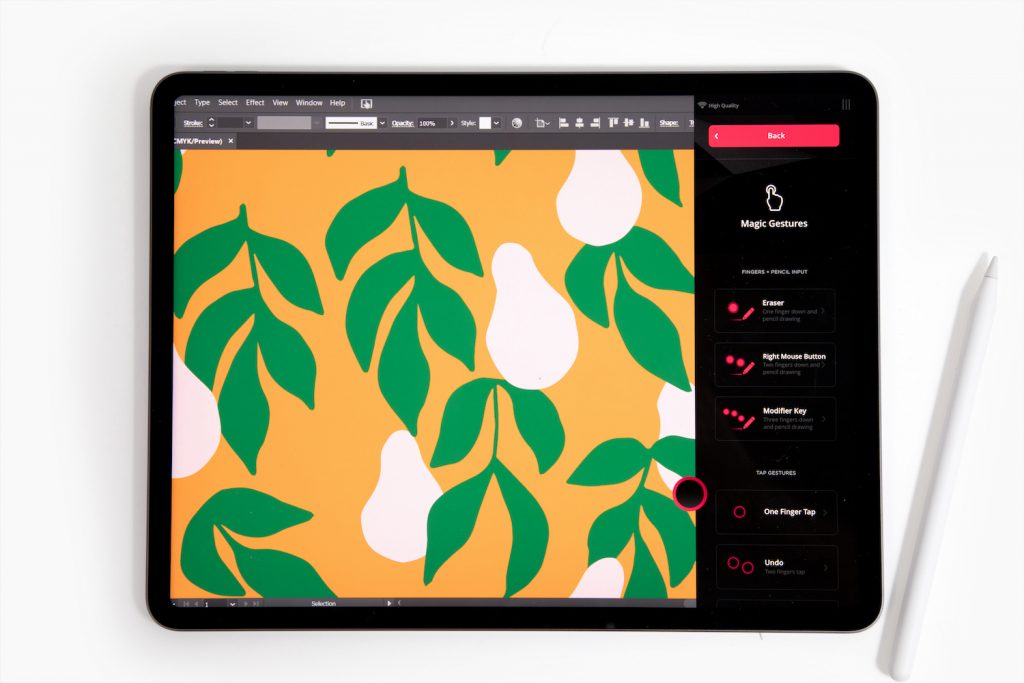 Magic Gestures can be completely customized to whatever shortcuts you use the most. To edit your shortcuts, access the Magic Gestures tab within the Settings section of your Astropad Studio sidebar.
Default shortcut settings
• Undo: Two-finger tap
• Redo: Three-finger tap
• Eraser tool: One Finger + Apple Pencil
• Hover: Two Fingers + Apple Pencil
• Right Mouse Button: Three fingers + Apple Pencil
We know that workflows are not "one size fits all." Feel free to play around and switch around finger-tap interactions based on what feels natural to you. Not sure how to get started? Reference our Tips & Tricks with Astropad Studio video at the top of this page!
Fine-tune your pressure curve
Put the pressure on, or take the pressure off? Whichever way you lean, we're here for you. Maybe you draw lighter but need more pressure for the brush stroke to read. Or maybe you have a habit of pressing harder on the Pencil but want to maintain thinner line strokes – you can do that, too!
In Studio's Stroke Lab, you can customize the pressure curve to your individual drawing preferences. You can also adjust your pressure smoothing settings to create pen lines that range from au natural to buttery smooth.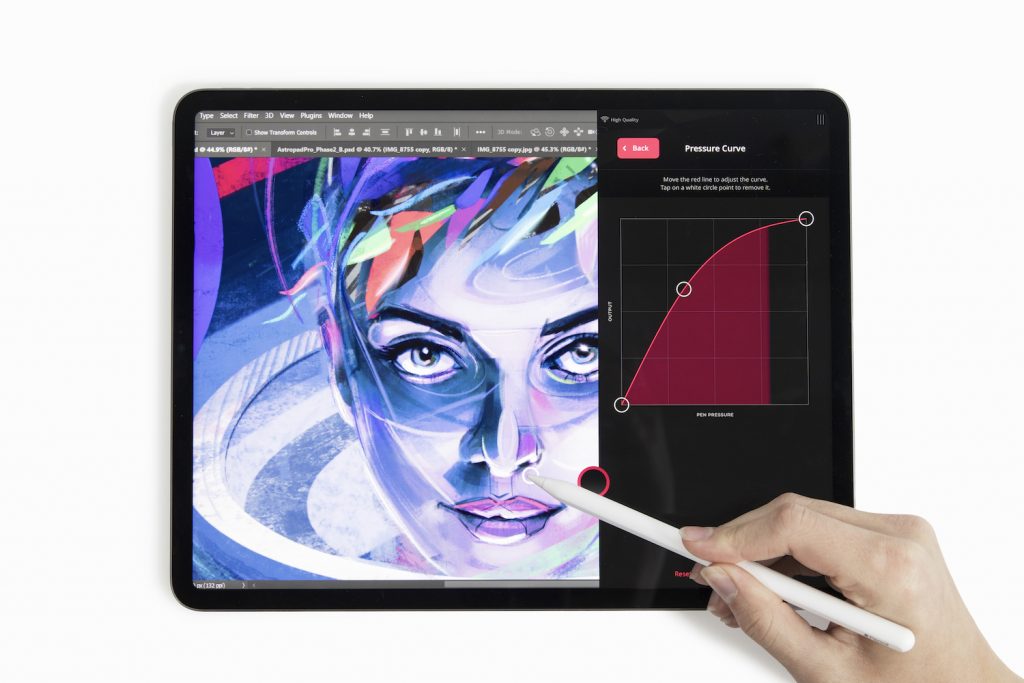 The curve in Studio helps you preview your adjustments to better understand the changes you're making. Test the curve's pressure sensitivities at any time by pressing anywhere on your screen outside of the sidebar while the Pressure Curve settings are open.
More Resources:
take astropad studio for a spin
We know that no two artists work alike. That's why we're passionate about delivering pro tools with deep customizability. Astropad Studio gives you the freedom and flexibility to build a connected workspace around your needs.
Ready to start building your workspace? Get started with a free 30-day trial. No commitments. Cancel any time.