PDF Expert is an intuitive program that adds more versatility to editing and annotating your PDF documents. Use PDF Expert together with Astropad to add ease of your markup, signature, and file handling from the iPad. Work with this combination to help enhance your remote work routine.
In this quick, step-by-step guide, we'll help you organize an efficient workspace for using PDF Expert together with Astropad Standard.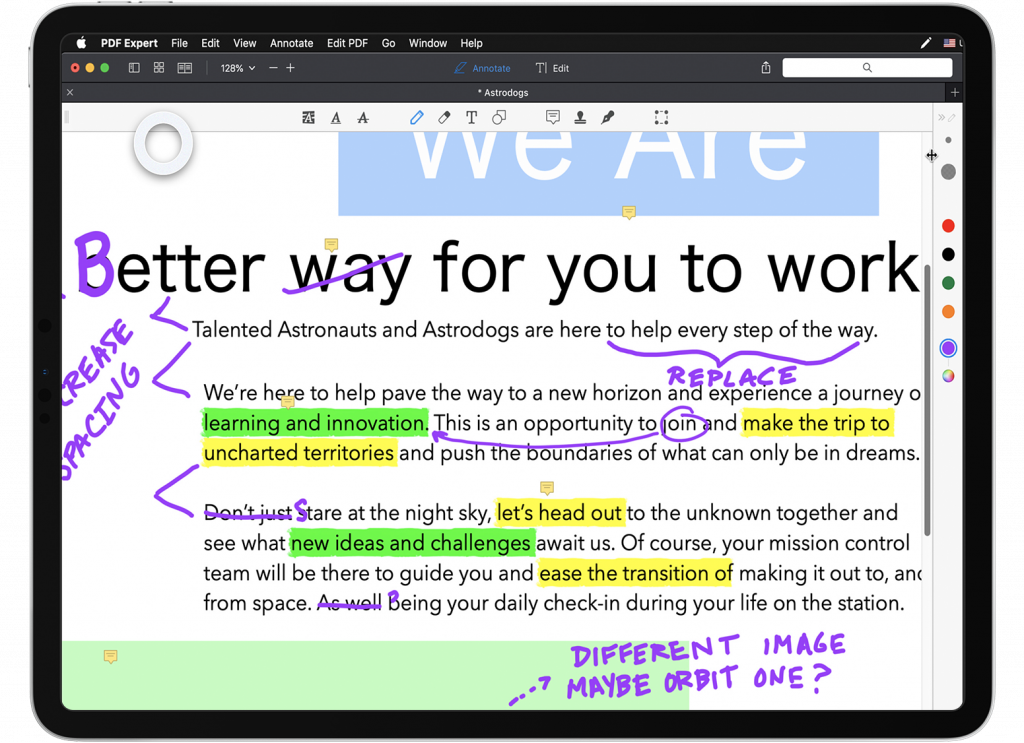 Arranging your Screen view
Astropad mirrors your Mac desktop onto your iPad. Since iPad display aspect ratios are different than Macs, you can use Astropad's Move & Zoom feature to select the portion of the screen you would like to project onto your iPad. From there, you can resize PDF Expert's window to fit within the edges of your iPad screen for optimal viewing during slide creation and presentations.
To learn more about Move & Zoom, check out Astropad Standard's Getting Started Guide
Resize either of PDF Expert's tool and preview menus, since any type of arrangement works with Astropad. The Astropad sidebar can be placed to the left or right side of the iPad screen, or hidden by tapping the white ring button. Use your finger or stylus to drag the sidebar and ring button to either side of your iPad.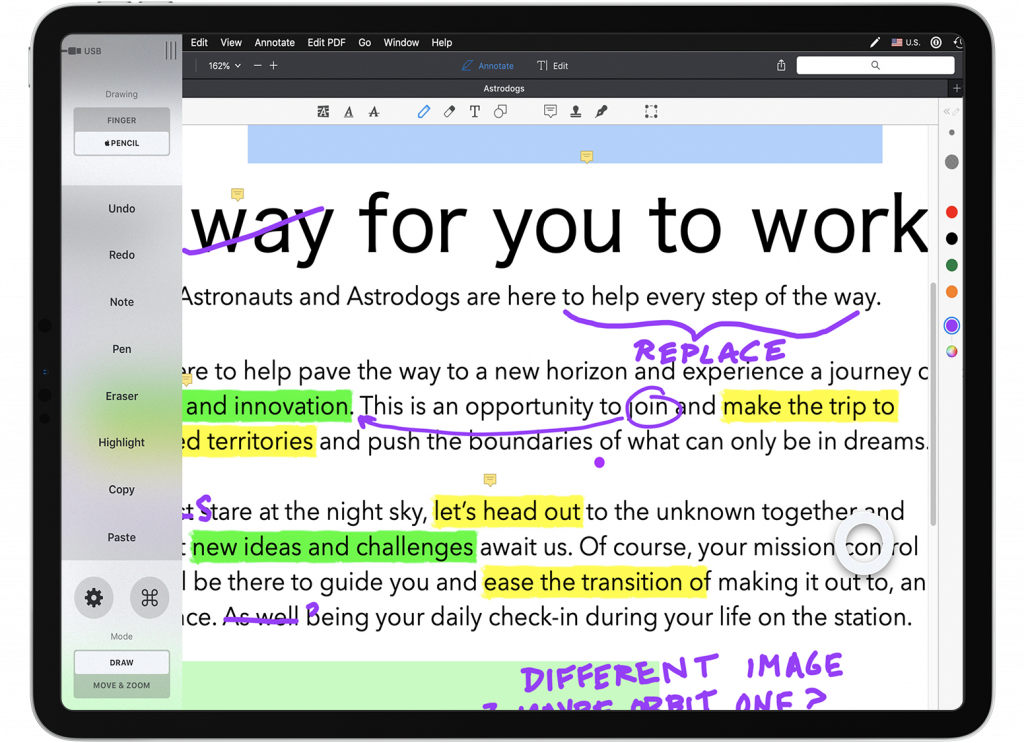 Setting menu shortcuts
Astropad Standard's shortcuts sidebar is preset to Photoshop defaults, but these can be changed to accommodate PDF Expert. At the bottom of Astropad Standard's sidebar, tap the gear symbol (⚙️) to open the Settings menu. From there, select Edit Shortcuts.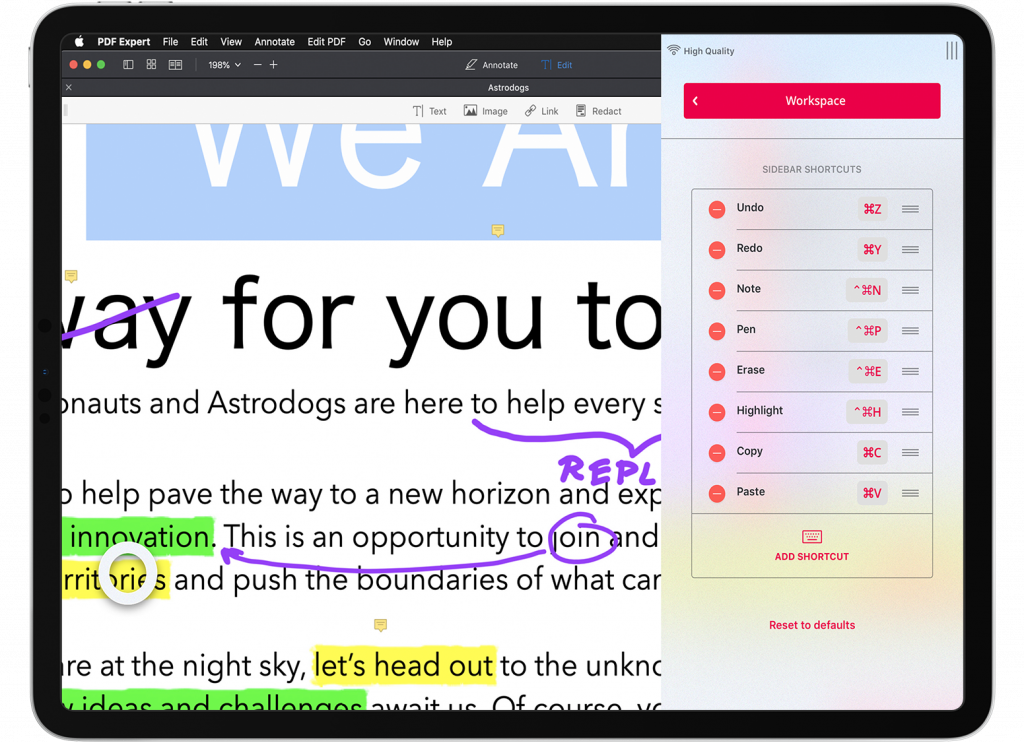 You can fully edit and rename shortcuts for the sidebar. When you select Add Shortcut, a full onscreen keyboard will pop up. Multi-key shortcut commands are entered by holding each onscreen key at the same time, exactly as you would with a hardware keyboard. When you're done, tap Workspace to see all your newly added shortcut commands.
We recommend placing your most used shortcuts in the sidebar. It's completely customizable, so add whatever works best with your workflow!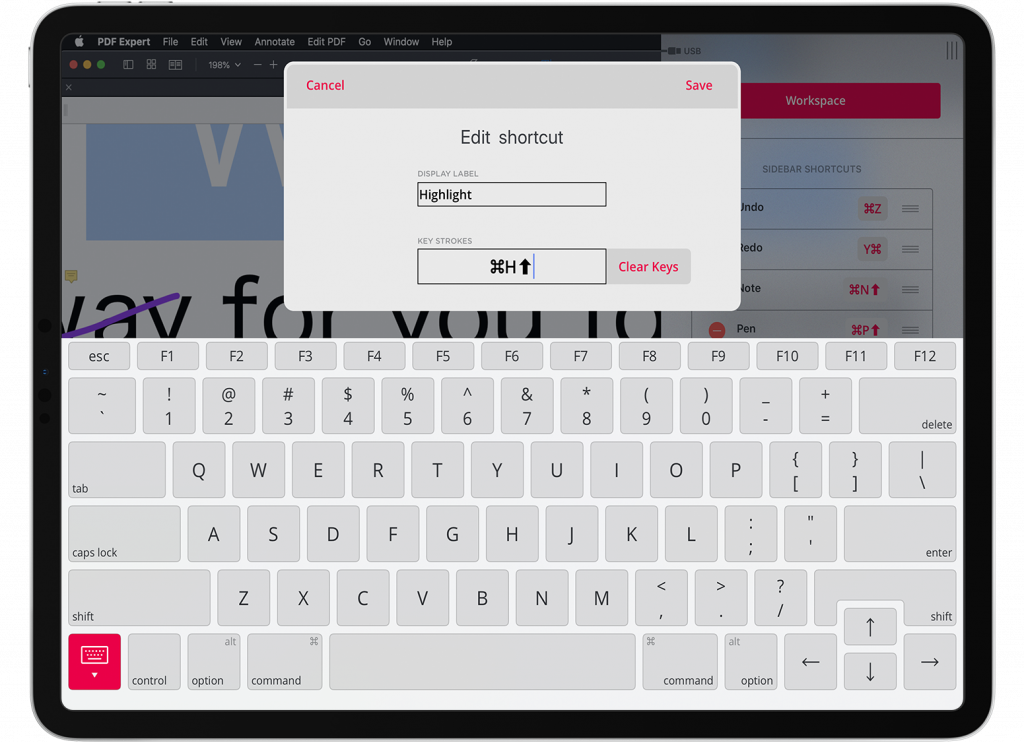 Recommended PDF Expert shortcuts for Astropad's sidebar:
Control + Command(⌘) + N : Switch to Note tool
Control + Command(⌘) + P : Pen annotation tool
Control + Command(⌘) + E : Eraser
Control + Command(⌘) + H : Highlighter
Command(⌘) + Z : Undo
Command(⌘) + Y : Redo
Other helpful PDF Expert shortcuts to consider:
Command(⌘) + 5 : Vertical screen Split View
Command(⌘) + 6 : Horizontal screen Split View
Option + Command(⌘) + 3 : Reveal Annotation Summary
Command(⌘) + 2 : View two page layout
Command(⌘) + C : Copy
Command(⌘) + V : Paste
Touch gesture Zoom and Panning
Astropad's touch gestures, panning and zoom are supported in PDF Expert. Just like using a Mac trackpad — with two fingers, pinch to zoom, and place together to pan on your iPad. This way, you can scroll through pages using touch panning; along with intuitively zooming in and out, all from your iPad screen.
PDF Expert's Split View
For working with multiple PDF documents at once, PDF Expert has a convenient Split View feature. Choose between arranging Split View in either a Vertical, or Horizontal layout. This can be access from the leftmost of the menu bar, by selecting the two pages icon; or by using the shortcuts: Command(⌘) + 5 and Command(⌘) + 6.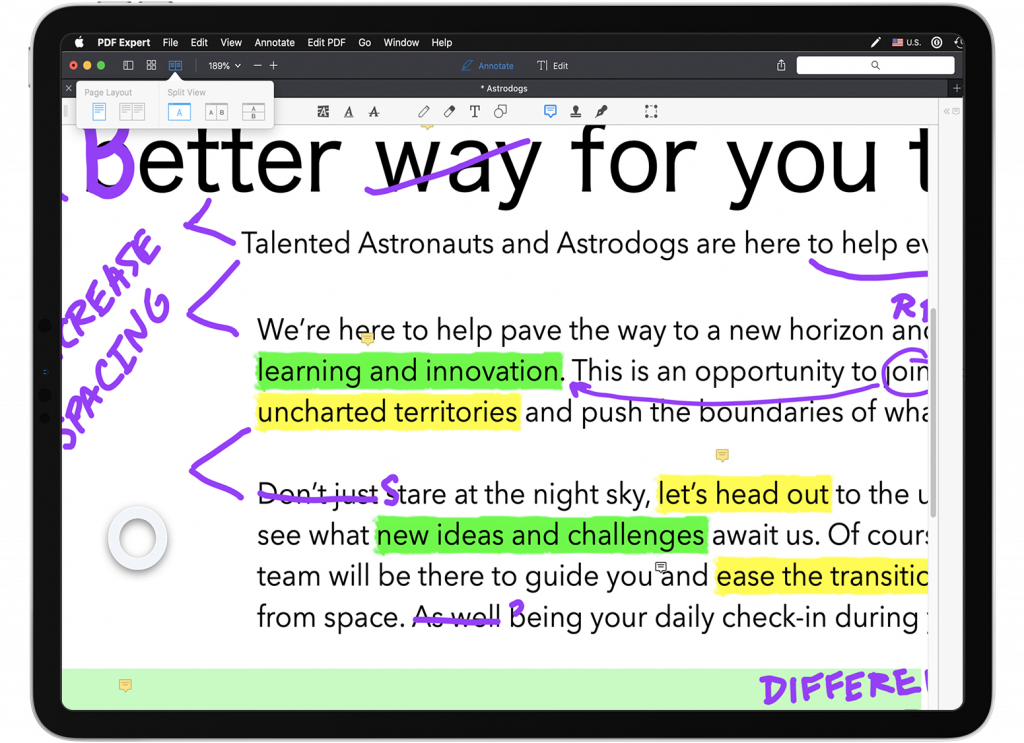 Portrait orientation
If you would like to work from your iPad vertically, check out Astropad's Portrait orientation. Rotate your entire iPad, and the screen will shift over to vertical view. Depending on your preference, Astropad's view selection may need readjustment. To fill in the iPad screen edge-to-edge, use Move & Zoom mode.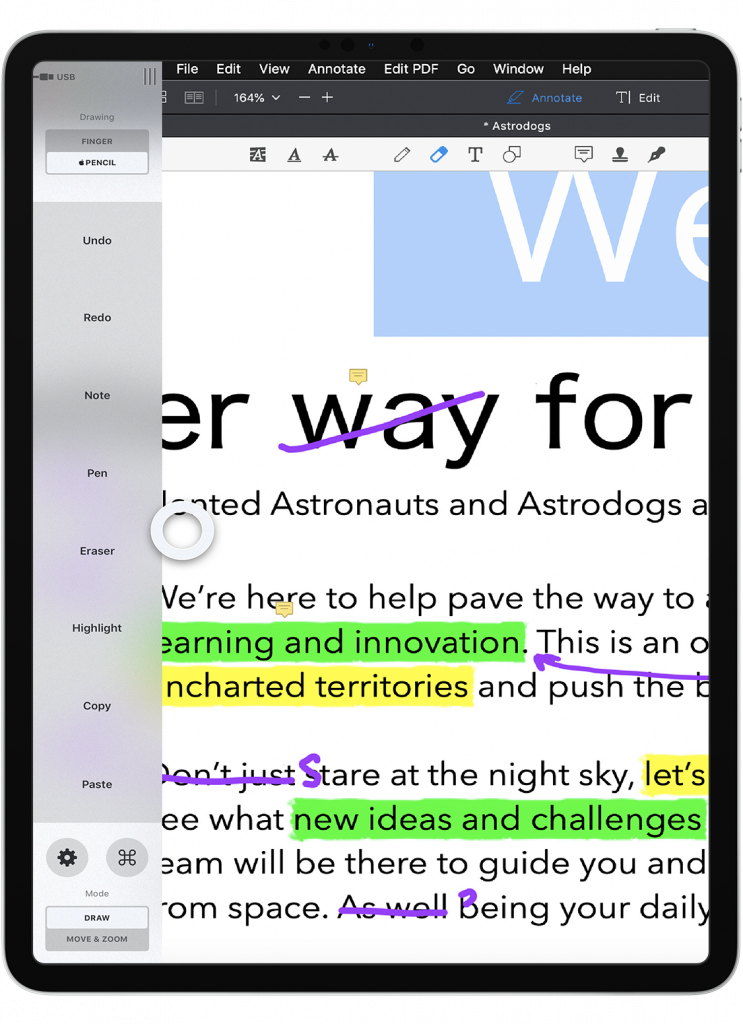 What PDF editing programs do you like use? How has Astropad helped your remote working needs? Share with us in our Astro Community forum!