before you start
Astropad Standard works with your favorite creative tools like Photoshop, Clip Studio Paint, Illustrator, and more. It only takes a few moments to set up – so you'll be ready to take on your next creative project in no time! Here's what you'll need before you download the Astropad Standard Mac and iPad apps.
Mac with macOS 10.11 or later
iPad mini 2 2013, iPad Air 2013, iPad Pro 2016, or iPad 5th Generation 2017 or above with iOS 9.1 or later
Apple Pencil (you can also use finger touch)
Creative software on your Mac
Astropad Standard Mac and iPad apps
Strong WiFi connection or USB cable to connect Mac and iPad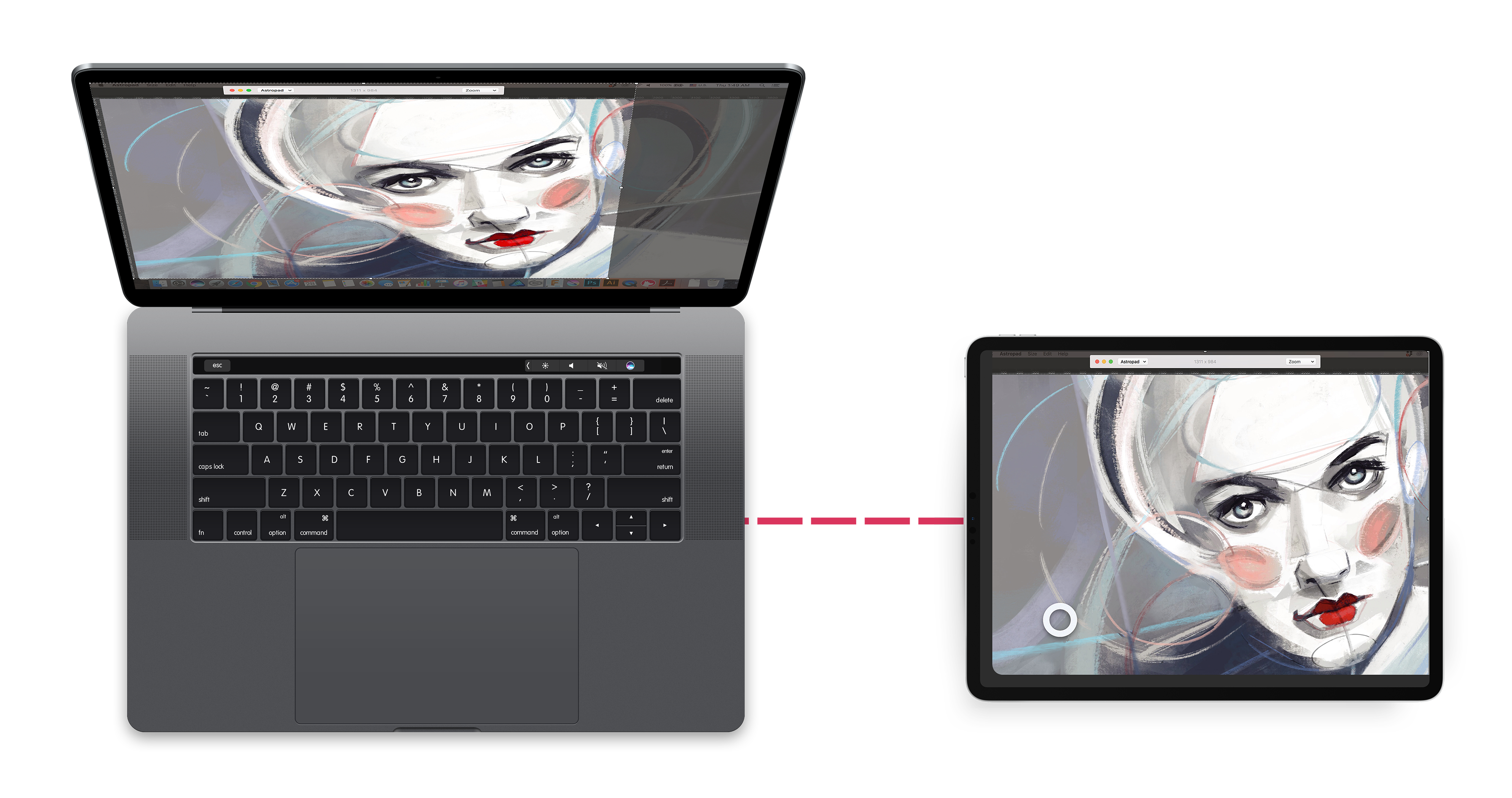 connecting your devices
Connecting via WiFi
Connect to the same WiFi network on both your Mac and iPad. When both the Mac and iPad apps are open, Standard will automatically wirelessly connect.
Connecting via USB Cable
Use your USB cable to connect your iPad to your Mac. When both the Mac and iPad apps are open, Standard will automatically connect via the cable.
Astropad Ring Button
Once connected, you will see the Astropad ring button on your screen. It can be moved anywhere on the screen by holding it down and dragging it to your desired location.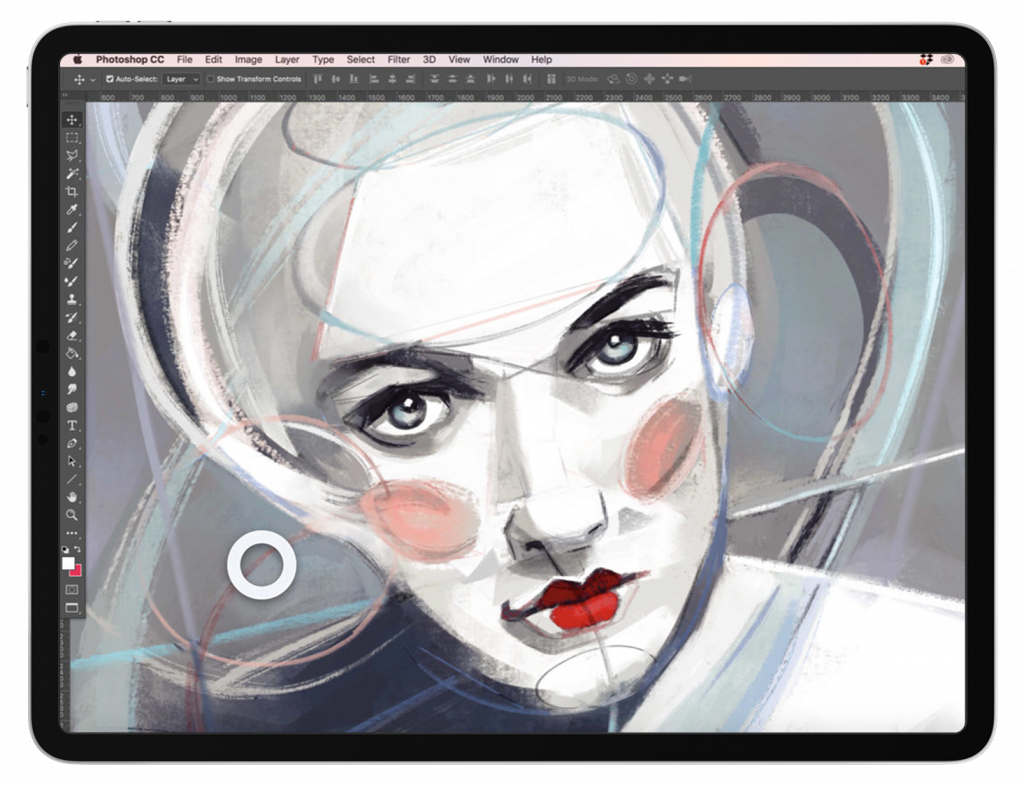 Adjusting Your Canvas with Move & Zoom Mode
On your iPad, you can adjust the mirrored-screen view of your Mac to accommodate your desired canvas size. Move & Zoom Mode allows you to pan and zoom to adjust the size of the mirrored desktop on your iPad screen with two-finger gestures. It's accessible by pressing the Astropad ring button (as seen in the example image below) or by selecting it through the Workspace Sidebar.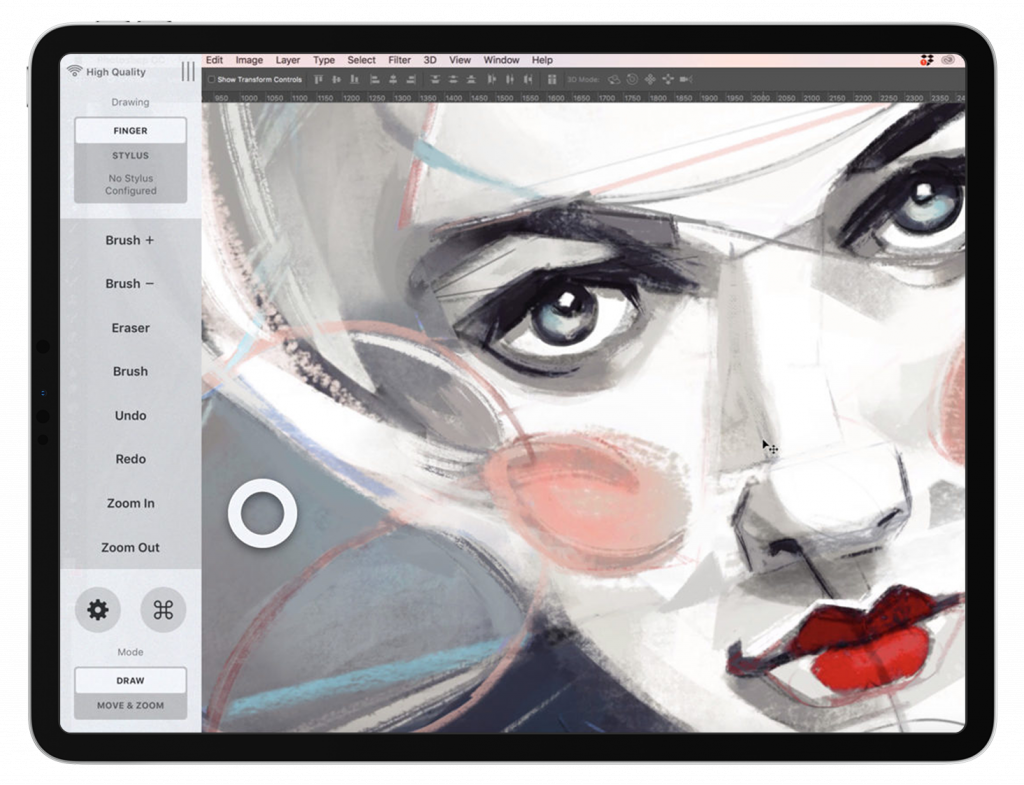 Accessing the Workspace Sidebar
Reveal or hide Standard's Workspace Sidebar by tapping the Astropad ring button.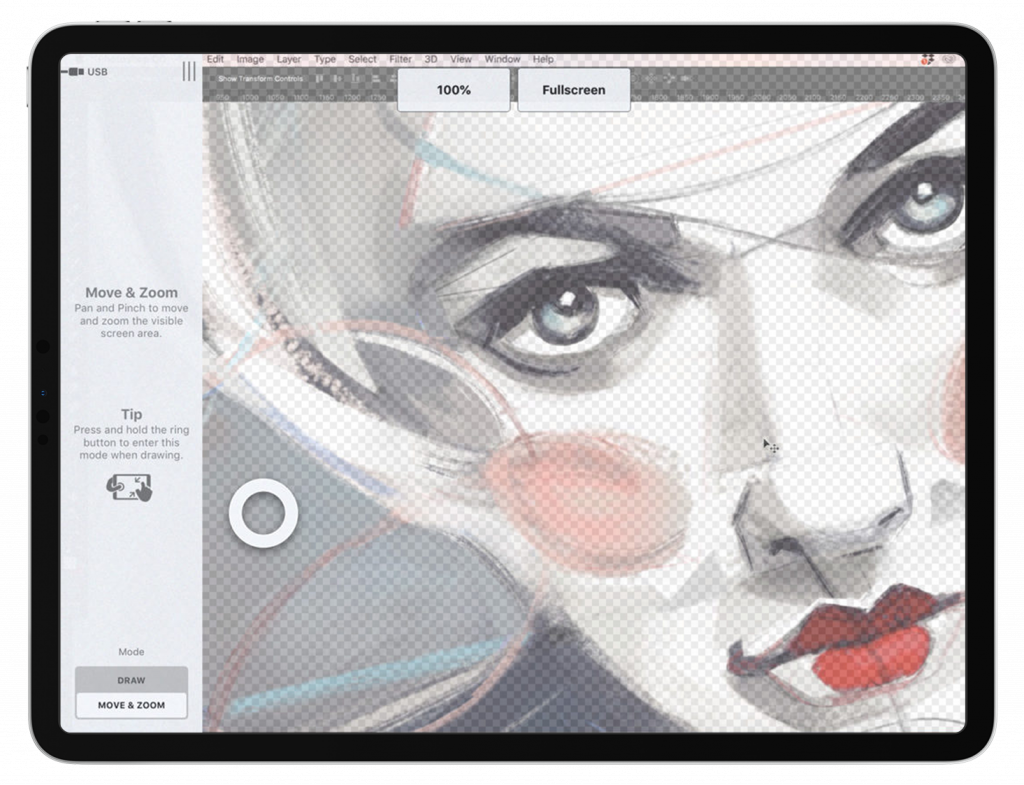 Toggling Between Additional Screens or Luna Display
If you have an additional monitor attached to your Mac, or are using Luna Display, use Screen Switching in Move & Zoom to toggle between the Mac, additional monitor, and/or Luna.
Using Luna Display together with Astropad allows the iPad to work as both a drawing tablet and an extended screen.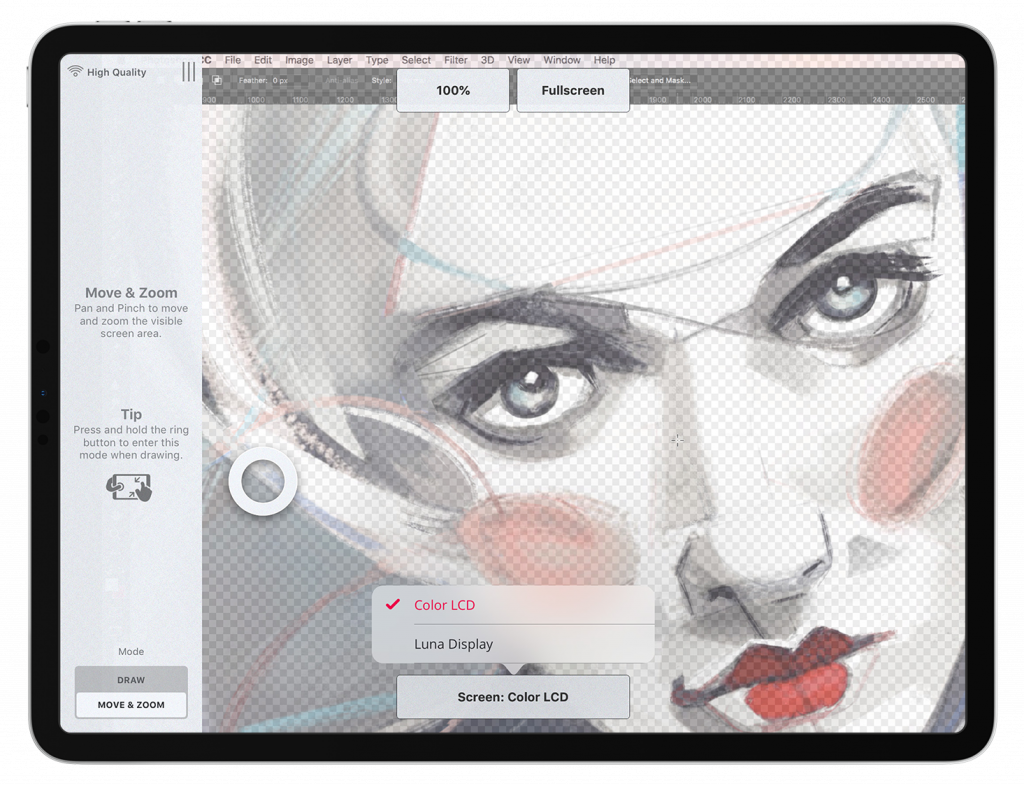 Touch Pan & Zoom
Using two fingers, you can pan and zoom around your canvas, directly within your creative program, just as you would using a Mac trackpad. (This is different from Move & Zoom Mode, which is for positioning the entire desktop screen view and program window on the iPad).
Two-finger pinching gesture to zoom: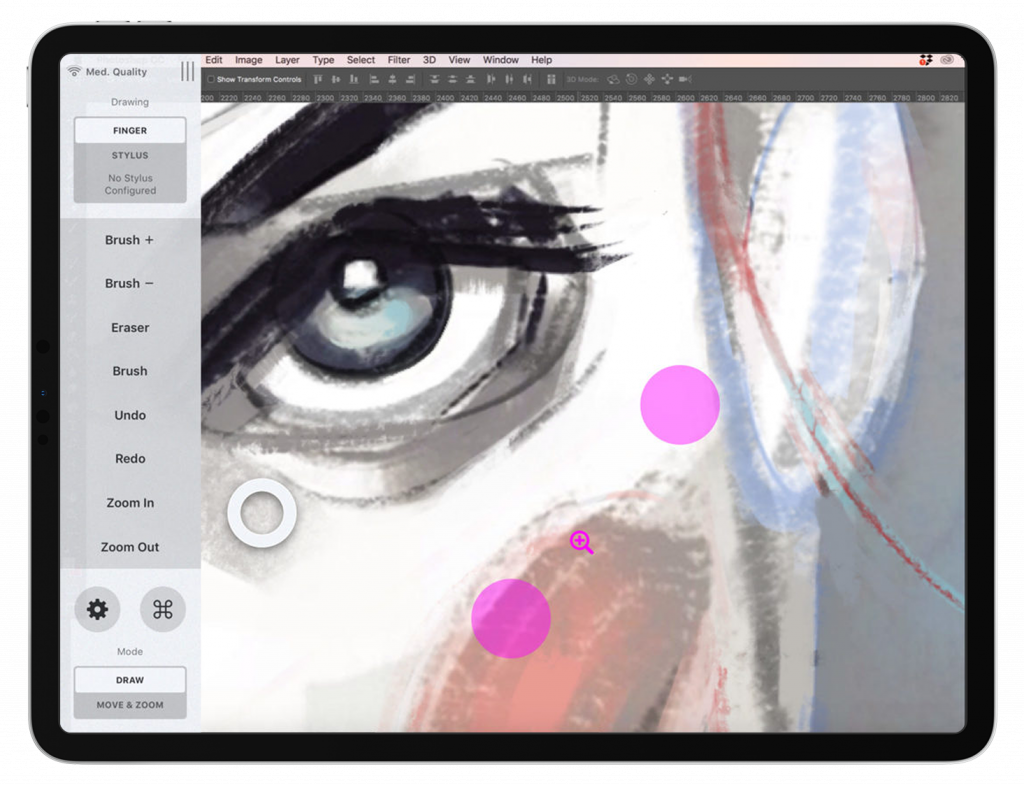 Two fingers together dragging along the screen to pan: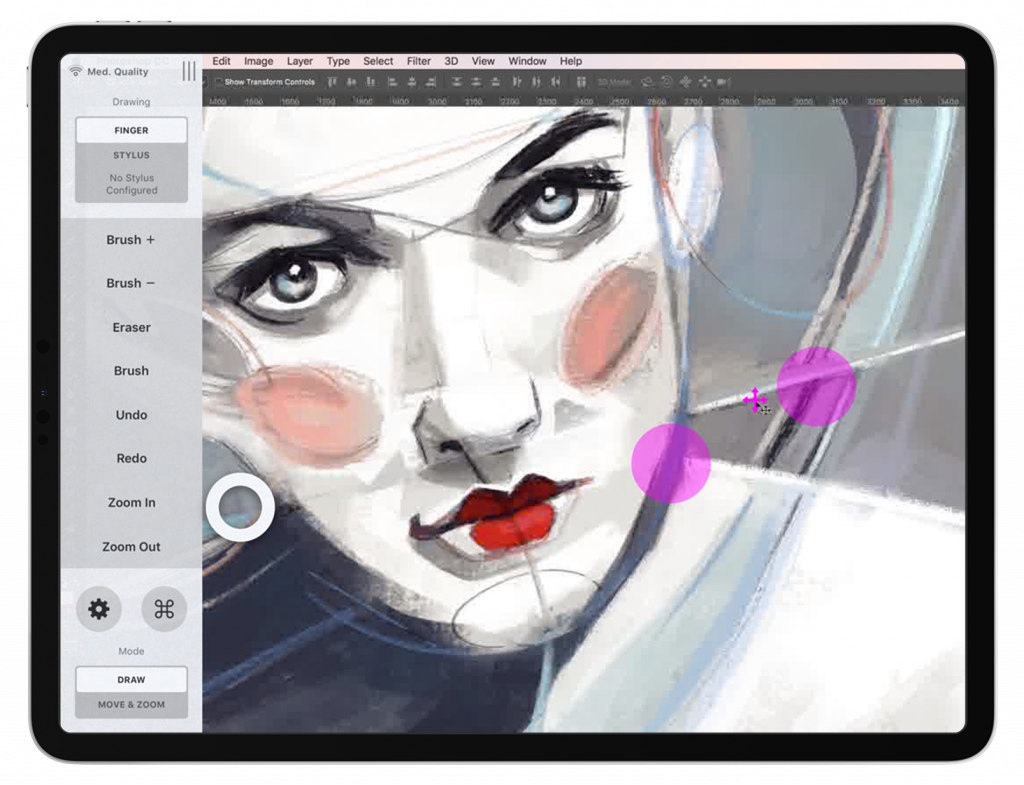 Sidebar Menu
There are many useful features to access in the Shortcuts Sidebar. Along with editing shortcuts, you can check connection quality, and adjust settings.
Editing the Shortcuts Sidebar
Shortcuts Sidebar lets you utilize shortcut commands by tapping them from your iPad screen. At anytime, you can edit or rearrange your saved shortcuts. In this Shortcuts Sidebar, you can also access many functions and settings, including: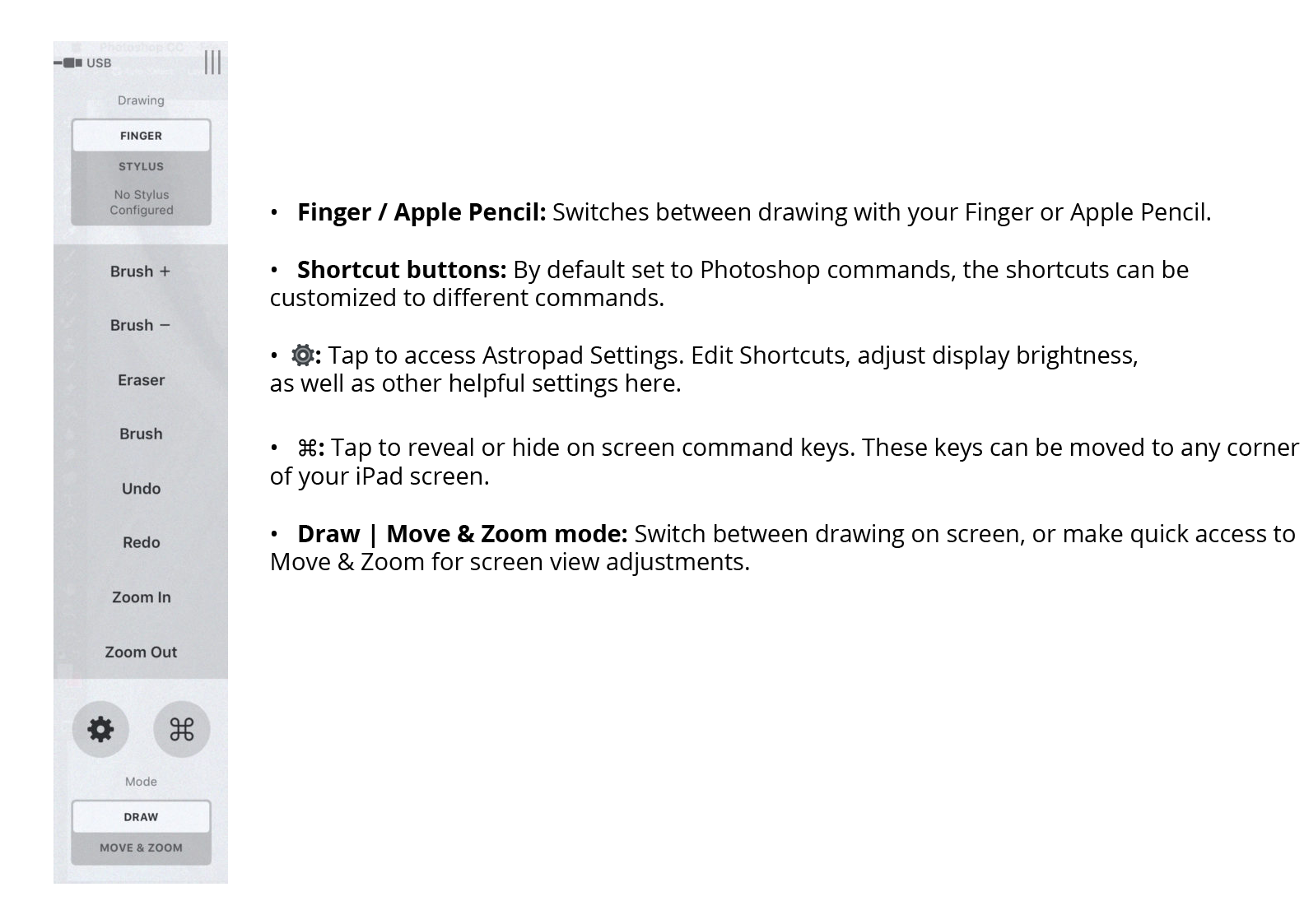 Customizing General Settings
Tap the
 symbol in the Shortcuts Sidebar to open more of Astropad Standard's iPad Settings. Functions accessible in this menu include: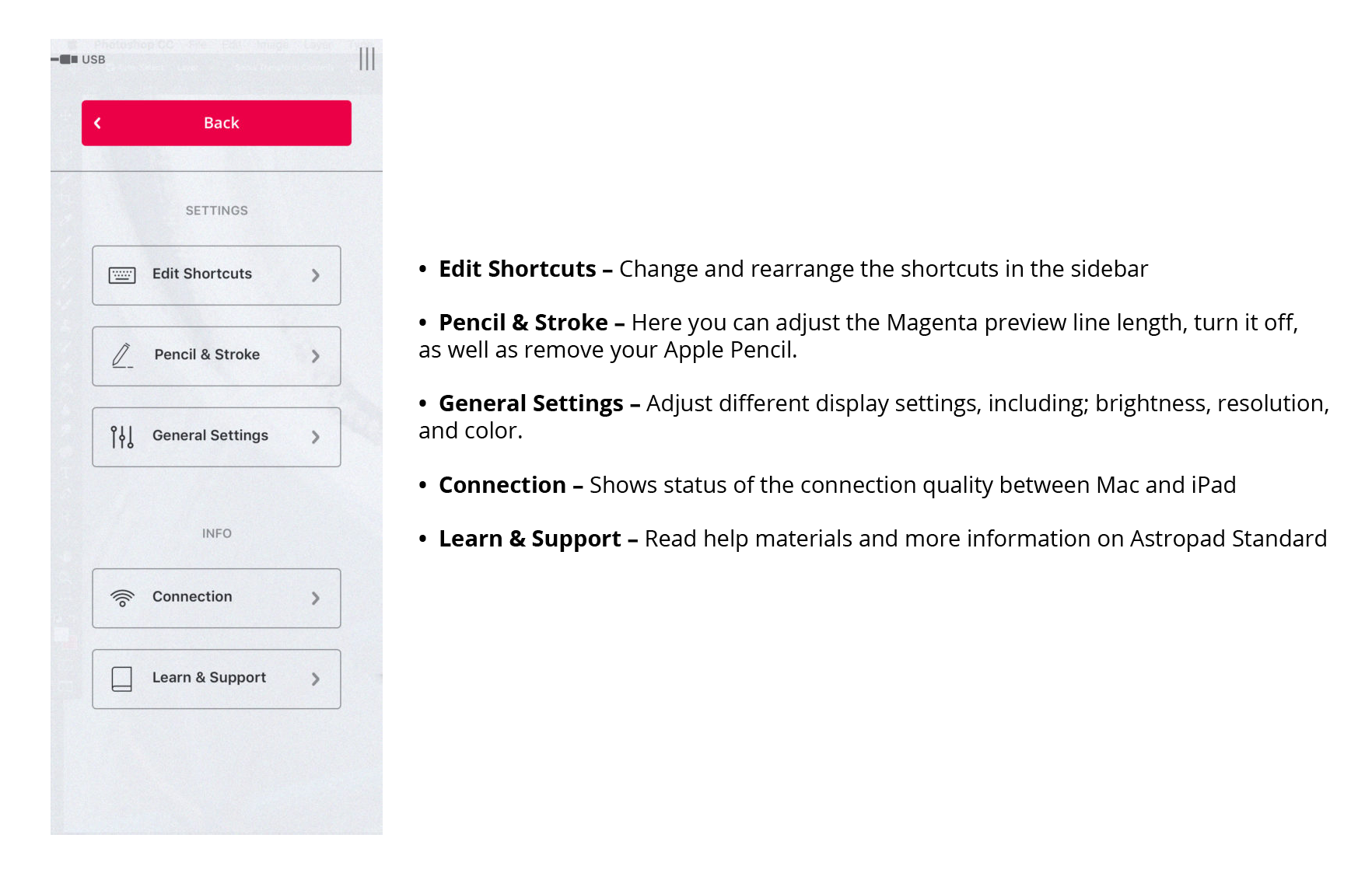 Editing Shortcut Commands
By default, Astropad Standard's shortcut commands are set to a few  of the most common shortcuts in Photoshop. If you work with other programs, the commands will need to be changed for the program that is in use.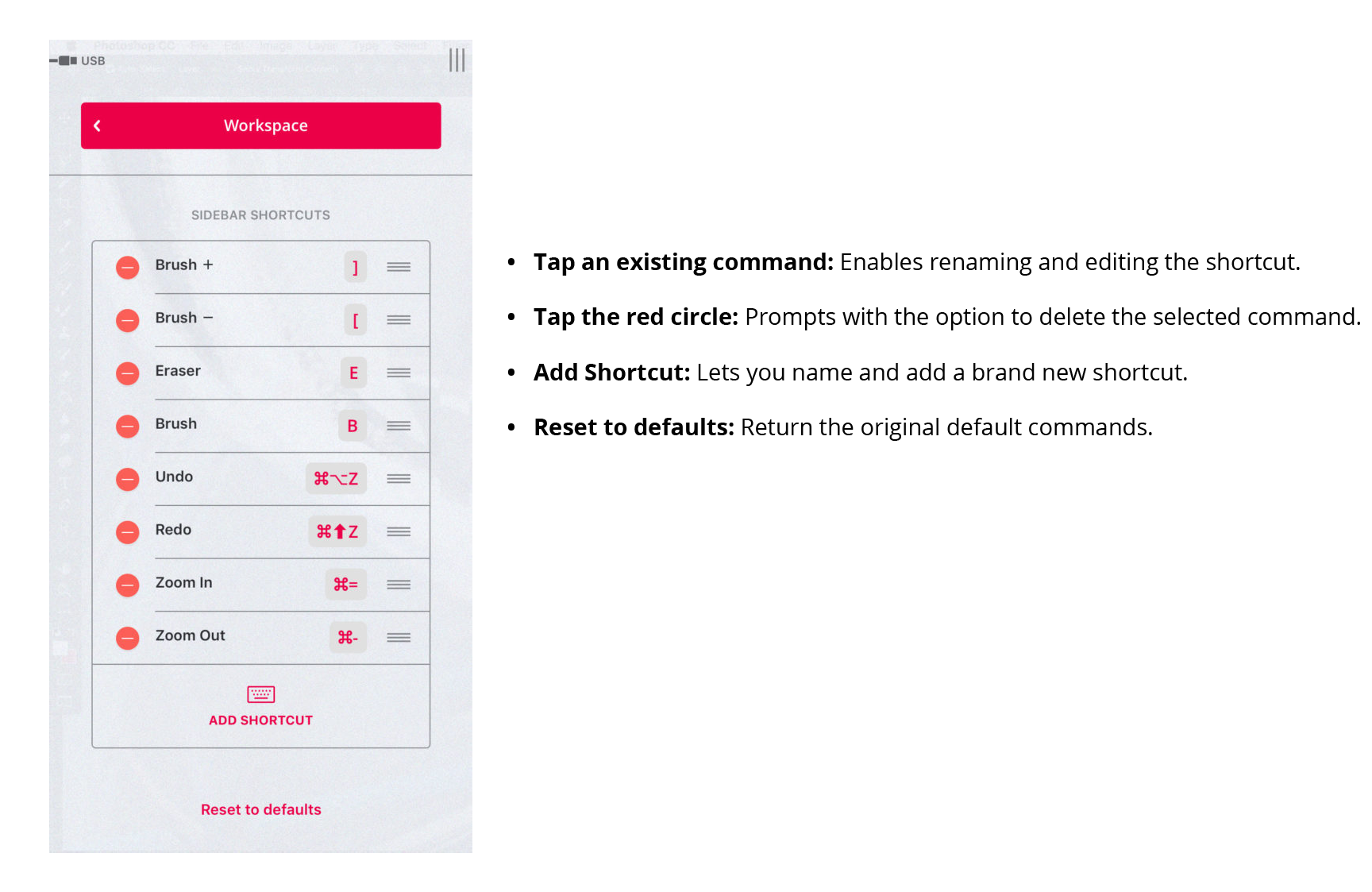 troubleshooting
Astropad Standard works with many Mac-compatible apps. For more information, check out our comprehensive list of supported programs.