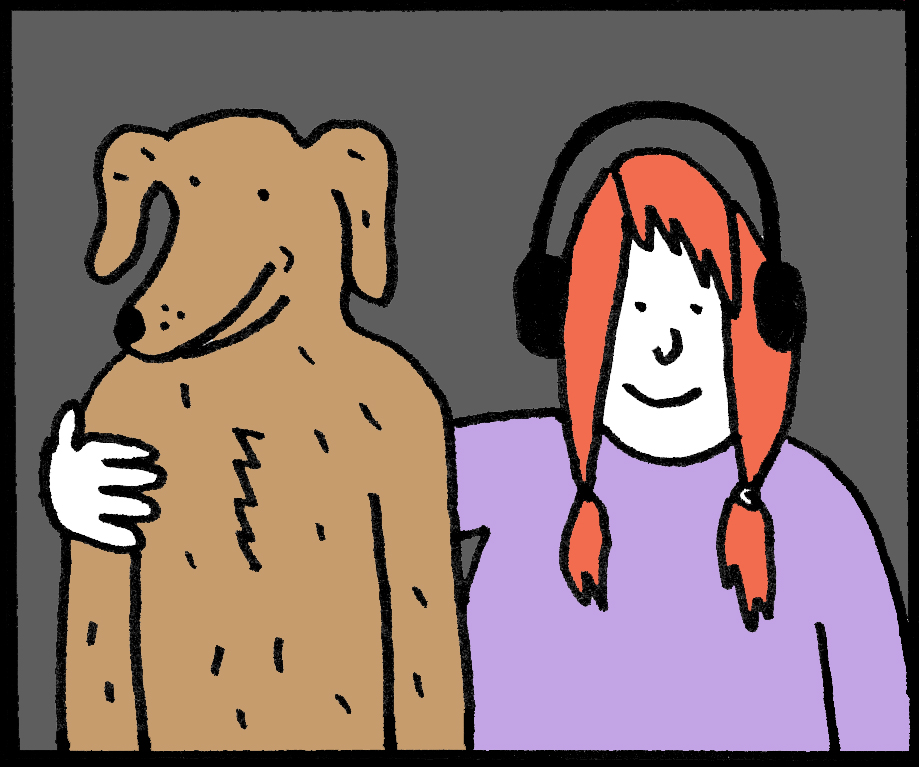 Getting set up with the right tools is fundamental to successfully working remote. Essential tools for the Astropad team include a laptop, iPad, and internet. Other tools have the power to elevate your desk into a highly-advanced and efficient workspace. Below, we've shared some of our top tools to create the ideal workspace.
Hardware
We've assembled a comprehensive list of our top user- and Astropad team-verified gear. Having the right physical tools in your setup is essential to a seamless workflow. With our guide, you'll find the right tools for your unique needs!
Internet
When you work from home, a strong WiFi connection is a must. There are a lot of options on the market, which can be overwhelming when trying to decide on the best one to meet your needs. One of our favorites is Google WiFi. We like it because it automatically places you on the least congested channel and uses the fastest band for your devices. And, it covers up to 1500 feet of space, which is ideal for those working from home.
External displays
When it comes to getting the right equipment for your home workspace, we have a couple of tried and true options. Everyone on our team receives a Mac laptop, iPad, and Luna Display when they get started. Luna is our hardware and software solution for extending your primary Mac display onto either an iPad or another Mac. Just plug the Luna hardware into your Mac, download the apps for each device, and you're up and running with an additional screen display. When extending to your iPad, Luna offers full touch support and works on older Macs.
Additionally, Astropad employees are provided with our flagship product, Astropad Studio. Studio is our premier creative software that seamlessly mirrors your Mac display to your iPad and is perfect for utilizing desktop creative applications. It offers an array of rich, custom features to enhance your workflow and adapt to the apps you use most.
For large external displays, the Dell Ultrasharp Monitor is a great affordable option that we recommend. For Mac users who want a higher-end, large external display, the LG UltraFine 5K Display is hard to beat.
iPad accessories
We know how important accessories are in creating the perfect workflow. Here's our list of the best accessories to use with your iPad based on user feedback and personal recommendations from our team.
Software
When working remotely, the software we use does a lot of work to help us bridge our various departments into a cohesive team. And with an endless number of software companies pitching new tools, it can be hard to discern between what works versus what's right for your company. Here at Astropad, we've tested a lot of software that didn't work out for us. Here are the tools that have stuck with us that we highly recommend:
How we talk on a daily basis
Slack team messaging connects our company on a daily, even hourly, basis. It's difficult to imagine operating as a team without it. Company updates, departmental chats, support question triage – it all happens in our various Slack channels.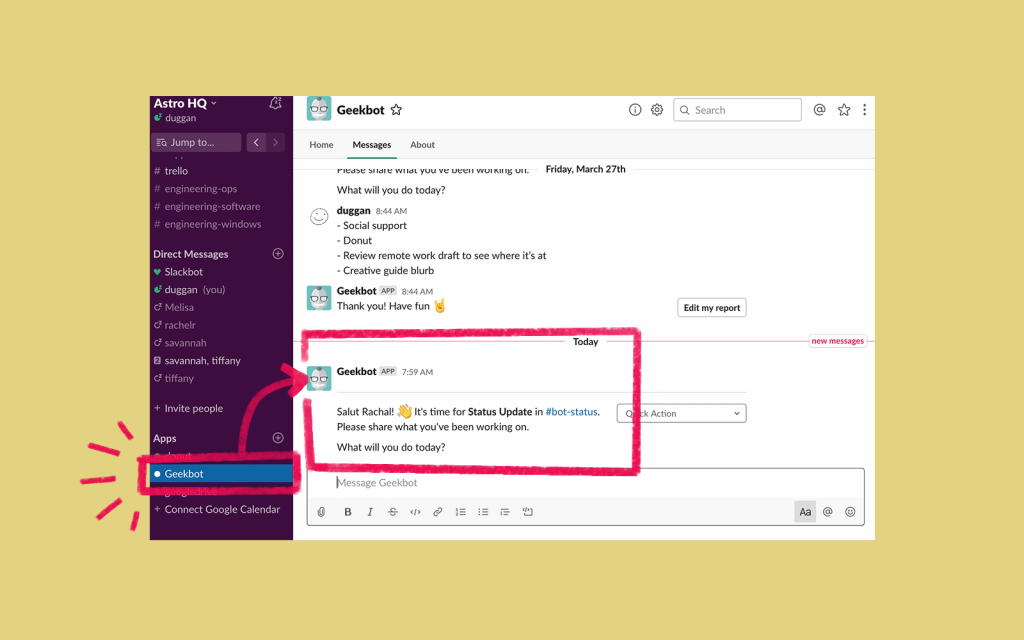 Each day, we use the Geekbot plug-in on Slack to share what we're individually working on. In just a few bullet points, we're able to let the entire team know what each of us is up to, connecting the dots between departments and company goals. It's also helpful to see what others are up to when you'd like to check in about something. If we didn't post what we're working on each day, it would be hard to keep track of what's happening person-by-person.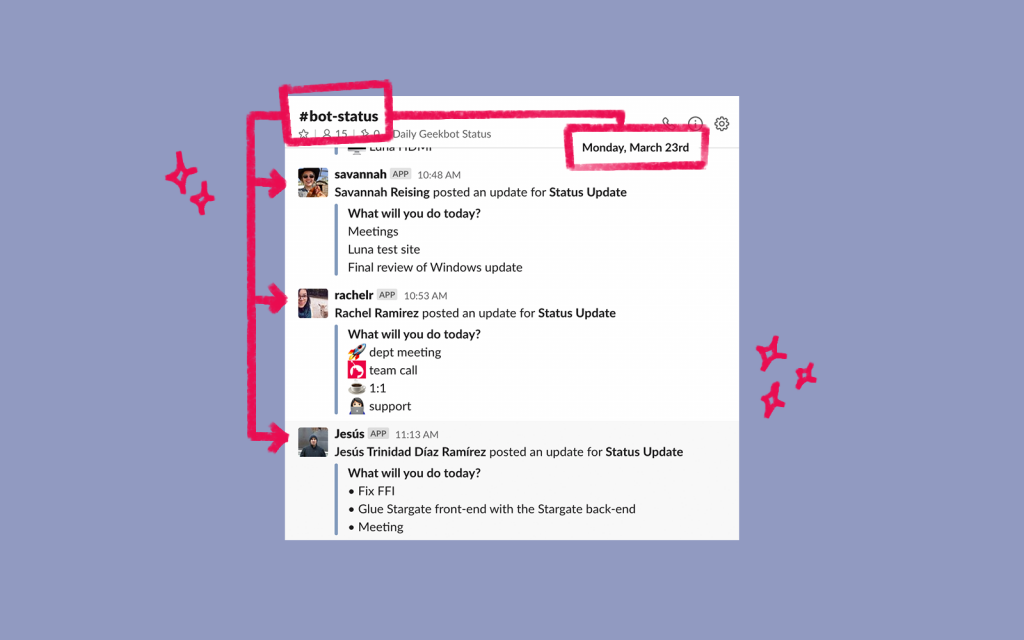 We also use a Slack plug-in called Donut to help us stay socially connected with each other. Each week on Monday, Donut pairs two people on the team to have a casual (non-work-related) video rendezvous on Friday for 30 minutes. These calls allow us to get to know each other better much like we would if we were in an office and ran into each other during lunch or coffee breaks — we talk about weekend plans, current events, and whatever else is going on in our lives!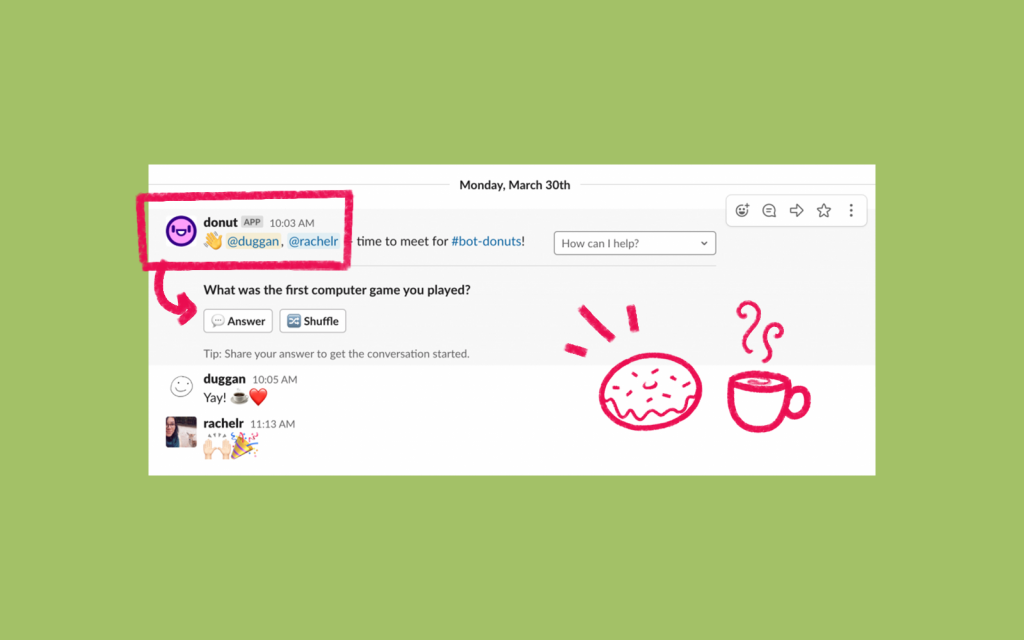 How we hold meetings
Zoom video conferencing is currently the best available meeting tool on the market. That being said, it's not perfect and can be buggy. We've tested Google Hangouts, Slack video conferencing, and Skype, to name a few. Hands down, Zoom has been the most consistent and effective for our team. We've also made a habit to record team calls so that team members who are off that day have an easy way to catch up and stay in-the-know.
How we stay organized and document our work
Notion's collaboration software has been a game-changer for our project management and departmental organization. It's highly customizable and is packed with features that fit the differing personalities of our team. For example, our Marketing team utilizes Notion to set every meeting agenda, brainstorm new initiatives, organize campaigns, and assign tasks like review.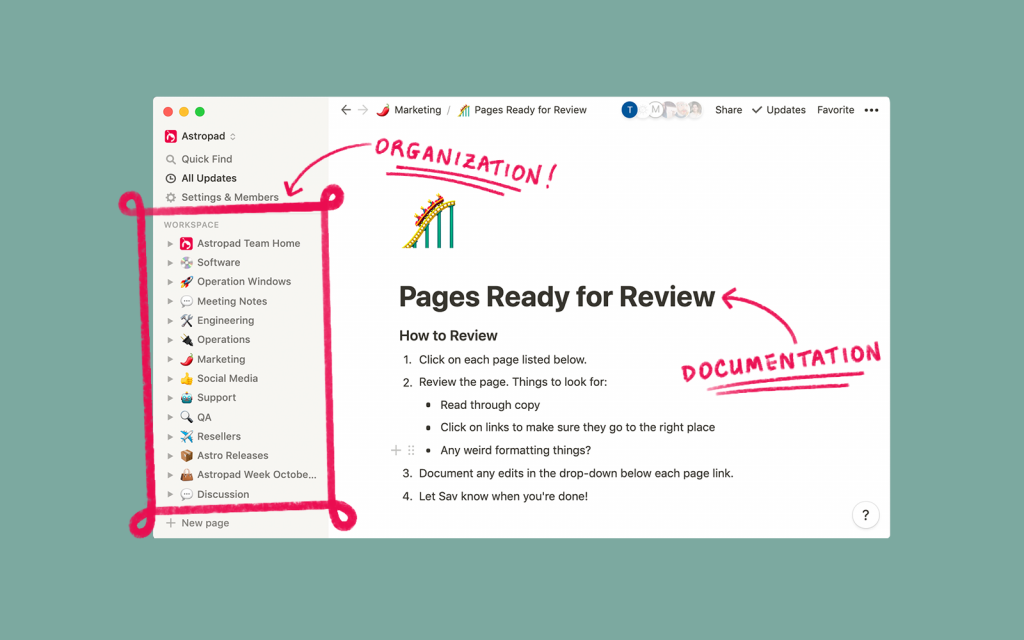 Google Docs have become increasingly important to the writers on our team for one primary reason: editing. When drafting blog posts, we need a handy way to collaborate and allow others to proofread and edit. The comment feature within Google Docs enables us to share early iterations and get feedback along the way.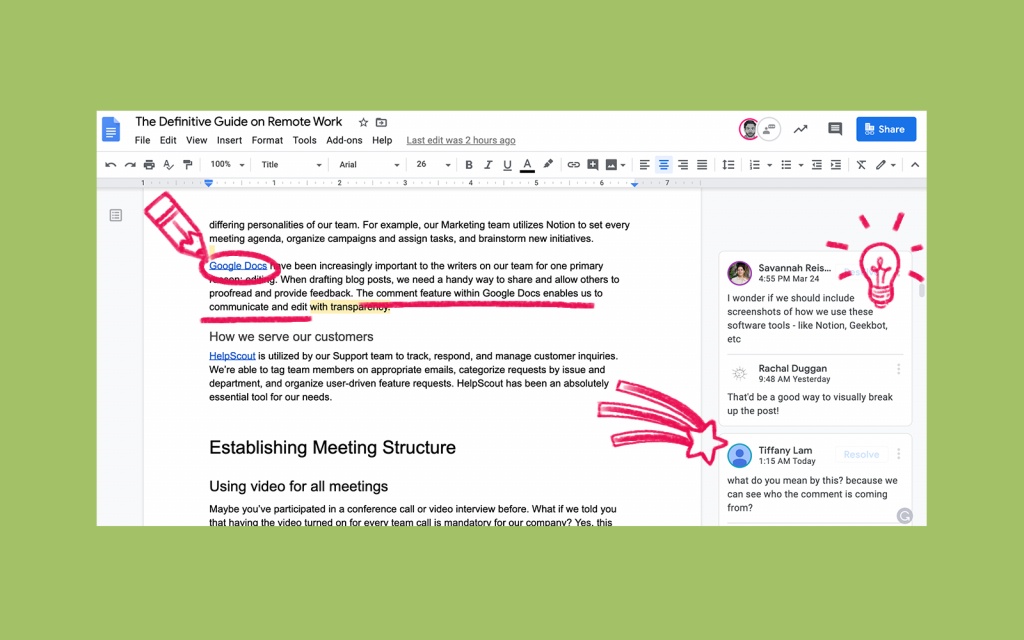 How we serve our customers
Our Support team uses HelpScout to track, respond, and manage customer inquiries. With the help of this nifty software, we're able to tag specific team members on appropriate emails, categorize inquiries by issue and department, and organize user-driven feature requests.