Maker Spotlight: Dora Cuenca, Muralist, Illustrator & Surface Designer
It's nearly impossible to ignore the beauty and calming presence that Dora's artwork embodies. Each line tells the story of travel and vibrates with movement. Get inspired by her positive energy and organic method of nurturing new ideas.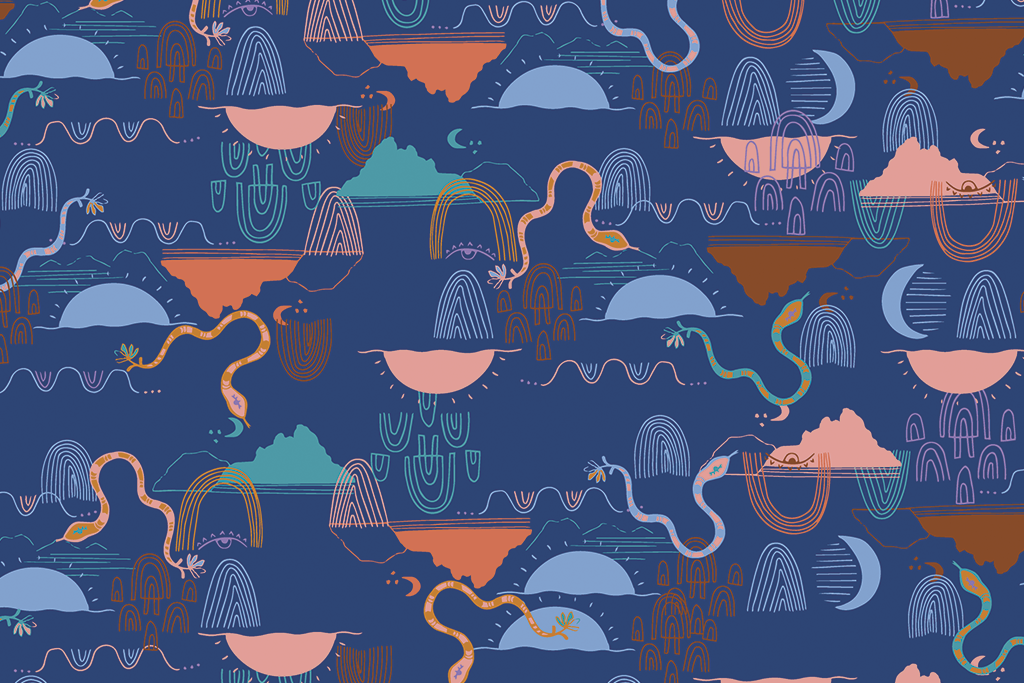 Tell us a bit about your practice.
My creative practice has changed a lot since becoming a mom 6 years ago. With 3 little ones always in tow, I don't have a set schedule for my art practice/business. I've learned to work in small chunks of time here and there. And, I've developed many rituals that allow me to nurture my creativity even when things get crazy.
What's your workspace like?
I've always worked on our dining room table or the living room floor. But, I now have a tiny room in our house that we've transformed into an art studio. It's a work in progress, but I love it. The space is filled with inspiring books, elements from nature and the walls are covered in murals mostly done by my kids. I have a big table where I get to do all my drawings, watercolors, collaging, ink making – you name it! It's my analog space. It also doubles as a print packaging station.
I have a wall where I usually keep one or two big projects I'm currently working on. And, on the other side of the room is my digital desk, where my computer, scanner, and iPad live. This is also where I finish most of my work. All of this happens in a tiny room, so it's cozy!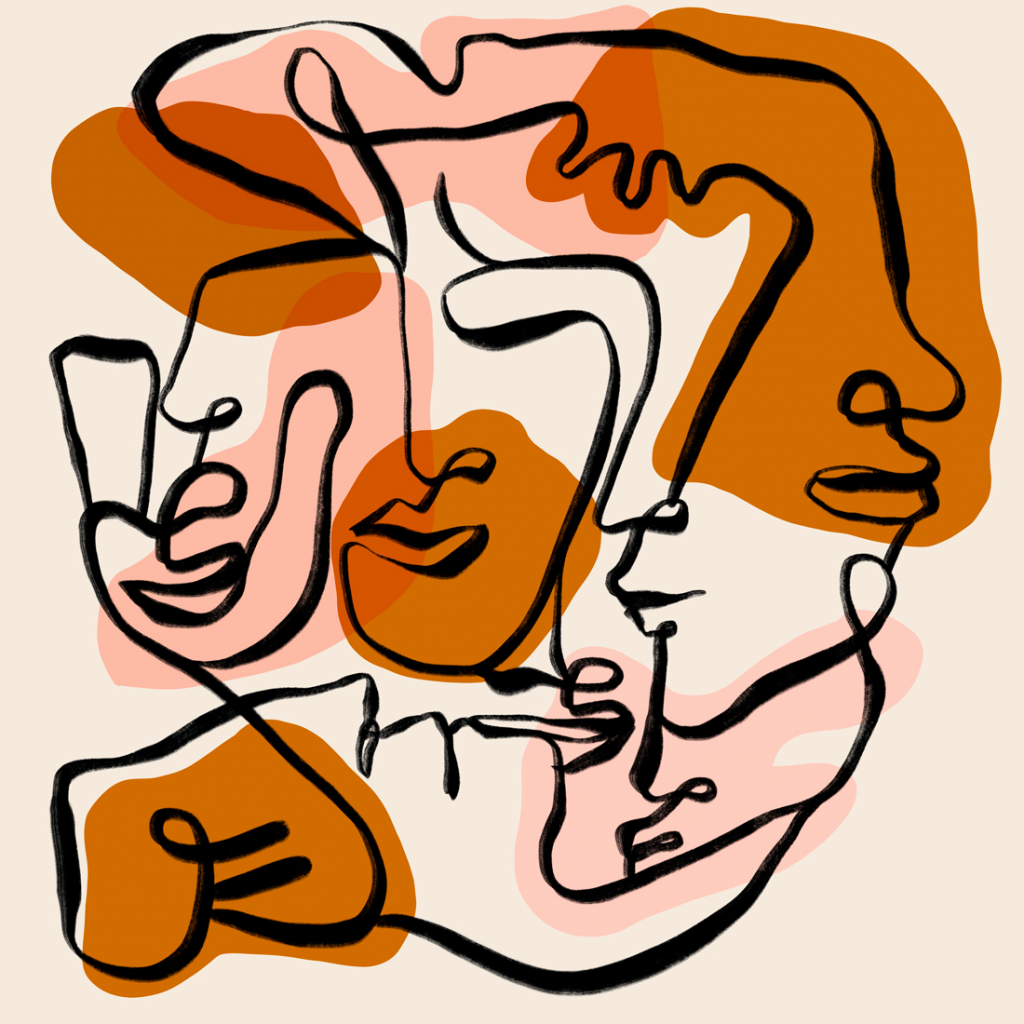 How does Astropad fit into your practice?
Astropad allows me to bring my hand-drawn style straight into Adobe Illustrator and Photoshop. And, it saves me a ton of time. I love that I get to integrate my iPad in yet another part of my workflow without having to make an additional big investment.
How have digital tools improved your workflow?
They have allowed me to create so much more. Investing in an iPad was one of the best decisions I've made for my art career. I was very resistant at first, but I'm so glad I did it. And, using Astropad allows me to feel much more fluid when using Illustrator or Photoshop. With digital tools, I'm able to bring my art onto many more types of products and surfaces without having to have a big workshop or workspace.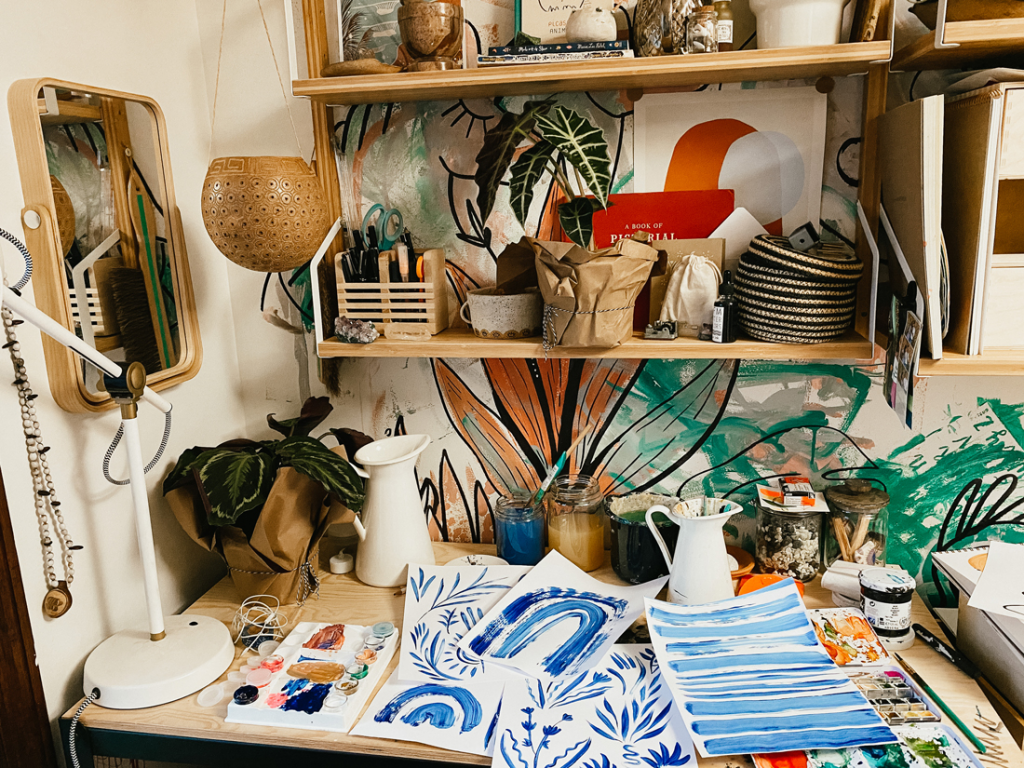 Walk us through your daily routine.
Weekdays are mostly spent doing the mom thing. I try to find a couple of minutes every day to draw at least one thing, no matter how small or simple. I try to find ways to gather inspiration for new pieces throughout the week, always keeping notes on my phone for ideas or colors I want to play with. After we put everyone to bed I'll usually lay in bed with my iPad and tackle a few things off of my to-do list right before falling asleep.
On weekends I usually get more time to work on client work. I'll bring the illustrations from iPad to Computer, scan anything I made by hand throughout the week and finish the files on illustrator or Photoshop.
How do you brainstorm fresh ideas?
So many different ways! I'm originally from Costa Rica, so when I'm very nostalgic for home and can't focus on anything else, I'll think of some of my favorite memories from home. Maybe it's the colors of the houses, the hot beach days, the memories from my grandmother's farm, the unique Latin American traditions, Costarican sayings, etc. Working on pieces that are inspired by where I'm from makes me feel closer to home.
I also use the color notes I make throughout the week to draw abstract pieces in the iPad. These abstract illustrations often inspire something more figurative. Other times my kids will tell me what to draw, and their ideas are pretty unique! I have many different ways I like to jump-start my creativity since my time is very limited, it doesn't always work, but when it all fails there's plenty of paperwork and emails that need to be taken care of.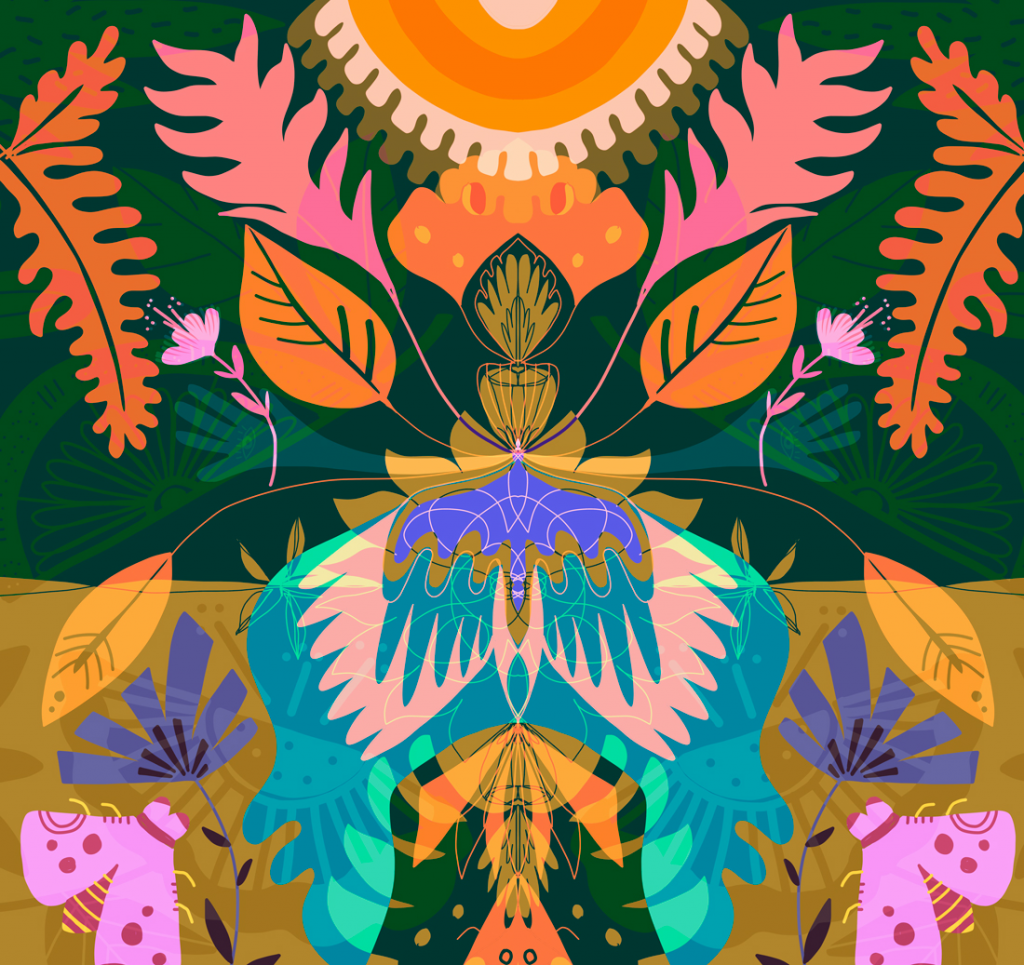 What's your favorite thing about the work you do?
Making art is my therapy, I need it. I love how it has allowed me to connect with other people and build community by connecting to myself. Plus playing with colors and shapes is just plain fun!
What's your least favorite thing about the work you do?
It is very hard not to get frustrated when a dry season of creativity hits but I try my very best to remind myself it's just a necessary part of the process.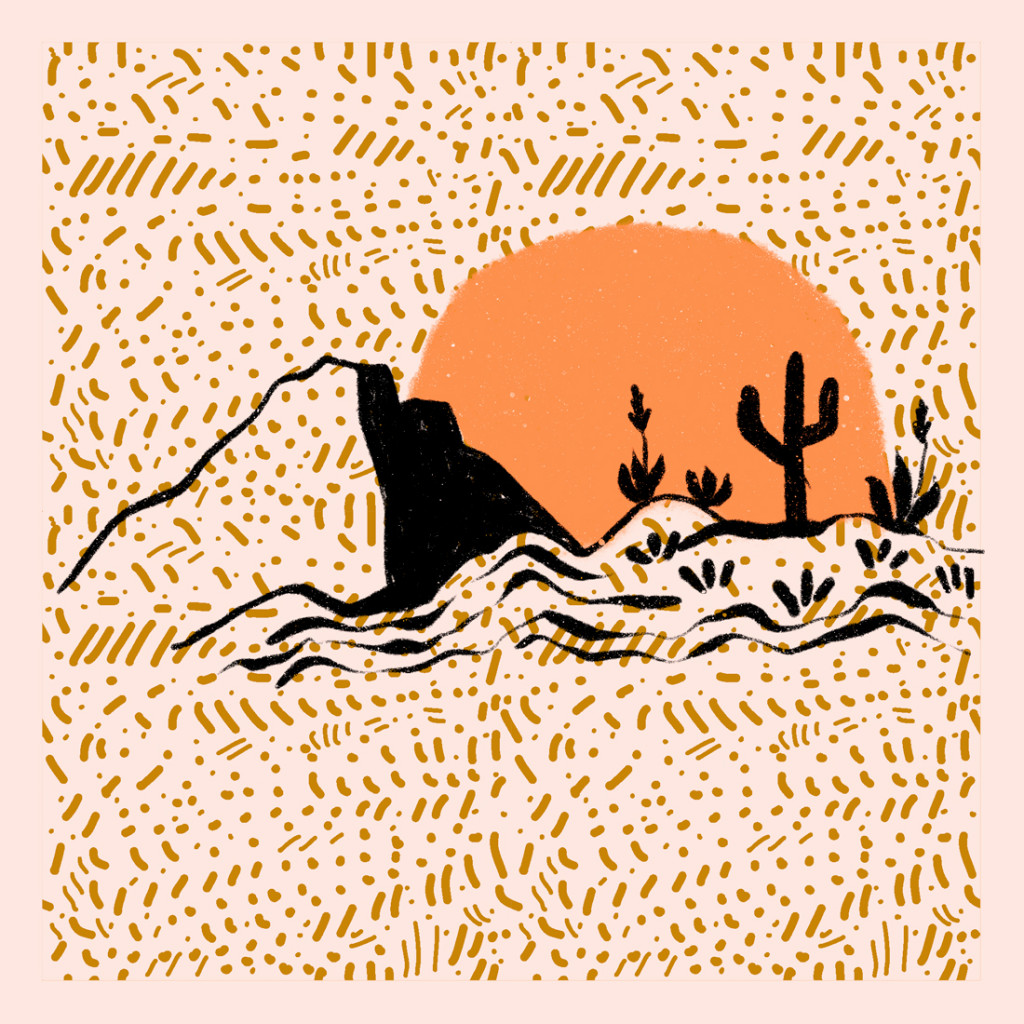 What podcasts are you listening to?
I have a long list of podcasts I love. Here are some of them:
Oprah's SuperSoul Conversations
Do you have any inspiring Instagram accounts you recommend checking out?
So hard to choose but here are some feeds I love to check out often: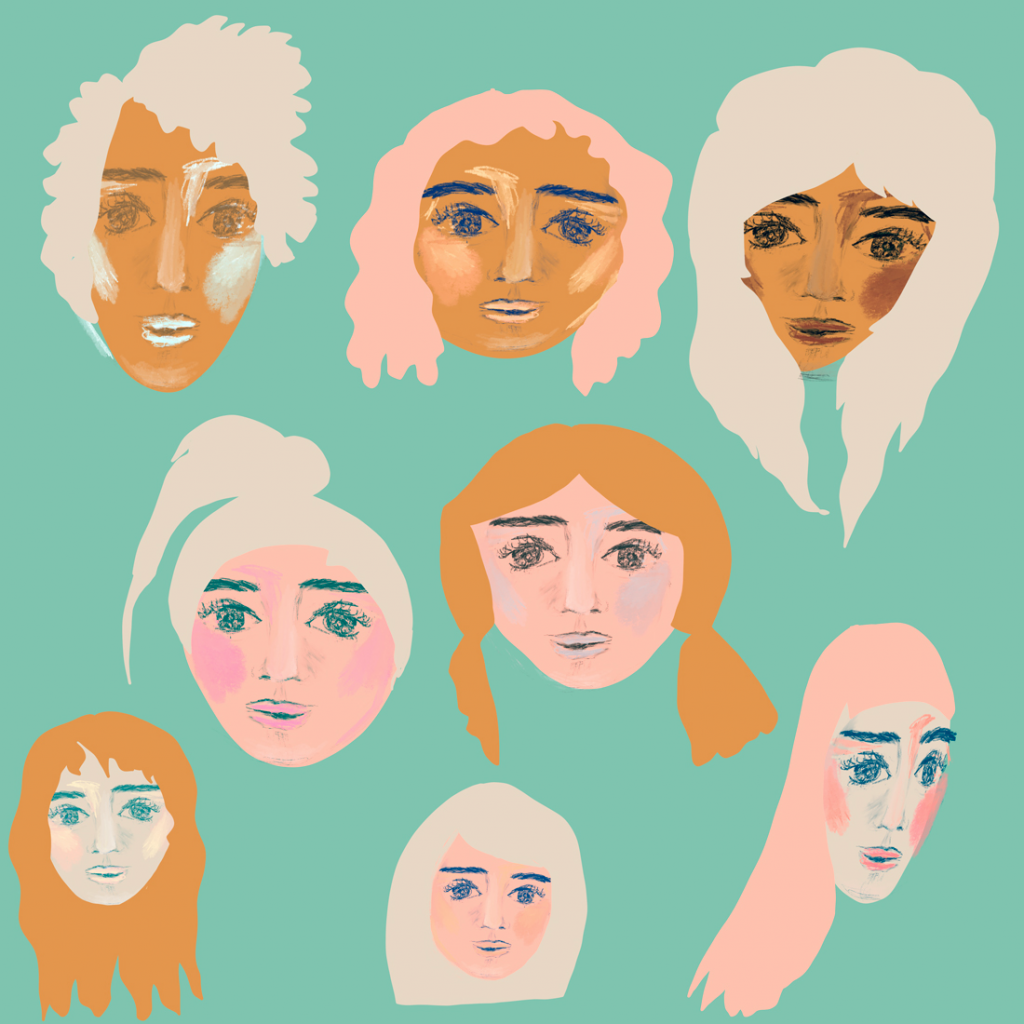 And finally, do you have any advice for others looking to create art?
The first thing that comes to mind is "do it!"
You don't have to wait for some grand moment of inspiration or wait for someone else to tell you that you are an artist. You don't even have to believe that you are creative. You just have to make something where there was nothing before. Anything counts!
Find those spare minutes or seconds, like before you unload the dishwasher or when you get out of the shower, to have a notebook waiting for you to capture notes or ideas or doodles. Or, if you can afford to spend hours creating, don't overthink it. Just put the brush on the paper or on the wall and start moving it. Spend 30 seconds of mindless doodling, 5 minutes of color mixing, mark making or painting some shapes on a wall in your house. Drawing something that's around you in as much detail as possible and then draw or paint something with as little detail as possible in a continuous line. Cut some paper. Glue some paper. Make a collage. If there is a nagging thought in your head, go ahead and paint it, what color(s) would it be?
If you come up with an idea but can't work on it just then, write it down somewhere and keep an archive for later use. There are so many resources online to teach you pretty much any technique you might be curious about, incredibly inspiring books to guide you, creative communities to hold you accountable to your creative dreams and countless ways to share your art with the world if you choose to.
Go ahead and make your mark, make something where there was nothing before, we need all the color we can get right now!
Follow Dora on Instagram, and check out her portfolio. Share your Astropad workflow with us on social using #Astropad for a chance to be featured.