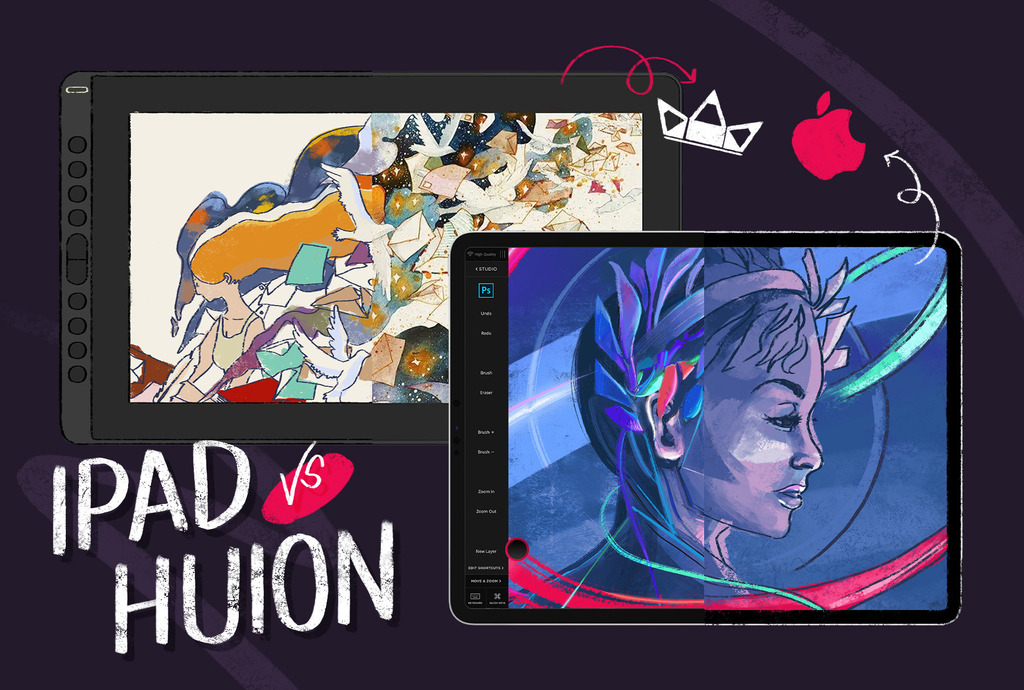 As digital artists, we all understand the importance of using top-level tools to create captivating artwork. Today's digital landscape is evolving and there's an increasing variety of options to choose from.
The iPad is a powerful and versatile tablet, and if you're one of the millions of people who own one, it may make sense to stick with what you already have. On the other hand, Huion tablets are a great entry-level option for digital artists on a budget.
Below, we'll explore the benefits and drawbacks of using an iPad vs Huion tablet for digital art. By weighing the pros and cons of each option, you can confidently choose the one that best suits your artistic needs. Let's dive in!
Apple iPad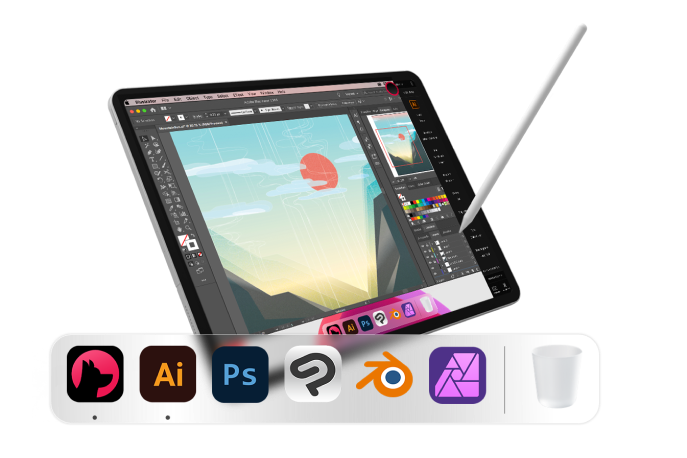 The iPad is a powerhouse creative tool, and it's no wonder many art professionals have turned to it as a replacement for traditional graphics tablets. Thanks to the seamless integration with Astropad Studio, many professional artists, including artists at Pixar and Disney, are using iPads in their everyday workflow.
If you're already an iPad owner, then Astropad Studio is a fitting choice for your digital art needs. Not only is it a budget-friendly option, but it also saves you the hassle of researching and investing in a specialized device.
advantages & strengths of iPad
So why is the iPad such a popular choice for digital art? Let's take a closer look and see what all the fuss is about!
Powerful hardware: The iPad boasts powerful processors, onboard RAM, and a high-resolution Retina Display, all of which make it an excellent tool for creating digital art.
Multi-functional software: The iPad can support a multitude of different applications, so you're not limited to using it as only a canvas for your artwork. This sets it apart from other graphics tablets that may only serve a singular purpose. With the iPad, you have the ability to utilize it as a tool for productivity or entertainment, which can effectively help to enhance your creative workflow.
Specialized drawing apps: In addition to using Astropad Studio to convert your iPad into a drawing interface while at home, you can also use drawing apps that are specifically built for mobile devices while on the go. Procreate, Adobe Fresco, and the Affinity Suite are available, so you can create anywhere, anytime. With Astropad Studio, you can even use Toon Boom Harmony, Storyboard Pro, and Blender on your iPad.
Better color space and refresh rate: Apple's Display P3 color space is standard on all of its devices, and combined with the iPad's 120Hz refresh rate and 1,000,000:1 contrast ratio, Apple technology is cutting edge when it comes to display technology.
Pressure Sensitivity: With the Apple Pencil, you can achieve up to 4096 levels of pressure sensitivity, which is on par with most Huion tablets. Plus, the Apple Pencil is incredibly responsive and feels natural in your hand, making it a pleasantly enjoyable experience.
On-the-go solution: The iPad is a standalone device that can be used independently from your desktop hardware, which means you can use it anywhere.
disadvantages & shortfalls of iPad
The iPad is a powerful, multifaceted device with many benefits, but like any technology, it has its downsides. Here are some factors to consider when deciding if the iPad is the right choice for you:
Glass screen: The iPad screen is comprised of laminated glass, which can be troublesome to use when writing or drawing. A matte screen protector, like our magnetic screen protector for iPad, can help to improve this experience.
Requires a Stylus: The Apple Pencil, along with a few third-party styluses, offers pressure sensitivity for compatible iPad apps. However, you'll need to purchase these separately. This is different from Huion tablet devices, which include a stylus with your purchase.
Limited screen size: The 12.9-inch iPad Pro is the largest iPad on the market. Compared with some of the pro tablets like the Kamvas Pro 24 measuring 23.8 inches or the Kamvas 16 at 15.6 inches, the screen size can feel a little snug.
However, whether you own an iPad for personal use or for work, it can be easily transformed into an impressive tool for your artistic workflow. This will allow you to eliminate the need for a separate investment in specialized equipment, making your creative process more streamlined and cost-effective.
Mirror desktop creative software on your iPad with Astropad Studio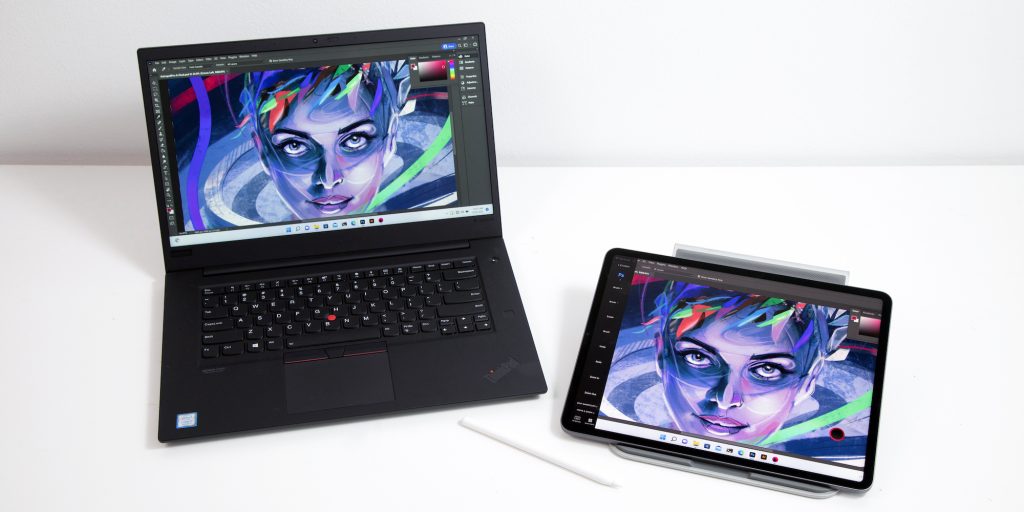 It doesn't stop there, the iPad is just part of the equation. You can turn your iPad into a fully supported drawing tablet by combining it with Astropad Studio.
Astropad Studio seamlessly mirrors your Mac or PC to your iPad, giving you complete touch and gesture support to interact with your favorite desktop creative apps.
Mirror any desktop app on your iPad
Compatible with Mac and PC
Build your own shortcut panels, custom gestures, and custom quick keys
Customize your pressure curve and pressure sensitivity
Connects wirelessly or over USB cable
Don't just take our word for it! Take Astropad Studio for a spin with the complimentary 14-day trial.
Huion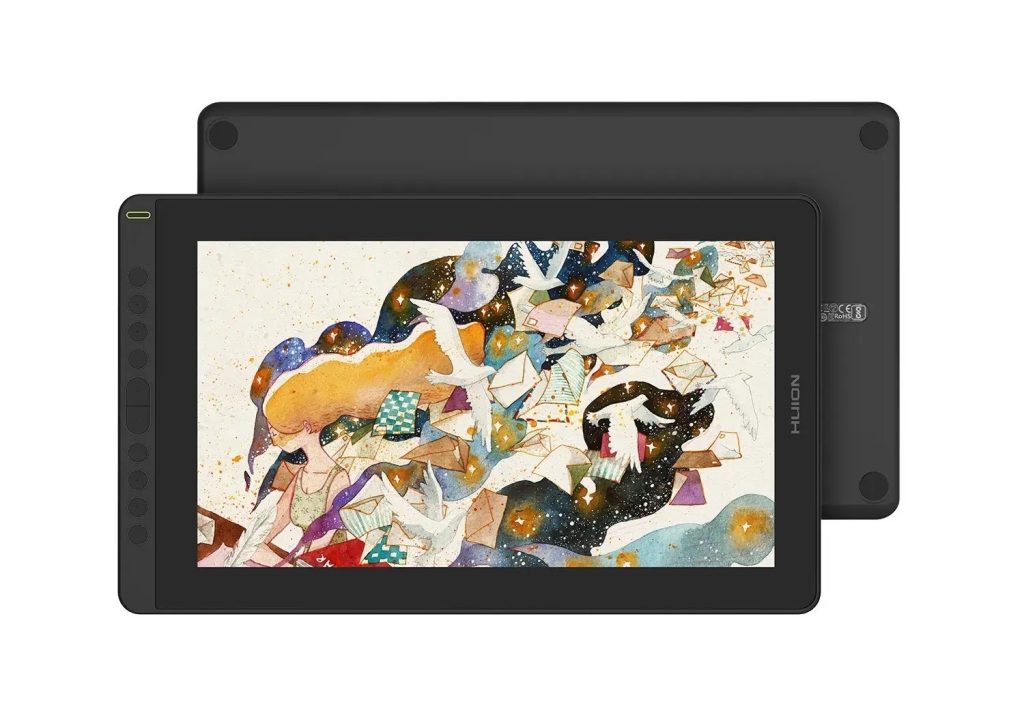 As a hardware supplier in the digital art space, Huion also understands the needs of digital artists when it comes to creating exceptional work. Although Huion is a relatively new player in the market (est. 2011), its tablets and accessories have been gaining popularity and recognition among artists worldwide. However, Huion is not yet the industry standard.

Long-standing computing tablets like the iPad offer flexible alternatives to this collection of more specialized tools.
advantages & strengths of huion
Huion tablets offer a multitude of options that are hard to pass up. With a wide range of sizes to choose from, each tablet is also equipped with advanced features and tools that contribute to a seamless and productive drawing experience.
Here's a brief overview of the key features of this hardware:
Wide range of sizes: Huion offers a diverse range of tablet sizes, including compact and easily portable options, as well as larger, more advanced models suited for professional-grade workstations. This versatility in size allows you to select a Huion tablet that caters to your needs.
Affordability: Huion tablets are known for being priced lower than some of the other popular brands in the market, such as Wacom. This makes them a more affordable option for artists who are just starting out or are on a budget.
Variable Resolutions and PPI: Huion tablets generally have good resolution and PPI (pixels per inch), especially considering their price point. However, the resolution and PPI can vary depending on the specific model and screen size. For example, some of the high-end Huion tablets have a resolution of 2560 x 1440, while others have a lower resolution of 1920 x 1080. The PPI can also vary from around 220 PPI to over 500 PPI, depending on the specific model and screen size.
Includes almost everything you need: All Huion tablets come with a pen or stylus that is specifically designed to work with the tablet. The Kamvas line also supports Android, though you might need to download a driver that is specific to your tablet model and computer's OS so that it can communicate with your Mac or PC.
disadvantages & shortfalls of huion
While Huion tablets have become a popular choice for graphic designers and artists, there are a few cons to consider. Here are a few things to think about when determining whether a Huion tablet is the best fit for your needs:
Limited portability: While some Huion tablets are portable and support Android, they will still require a computer to connect to, making them less portable than standalone devices like iPads.
Shorter lifespan: While Huion tablets are generally durable and well-built, they may have a shorter lifespan than iPads due to their lower build quality. The average lifespan of a Huion tablet is anywhere from 3-5 years, whereas an iPad's lifespan is on average 5 or more years.
Limited color gamut: The color gamut of Huion tablets can vary depending on the model, but generally, Huion tablets have a more limited color gamut compared to iPads using the P3 color gamut. However, some high-end Huion models, such as the Kamvas Pro 24, do offer a wide color gamut that can match or even exceed that of some iPad models.
Limited functionality and use case: Unlike the iPad, which offers a range of versatile applications and features, a Huion tablet is specifically designed for digital drawing and lacks the adaptability of a multi-use device. If you're looking for a device that can support a variety of creative pursuits, as well as everyday tasks like browsing the web or streaming movies, the iPad may be a better fit.
User interface: Huion tablets can have a steeper learning curve than the iPad due to differences in the user interface and software compatibility, which can make the transition more challenging.
The verdict: Huion vs iPad drawing tablets
Deciding whether Huion or the iPad is the best fit for your workflow ultimately comes down to your personal preference. If you're on a budget, Huion might be the best choice. But if you value versatility and power, you might want to consider pairing the iPad and Astropad Studio.
As we see it, the iPad offers a robust computing platform with dedicated processors, plenty of onboard RAM, and a high-resolution Retina Display that delivers crisp and vibrant visuals. And combined with Astropad Studio, you unlock a world of creative possibilities that are unrivaled.
Ready to dive into your creative world? Sign up for a free 14-day trial of Astropad Studio.