Clip Studio Paint is a fantastic drawing program. It's versatile for both illustration and creating publisher-ready comics, with features that accommodate every step of the comic-making process: layouts, perspective rulers, sketching, inking, coloring, and captions.
Clip Studio Paint offers an iPad version, but many artists prefer to use the full desktop version of the app. You can use the full desktop version of Clip Studio Paint on your iPad with the help of Astropad Studio.
Astropad Studio mirrors your desktop on your iPad so that you can work directly in your favorite drawing programs like Clip Studio Paint and Photoshop on your iPad.
In this quick, step-by-step guide, we'll help you organize an efficient workspace for using Clip Studio Paint together with Astropad Studio on your iPad. For the best experience, we recommend the latest Clip Studio Paint version.
Get started with the Clip Studio Paint desktop app on your iPad
Take Astropad Studio for a spin with a free 14-day trial. No commitments, cancel any time.
Mirror any desktop app on your iPad
Works with both Mac and PC
Build your own shortcut panel, custom gestures, and custom quick keys
Fine-tune your Apple Pencil pressure curve and pressure smoothing
Connects over WiFi or USB cable
Once you're up and running with Clip Studio Paint on your iPad, it's time to arrange your workspace for a comfortable drawing experience!
Arranging panels
It's easy to arrange and resize Clip Studio Paint's tool panels. Just click the top of a panel, and drag it anywhere on screen. They can be resized at the sides and corners, or completely hidden to the side of the screen.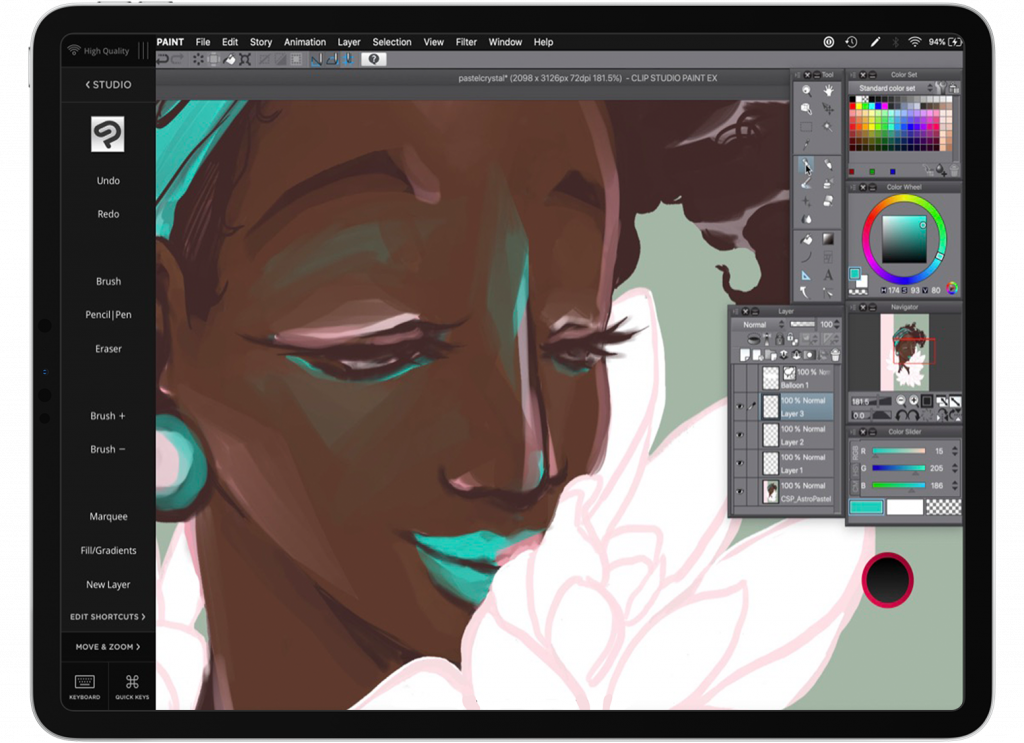 Any type of panel arrangement works with Astropad Studio, since the sidebar can be placed to the left or right side of the iPad screen, or hidden by tapping the Astro-red ring button. All you need is your finger to drag the sidebar and ring button to either side of your iPad.
We recommend having at least the following panels arranged on your screen:
Subtool [brush]
Tool property (for easy stroke adjustments)
Color wheel
Layers
Materials Panel: If you plan to use features such as 3D posing, screen tones, and textures, you will want to keep the Materials Panel close by. We suggest that you leave the collapsable Materials toolbar on your screen near the color palette or main toolbar so that you can easily access features without taking up a lot of screen space.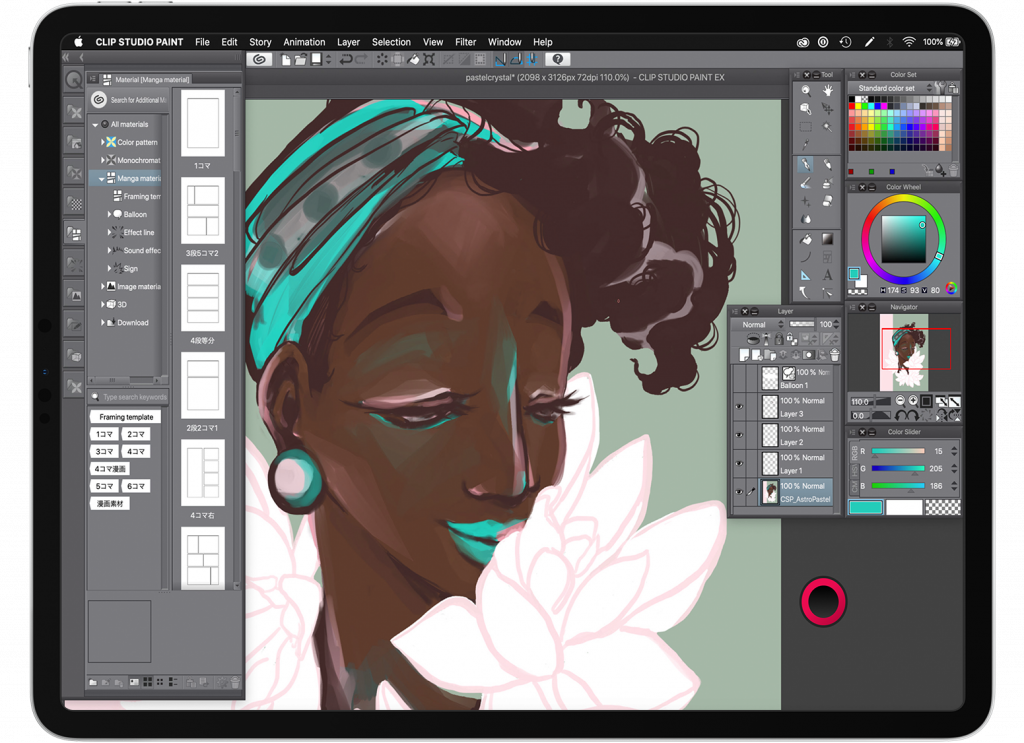 Setting menu shortcuts
Astropad Studio's shortcuts are preset to default, but these can be changed to better accommodate how you use Clip Studio Paint. In Astropad Studio's Workspace sidebar, towards the bottom, tap Edit Shortcuts. You can fully edit and rename shortcuts for the sidebar. When you're done, tap Workspace to see all your newly added shortcut commands.
We recommend placing your most used shortcuts in the sidebar. It's completely customizable, so add whatever works best with your workflow!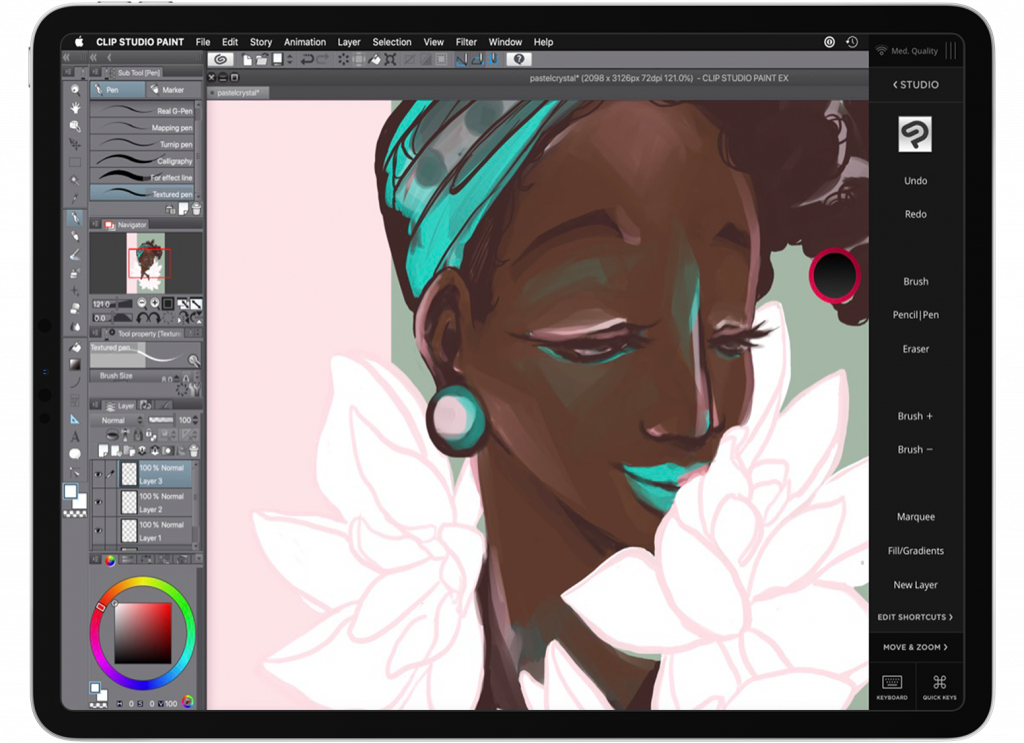 Recommended sidebar shortcuts:
P : pencil/ pen
M : marquee
G : gradients
J : blending tool
Suggested touch gestures (Magic Gestures):
Hover
Eraser
Option
Shift
Undo
Redo
Quick Keys
Want command keys, but more space? For easy access to main command keys: Command, Option, Control, and Shift; use Astropad's on screen Quick Keys. Enable and disable this feature by going near the very bottom of the Shortcuts Sidebar.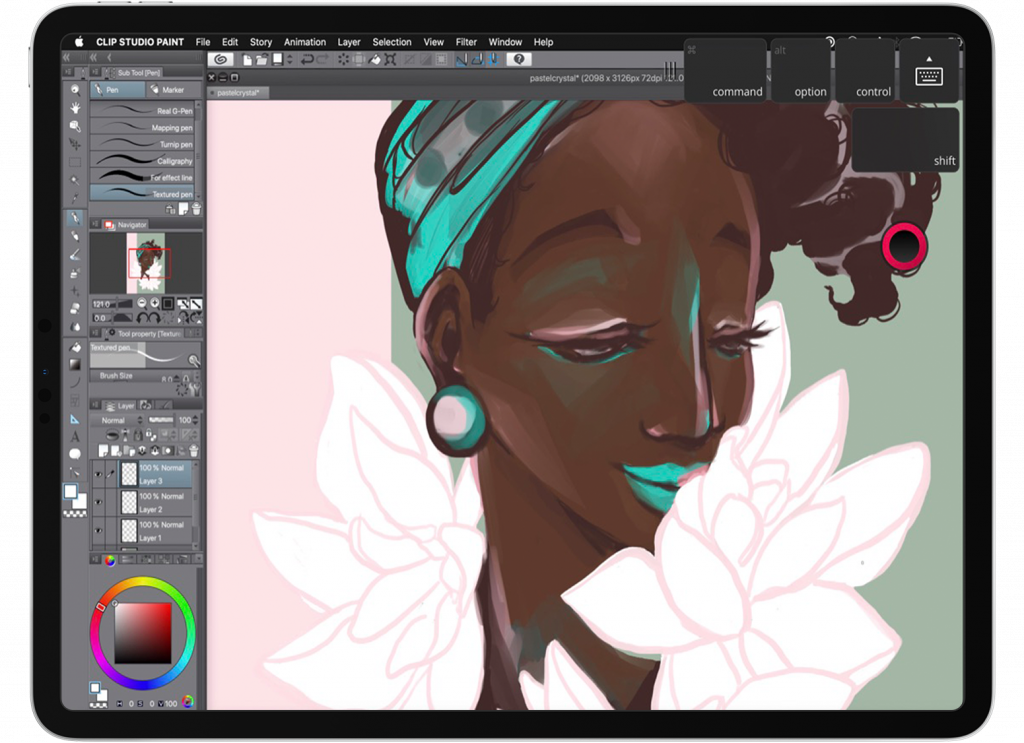 On-screen keyboard
Here to help with your speech bubble needs, Astropad Studio has a full on-screen keyboard. In the Shortcuts sidebar, tap Keyboard to reveal it; or tap the button from Quick Keys.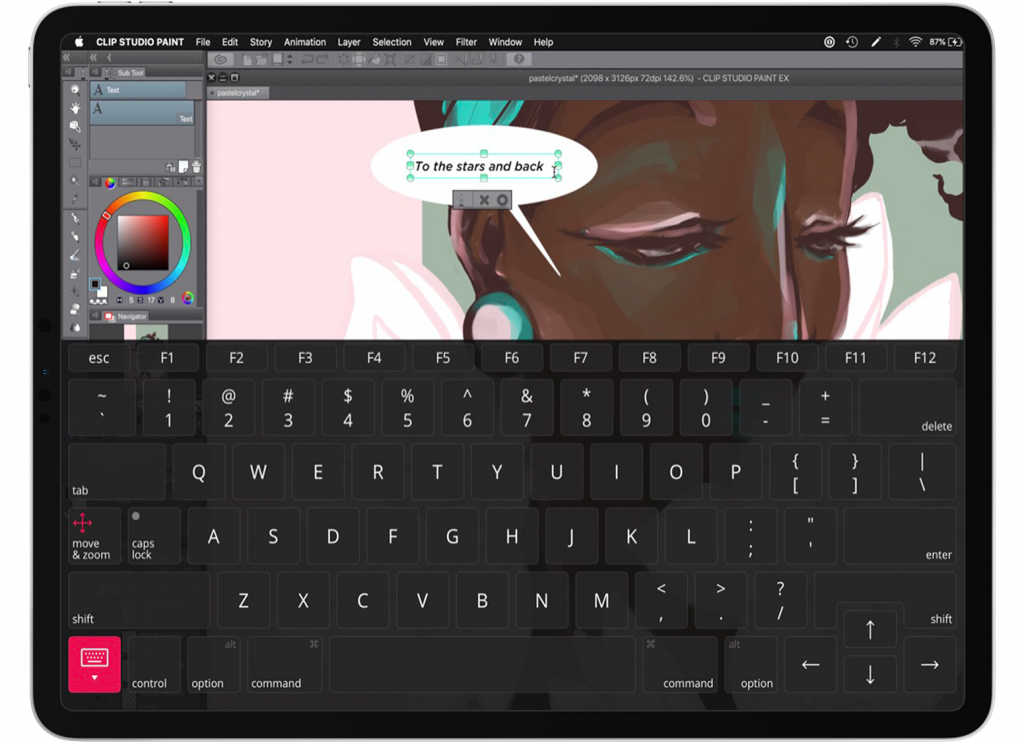 Touch gesture zoom and panning
Astropad's touch gestures, panning and zoom are supported in Clip Studio Paint. Just like using a Mac trackpad — with two fingers, pinch to zoom, and place together to pan on your iPad. This way, you won't need to keep the scrollbars in view when you set up your ideal workspace.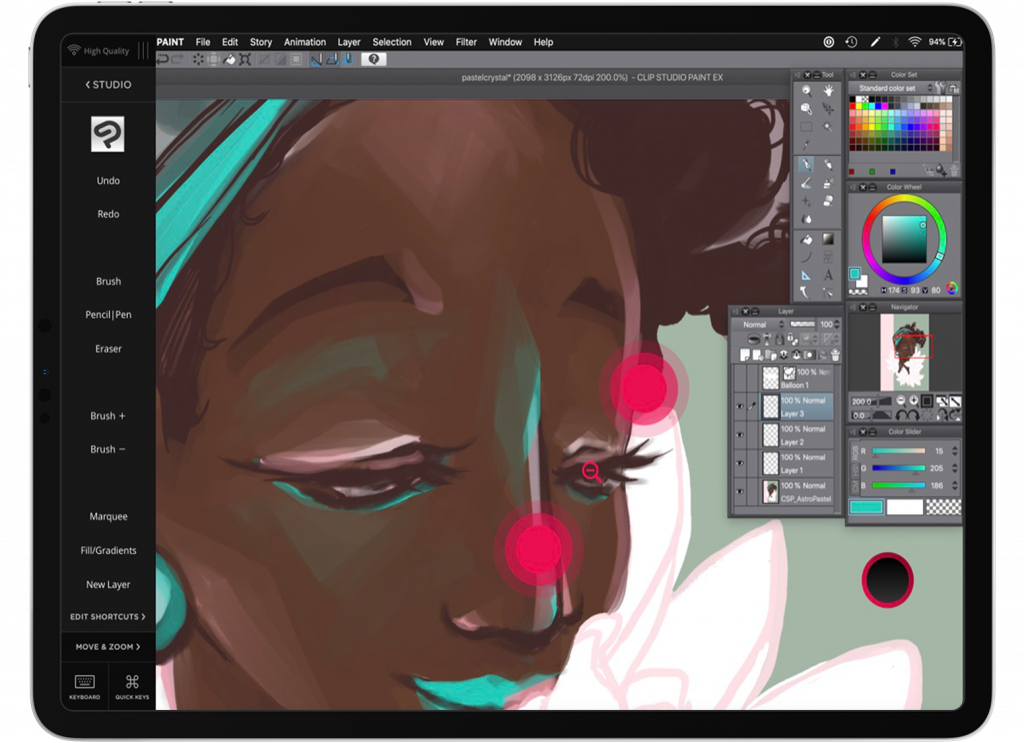 Working with Astropad Studio, two-fingers canvas rotation is an additional touch gesture to utilize.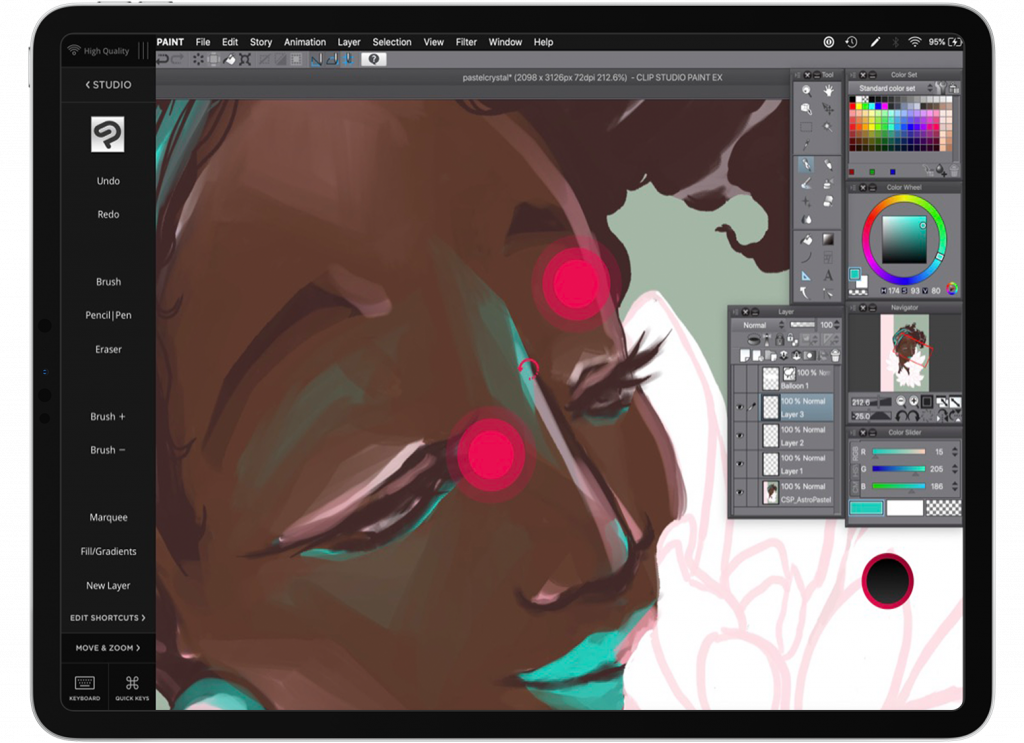 To learn more about setting up your brushes and pen pressure in Clip Studio Paint, take a look at our guide, How to Use brushes in Clip Studio Paint with Astropad
Try Astropad Studio Free for 14 Days
Ready to level up your creative workflow?
Astropad Studio turns your iPad into a customizable drawing tablet. Draw directly into your favorite desktop apps like Photoshop, Illustrator, Clip Studio Paint — right on your iPad!