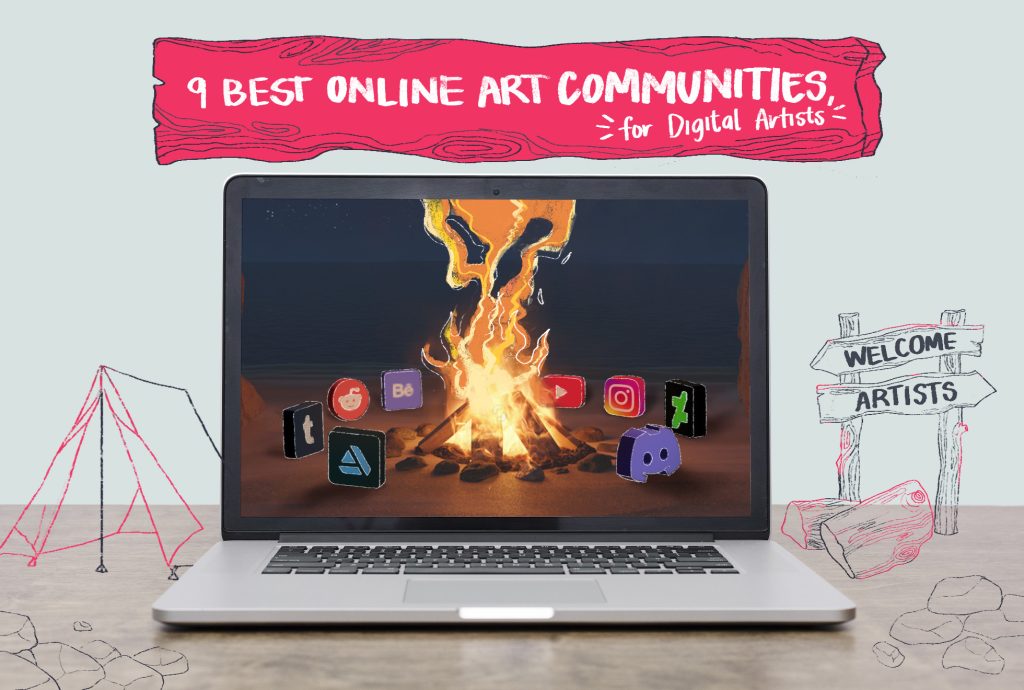 In order to continually improve, every artist needs inspiration, constructive criticism, motivation, and support.
Unfortunately, these things don't often come naturally as part of the creative process, which often involves hours sitting alone while working quietly on a project.
That's where online art communities can help!
These communities allow like-minded artists to connect, share artwork, get feedback, and stay inspired — all of which are essential to long-term, artistic growth.
But, if you're new to the art scene, finding the right artist community can feel like a slog. There are hundreds (thousands?) of art communities out there!
Don't worry. We've got you covered. Here's a closer look at some of the most vibrant online art communities in 2022.
Why Should You Join an Art Community?
If you've had a bad experience with online communities in the past, the idea of joining something like an art-based community website might make your hair stand on end.
But before you disregard the idea completely and decide to crash an art cafe or haunt your local art gallery to find your tribe, hear us out.
No matter where you are in your artistic journey, joining an artistic group can help you experience art in new and exciting ways.
Here's what a good art community can offer to you.
Motivation, feedback, and support. Finding people who understand your work and can offer suggestions, critiques, or compliments is a feeling like no other.
Discovering new art supplies. A surefire way to better your craft is to invest in products that benefit you, but finding the best tools can be hard. One of the major benefits of joining an art community is discovering art tools and supplies you never knew you needed or that you haven't even heard of.
Learning from others. While especially true for beginners, this applies to artists of all levels. Joining an art community gives you the ability to learn from others. Many artists are happy to tell you about their process and can provide insights to help newer artists improve. This kind of crowdsourced information is invaluable — no matter where you are in your artistic journey.
Building your professional network. This is an important one, especially if you want to do more with your art in a professional capacity. The hard truth is that having a great portfolio is often just the price of admission. In many circumstances, knowing the right people is the gateway to a promising and successful artistic career.
Gaining lasting friendships. Every adult knows how hard it is to make friends later in life. Art, like other hobbies, can be a strong foundation for a lasting friendship. The right art community will connect you to people around the world, so that you can make friends who share your common interests, regardless of nationality, age, or location.
Best Online Art Communities for Beginner Artists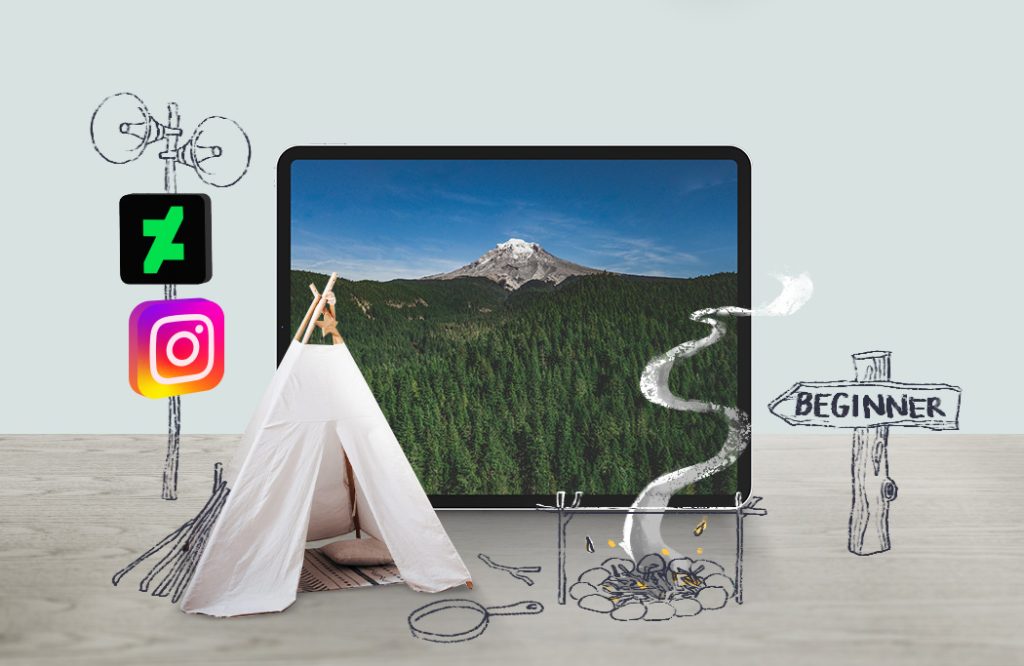 Who it's for: Beginner and professional artists, art enthusiasts, and networkers.
Community functions: To upload all forms of original art on the platform for other members and viewers.
Cost to join the platform: Basic membership is free. There are premium/monthly memberships ranging from $4 to $15, which can have a major influence on platform fees if you're trying to sell your art.
Founded in 2000, DeviantArt is one of the oldest and largest art-sharing websites around. And, with over 65 million registered members and around 45 million unique visitors per month, it's still going strong.
The community is over two decades old at this point, and you'll find almost every form of art here tucked away behind an impressive list of categories and subsections.
Many of today's famous digital artists even had their first big breakthrough with DeviantArt. One notable example is Yuunmei, who has 22.3 million page views and over 11,000 comments on her work!
Despite its age, DeviantArt is still the perfect platform for sharing your art with the world and discovering unique art from new, upcoming, and professional artists.
Benefits of Joining DeviantArt
There's definitely a place for your artwork. DeviantArt has artistic categories for hand-drawn illustrations, 3D models, doodles and cartoons, digital art, motion books, photography, and pretty much any other art form.
It's an excellent social media platform. While it's more niche than something like Twitter or Instagram, DeviantArt has chat tools and discussion boards that can help you connect with other artists.
Community events help you keep your creative edge. From art contests to community projects, you can probably find something to push your creative skills to the max.
Limitations of DeviantArt
Finding meaningful connections can be tricky. DeviantArt is one of the most popular art-based websites. While it plays host to a vast community and every type of art under the sun, it can become overwhelming to navigate through thousands of artworks and artists. Be prepared to wade in and put in some work if you want to leave your mark.
Website design leaves a lot to be desired. Despite the numerous facelifts the website has had over the years, navigation can be difficult for newbies. There's also a lot of overlap between traditional and digital art, which can make it challenging to find what you want when using the built-in search functionality.
Who it's for: Hand-drawn artists, illustrators, and hobbyists.
Community functions: Bringing forth a vast collection of hand-drawn art in every medium imaginable.
Cost to join the platform: Basic membership is free. $5/month for premium.
Doodle Addicts is one of the best platforms for painters, illustrators, cartoonists, and lettering artists. The platform operates on a "no judgment" policy. You can be a beginner artist, someone who gets distracted easily and starts doodling, or a professional illustrator, and the community will welcome you with open arms.
Currently, the website is home to 20,000+ artists and has an active and supportive community. The platform operates like an art-based version of Instagram, just on a smaller scale.
The website also does regular drawing challenges where anyone can participate. You'll also find drawing prompts for premium members. These are great for exploring new techniques and drawing mediums and for getting out of infrequent creative blocks.
Benefits of Joining Doodle Addicts
It has a user-friendly and quirky website design. Unlike DeviantArt, which can feel a little dated, Doodle Addicts allows you to search for artists according to location and art type. Posting your art also feels straightforward and refined in a way that you just won't see on some older platforms.
Discussions, challenges, and prompts are fun and in-depth. Because Doodle Addicts is aimed at a much smaller community, the platform is a great source for deeper conversations and specific challenges around drawing and art.
Hand-drawn art is welcome here. While traditional art can be easily shunned on other platforms, it's quite popular on Doodle Addicts, which might be appealing if you still prefer drawing on pen and paper.
Limitations of Doodle Addicts
Limited learning opportunities. While Doodle Addicts is an excellent website for individuals who enjoy sharing their artwork and browsing creations from fellow artists, there aren't any learning opportunities here when compared to other platforms. If you're looking for dedicated drawing tutorials or video guidance on how to improve, you probably won't find it here.
This isn't an ideal platform for networking. Doodle Addicts isn't the best place for building a solid art network. While you can follow your favorite users and leave comments on art, you won't find many avenues for private conversation or similar tools that would help you deepen a connection.
Who it's for: Artists looking to improve their art; artists who want to share knowledge in the form of video tutorials.
Community functions: To help artists improve their skills, gain knowledge, and share what they know by becoming YouTube creators.
Cost to join the platform: Free to use.
This entry might seem strange to many of you since YouTube is just for watching videos, right? Wrong! Well, not entirely.
As with most huge platforms, YouTube isn't just one thing. It's home to thousands of small communities that use the platform for their own unique purposes.
And the art community is no exception! With just a search, you can find super-famous artists like Drawingwiffwaffles and Jazza, or professional illustrators like Mike Henry, Anna Lepeshkina, and DcTattoo_Swe who have something to show and (often) something to teach.
You can find thousands of video tutorials on YouTube to help you improve, and many artists start their art journey by watching numerous art creators on YouTube.
This opens up the floodgate for community activity. Every person that likes or dislikes a video, drops comments, or shares a video is part of the community.
To become a better artist, you should see how they work, heed their advice, and learn from their experience and mistakes. You might even want to make a video or two of your own and share your own experiences.
There's certainly no small amount of camaraderie among fellow YouTubers.
Benefits of the Joining YouTube
It's the ideal art community to gain knowledge. This is the best community to sharpen your existing skills or learn how to do something new. You can also discover new art supplies and craft products, along with new art trends. The community is responsive, and you can learn plenty by interacting in the comments as well.
You won't need art school when you have YouTube. Become a professional artist with the help of YouTube without any arts education! You can even find artists who will talk you through their creative journey and can give you ideas on how to kickstart your own career without a formal education in drawing and animation.
Limitations of YouTube
It's not the best place to find meaningful connections. While YouTube is an excellent place to learn all about art, share your skills, and even make money, the interactions are rarely ever meaningful. Keep in mind that many YouTubers do much of their community building on another platform (including on their own website) and that the vibrant community you see on YouTube may be best represented elsewhere.
This platform has plenty of irrelevant content. There is a lot of clutter on the platform with clickbait videos and people passing on unrealistic and unhelpful advice. Take what you hear with a grain of salt, and don't get sucked down the YouTube rabbit hole by watching way too many cat videos (not that we would know anything about that).
Best Online Art Communities to Display Your Portfolio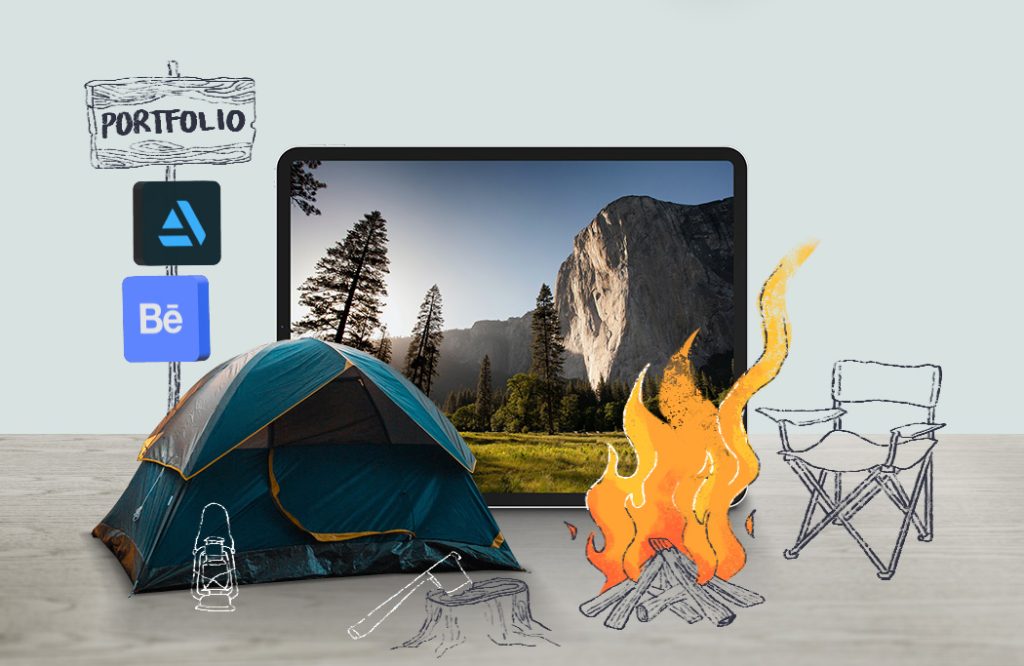 Who it's for: Everyone.
Community functions: To share art with the world (including non-artists)
Cost to join the platform: Free.
It's impossible to talk about the best online art communities without mentioning Instagram. As one of the premiere image-sharing platforms on the Internet, Instagram hosts everything from lifestyle images captured with a smartphone to artwork from world-famous content creators.
While artwork might not be the first thing you see when you sign up for a new account, you can change that by following a few of your favorite artists and conducting a few searches for art that you like. As soon as the algorithm understands what you're looking for, you'll quickly find yourself immersed in art.
Want a more curated approach? Find your favorite artists and follow them. Instagram has proven to be an important tool for artists looking to share their art with non-artists and potential clients. If the artists you love have an online presence, you can probably find them on Instagram.
And, of course, you can also upload your own artwork and share it with followers and communities through Instagram tags. In doing so, you'll also build an online portfolio that is shareable and readily accessible to anyone.
Benefits of Instagram
Huge art community. Speaking in terms of sheer numbers, it's hard to top Instagram for the number of artists and artwork on the platform. You can also get into very specific niches within the community by using tags, follows, and favorites to find content that you enjoy.
Clean, accessible portfolio. Love it or hate it, the Instagram profile layout is remarkably clean and consistent. Your artwork is front and center, and the platform supports images and video, and you'll find a variety of content types that allow you to engage with your followers and communities as you see fit.
Limitations of Instagram
Everyone is selling something. While you can use Instagram as a place to become a better artist and share your work, the website is also saturated with brands and influencers looking to sell, sell, sell. And the art community is no exception. Professional artists need to sell something in order to make a living, so don't be surprised to see great artwork intermixed with art resources and sponsored products that they want you to buy.
Limited critiquing tools. Instagram is great for showcasing art, but it's a platform built on likes more than comments. While both comments and instant messaging are possible, the vast majority of your viewership will simply like your artwork and move on. If you're looking for a deeper critique, you probably won't find it here.
Who it's for: Professional artists and illustrators.
Community functions: Providing artists a space to present their work.
Cost to join the platform: Free to use. You can subscribe to specific creators for extra goodies (like source files and resources) from a specific creator.
Designed as a portfolio for creatives, Behance features every creative field imaginable, from both digital and traditional art all the way to sculpting, textile design, and more.
While the platform is best known for its aesthetic and clean layout (to best display your portfolio), there is also an aspect of social integration. You can share the behind-the-scenes or making of your art project — something far more attention-grabbing than having only finished images on your page — or you can follow other artists, comment on their work, and continue to develop your own skills by watching live streams.
Coming back to the website layout, this website has one of the most interactive interfaces on our list. Not only can you search for artwork according to creative fields and categories, but you can also search for projects according to colors, location, and tools.
If you browse the website, you'll see just how serious people are about their work, and you'll come across many corporate projects as well. Behance is essential for anyone who is serious about showing their art, and the clean design makes it a perfect place to display your portfolio.
Benefits of Behance
Clean design aesthetic. When it comes to displaying your portfolio, Behance is hard to beat. The website layout makes sure that your art is always front and center when someone views your portfolio.
Reputable website and brand. In addition to its reputation as a well-known platform, Behance is owned by Adobe, which has always been an artist-focused corporation. That reputation has drawn incredible artists from all around the world, so you'll be in good company if you post your work here.
Limitations of Behance
Limited options to connect with members. While an excellent platform to showcase your work, it isn't the best place to form connections. You can view others' work, message them, and share your work on the platform, but there aren't any dedicated chat groups or options to befriend members.
Not an ideal platform for hobbyists. Behance is great for artists at a certain skill level, but the platform isn't well-suited for amateurs and hobbyists. While the caliber of work is impressive, artists without a strong portfolio probably won't attract much attention.
Who it's for: Professional artists and illustrators, especially 2D and 3D artists.
Community functions: Providing artists a space to present their work, a marketplace to buy art products, and job listings.
Cost to join the platform: Has a free plan as well as premium options ranging from $7 to $15 per month, which include perks like better search visibility, analytics, and better promotion when applying for jobs.
Launched in 2014, ArtStation is one of the best websites for those looking to get into the media and entertainment industry. If 2D or 3D art is your specialty, consider making a profile here!
Not only is this an excellent platform to showcase your art, but you can also connect with other artists and help each other improve your craft. You'll also find user blogs, community challenges, comment sections, and other community tools to help you engage with artists and contribute to the community at large.
It's also difficult to understand how important this platform has become for artistic growth and development. You'll find job listings here, alongside school offers, a dedicated marketplace, and much more.
While we aren't discounting other art-based community platforms, for the right type of artist, ArtStation is all you'll ever need.
Benefits of Joining ArtStation
There are job listings on the platform. One major advantage of joining this platform is its job listings. You can upload your work and then apply for jobs on the same day!
It has a digital marketplace. Need a new 3D model for your next art project? Looking for that perfect reference photo for your next painting? ArtStation's marketplace has thousands of digital resources and assets that you can use for your next big project, all created by members of the community.
There are courses available on the website to help artists improve. The website has numerous courses that you can learn plenty from, including courses on illustration, character design, concept art, and much more. ArtStation's Learning section offers a ton of free courses and tutorials, and you can find additional (paid) tutorials in the marketplace.
Limitations of ArtStation
The focal point of this platform is digital art. ArtStation focuses mostly on digital art, so if you're a traditional artist, painter, or illustrator, this platform probably isn't the platform for you. While traditional art does exist on ArtStation, the website, its marketplace, and its tutorials are heavily geared toward digital creation.
The website needs more structure. Similar to DeviantArt, you'll have to scroll through pages of unrelated projects to find what you're looking for. The search functionality is okay, but at times, the platform lacks the depth that you need to really narrow down your search.
Best Online Art Communities to Connect with Artists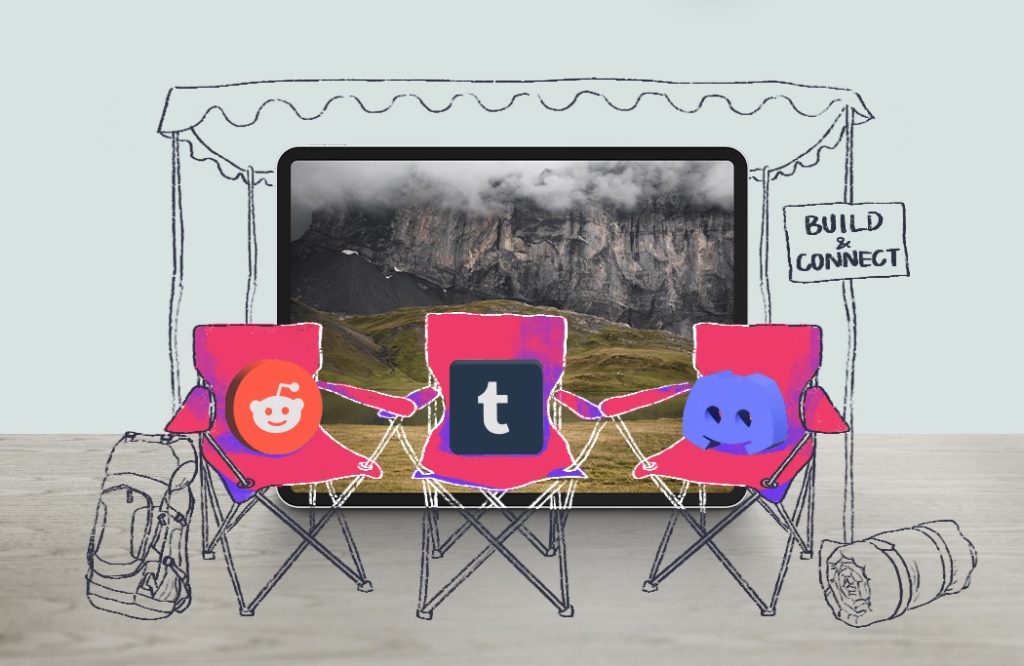 Who it's for: Artists of any skill level and art enthusiasts who just love art.
Community functions: A collection of communities for different hobbies, interests, and passions.
Cost to join the platform: Free to use. Premium options are available at $7 per month for members who want an ad-free experience and some extra profile perks. These benefits won't really affect your browsing experience, however.
Reddit is a platform unlike any other. After all, it's called the front page of the internet for a good reason! Here, you'll find a collection of communities, called "subreddits" focusing on every topic imaginable.
Reddit is one of the most popular social media platforms currently with 50+ million daily active unique visitors and 100k+ active communities. But don't let those numbers scare you. The abundance of communities means that, despite the massive user count, it's still possible to engage with the things (and people) that you care about.
Reddit's entire approach is community-based. Posts and comments can be voted up or down by any user, and the conversations threaded below a post are often more engaging than the content itself.
Some of the most popular art subreddits to join are r/ArtFundamentals, r/Art, r/Sketchpad, r/ArtTools, r/ArtStore, and r/Photography.
But, if you have other interests, you'll also find subreddits for them, too. Everything from gardening to performance arts, or even location-based communities like r/sanfrancisco are all part of the website.
The best part about Reddit, besides it being such an active platform, is that you can search for anything within each subreddit. Say you're looking for advice on a certain tool in Adobe Photoshop, you can also search for details within the relevant subreddit. Chances are that someone else has asked a similar question in the past. In case you don't find it, you can always create a new post and ask your query.
Reddit can also be accessed through your smartphone, as it has an extremely user-friendly mobile app!
Benefits of Joining an Art Subreddit
An extensive list of art communities to join. Reddit is excellent for browsing art subreddits on your smartphone and being part of numerous online communities — including art communities!
Supportive and interactive community members. Redditors are also known to be the most supportive and helpful, so if you have questions or want to improve your art, joining Reddit is the way to go. Reddit also has numerous art tutorials uploaded by community members that you can benefit from as well as marketplaces to sell your artwork.
Limitations of Joining an Art Subreddit
Not all the community members are there to help. While Reddit is a great platform to discuss all things art with the art community, you'll find your share of trolls and malicious users.
Art theft can be a problem. While this is a danger on any public website, Reddit is a special exception because of its size. Google also captures most Reddit posts, and there are entire websites dedicated to backing up anything ever posted on this platform. If you post something on Reddit, keep in mind that it will probably get more exposure than you might see on a dedicated art platform (especially if it gets popular), and the platform doesn't have safeguards to prevent someone from swiping your art and claiming it as their own.
Reddit is a time sink. As useful as this platform is, it's easy to become addicted. You'll go on to search for something and won't even realize that hours have gone by because you started scrolling. Be wary of your time if you want to stay productive!
Who it's for: Artists who want to network and make friends.
Community functions: Allowing users to create public and private communities for chatting, voice calls, and video calls.
Cost to join the platform: Free to use.
Discord may not seem like the best social media platform for art communities, but it's got a few tricks up its sleeve. This platform can be accessed from both browsers and smartphones and has dedicated 'servers'(spaces where people interact) where people can connect and chat. Though Discord originally found roots in the gaming community, it's quickly become one of the best social media platforms for artists.
Some of the popular art servers to join are Art Lounge and Art Club. Many servers require an invite to join, which you can get by messaging one of the server moderators or by perusing a server index like this one.
Discord has also seen a boom in members since the pandemic, which means that it's an excellent time to join Discord if you're trying to make friends.
Benefits of Joining Discord
Best art community to make friends. You'll be surprised how many kindred spirits you'll find on Discord who are at a similar point in their artistic career.
There are no geographic or age barriers. Social media platforms like Discord ignore geographical barriers; whether you live in New York or in Beijing, are 16 or 60 years old, you'll be able to connect with someone here.
It happens in real time. Unlike forums or message boards, Discord is essentially a chat platform, so it's far more accessible and it happens in real time. Depending on the popularity of the server and the time of day you log on, you might experience entirely different aspects of the community.
Limitations of Joining Discord
You'll have to be careful of trolls. Discord has its share of trolls and creeps, which you'll need to be wary of. There have also been numerous incidents of communities "raiding" each other. Raiding is when the members of one community hijack another community and create disruptions. This inconvenience goes away after a while (as people lose interest in causing mischief) but it can be frustrating if you need something from the community.
It's easy to get left behind. There is a downside to Discord as a chat-based community. If you're not present when it's happening, you might not be able to join in the conversation. This means that Discord awards users who are more engaged (because they get to see things as they happen), but it also makes valuable content much easier to miss. If you miss something, you can always read through past messages, but it's not the same as actively participating in and contributing to the discussion.
Who it's for: Artists looking for a fun blend of a mix of reading, community interaction, and sharing.
Community functions: Community engagement and quick inspiration.
Cost to join the platform: Free to use.
Founded in 2007, Tumblr is one of the largest social networks for microblogging. While it has lost much of its popularity since the rise of other platforms like Reddit and Pinterest, it is still a beloved platform by millions of users around the globe.
Here, artists can add their artwork to blogs and interact with the community members throughout. While this might not seem art-focused, there have been impressive digital, hand-drawn, and fine art submissions in the chat sections of posts.
It is also the OG platform of microblogging. You've probably seen various Tumblr posts across different social media platforms since much of the content is relatable and the platform still has an active community.
Benefits of Joining Tumblr
A great platform to get inspired. Browsing Tumblr is a great way to get your creative juices flowing! Some of the stories that community members post can be just the inspiration you need and any image that you share could bring you an abundance of views along with support and constructive criticism. This is also great for community development.
Tumblr is an excellent alternative to DeviantArt, Pinterest, or Instagram. Many people even think of Tumblr as an excellent alternative to DeviantArt as it is the king of concept art. For the right user, it's also a great alternative for Pinterest and Instagram, which are both post-driven communities that function in a similar way.
Limitations of Joining Tumblr
It's not what it used to be. Tumblr has had some rough patches in previous years and has changed its product offering accordingly. Former community functionality, like group chats, has been discontinued, though many community tools are still intact.
Content is all over the place. Unlike some of the more art-focused communities on our list, you'll see all that and more on Tumblr. Because posts are sorted by tag and anyone can tag anything, finding what you actually want when searching can be difficult.
FAQ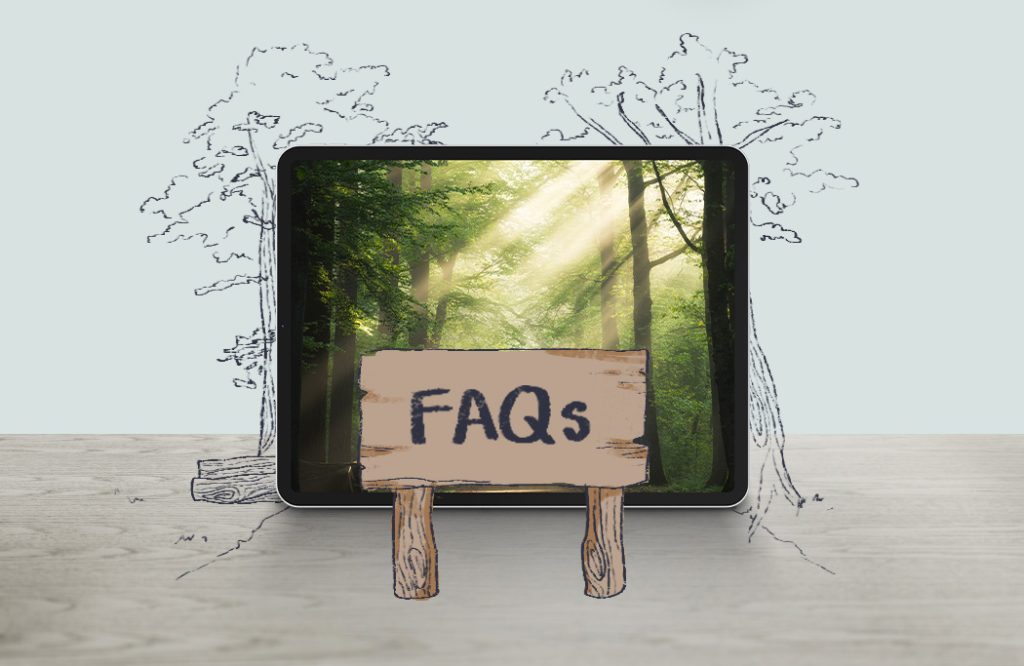 What to expect when joining an art community?
When joining an art community, understand that there are people there from all walks of life. Some will be on the same level as you, many are just starting out, and others are masters of their craft.
You should expect to receive support, guidance, and appreciation, but also honest criticisms of your work, and harsh feedback. However, you'll develop thicker skin, your work will progress, and you'll come to love art all over again. While this is the case anytime you post public art as part of a community, the internet has a way of taking things to the extreme.
If you're interested in data and metrics, you might also gain some interesting insights into what people like and dislike about your personal style. Some platforms offer analytic tools so that you can better understand who looks at your art, who likes it, and which pieces are viewed by the community as more interesting or compelling. Those insights might surprise you.
Are all art communities alike?
No. Most of the time, art communities have their own flavor and style. Some communities are all-arounders that cover all forms of art while others might have a preference for one kind of visual art style, like 2D or 3D art.
The people that make up the community matter too. If you're looking for partnerships in the art world, you might want to look at a community with more networking opportunities compared to communities that focus on learning or critique.
Are online art communities free?
Yes! Pretty much every community is free to join.
Some have premium memberships that will enable more features or functionality, but the basic membership is usually enough to get started.
What is the best online art community?
This is a tough one since there is no 'one' best online art community.
You could be interested in building your portfolio, which platforms like Behance, Dribbble, and ArtStation are equipped to handle. You could want to connect with others, for which Reddit, Discord, and Tumblr are excellent options.
It all comes down to your needs and what is best for you. Perhaps, you want a bit of everything, so join different communities and pick and choose according to your needs.
Better art with Astropad Studio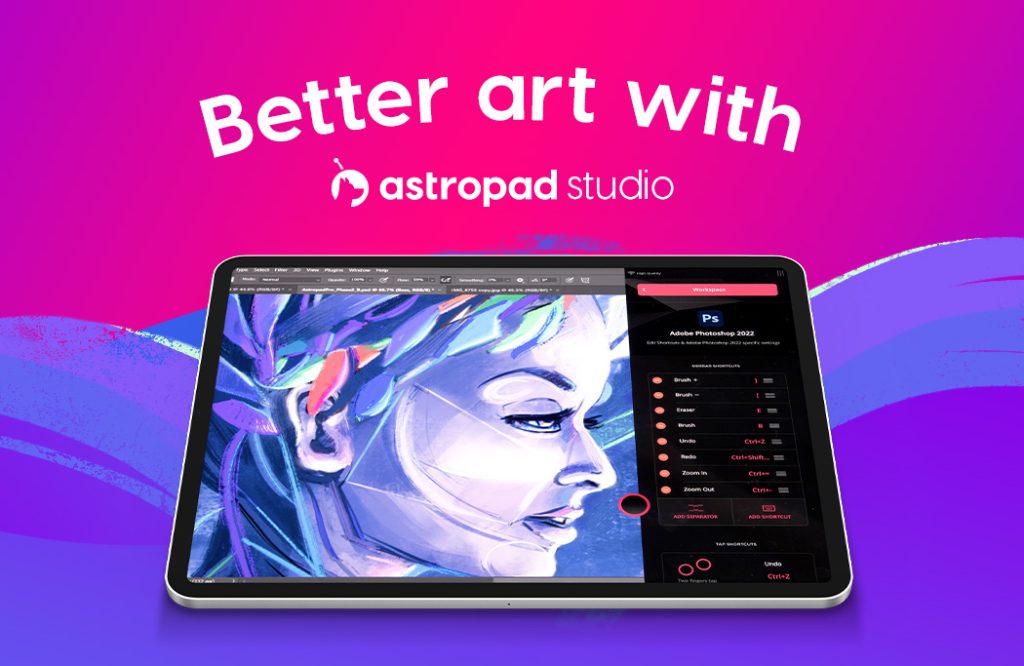 Online art communities are important for the sustainability and celebration of art and for bringing people together through a shared interest in creating something beautiful.
But when it's finally time to get to work, you'll need great tools to help elevate your artistic experience. Drawing tablets are an essential tool for most digital artists, but you don't need specialized equipment for it.
If you've got an iPad and a stylus, Astropad Studio can help. Our app turns your iPad into a graphics tablet so that you can draw more effectively using desktop apps like Photoshop or CorelDRAW, or the Affinity Suite.

Grab a free 14-day trial of Astropad Studio right here, and bring your best art to any art community you join.