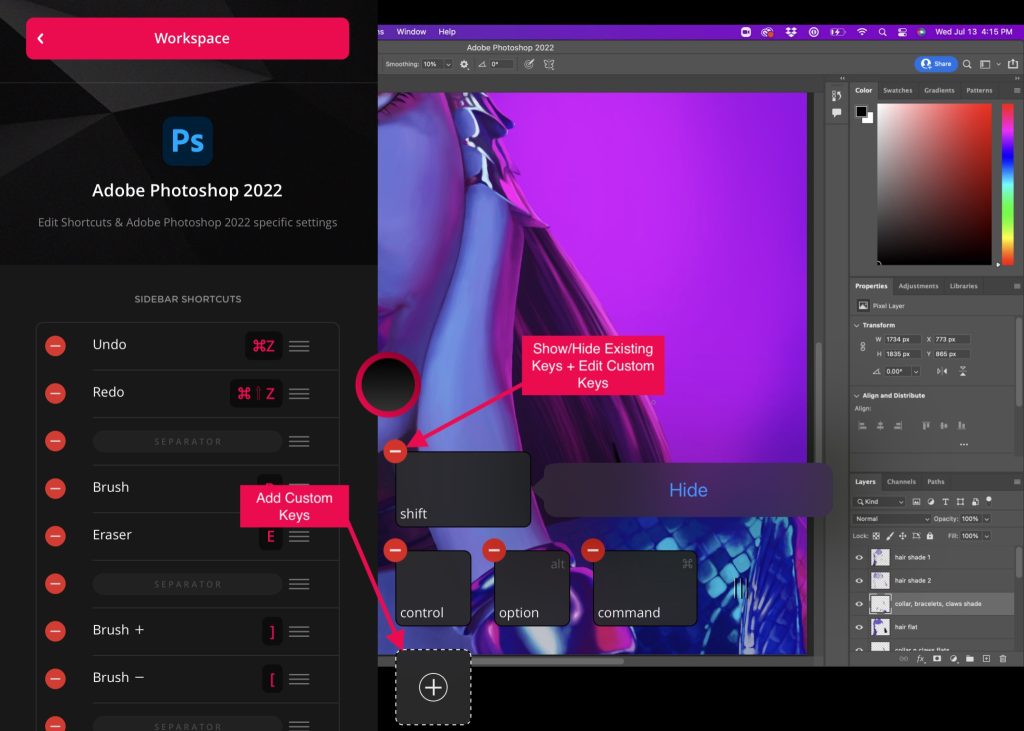 Custom Quick Keys
Since we launched Astropad Studio for PC in May, we've been hard at work improving Studio for all users. We're excited to announce an incredibly useful new feature: Custom Quick Keys!
Tired of pushing way too many buttons on your iPad or having to swap to your desktop keyboard for simple shortcuts? This new feature allows you to add up to seven custom on screen keys to help improve your workflow!
Customize – set your Custom Quick Keys up for any combination of keyboard commands.
Per app customization – keys stored per app, so you can have one set for Photoshop and another for Illustrator, etc.
Hide/show modifier keys – Hide some or all of the traditional modifier keys like Option (⌥) or CTRL (⌘). For example, if you use Option (⌥) for selecting colors but don't need the other keys like Command (⌘) or Shift, you can now hide everything but Option (⌥).
There's no longer any need to open up the Sidebar for frequent actions. Set your Custom Quick Keys to frequent actions like:
Switching tools
Changing brush sizes or colors
Adding or removing layers
Changing between frames
Our goal with Custom Quick Keys is to make your workflows even smoother and keep you in the zone. Give them a go and let us know what you think!
To learn more about how to work with Custom Quick Keys, click the button below to view our support documentation.
Check out this example of using Custom Quick Keys in Photoshop.
How to Update to Studio 5.1
Open your Studio desktop application. You should be automatically prompted to update to the latest version.
If the Mac or PC applications don't automatically update, you can download the latest version below.
Visit the iOS App Store to update your iPad app.
---
That's all for this update.
Be sure to subscribe to or stay on our mailing list so we can keep you in the loop about improvements to Astropad Studio.
Now, go out and create something amazing!