How to Use a Mac as a Second Display
Need more screen space? These days there are a number of options to extend your Mac display to another Mac. But which option is the best fit for your setup?
You might be okay sticking with Apple's native AirPlay to Mac feature, launching later this year in macOS Monterey. But if you're looking for some more firepower for a second display, Luna Display could be a better fit for your workflow. Below we'll explore:
Compatibility for old and new Macs
Display resolution
Connectivity between Macs
Apple's AirPlay to Mac
Apple's macOS Monterey is set to release later this year. Monterey includes a new AirPlay to Mac feature, which will allow you to use a Mac as an external display for another Mac.
Software-enabled: Only works with new Mac models
Limited to 720p or 1080p display resolution
Connects over WiFi, Thunderbolt, or Ethernet
Audio support for secondary Mac (the display)
Trackpad and keyboard support only for primary Mac
Currently in public beta; Will be available in macOS Monterey (releasing Late 2021)
With its seamless macOS integration and audio support, AirPlay to Mac is the best solution for watching videos on a second Mac.
Luna Display's Mac-to-Mac Mode
Luna Display is a third-party solution to turn any Mac or iPad into a second display. Simply plug the Luna hardware into your primary Mac, launch the apps, and your iPad or Mac is instantly recognized as a true external display.
Hardware-enabled: Guarantees compatibility with most older Mac models
Uses the full native Retina resolution*
Connects over WiFi, Thunderbolt, or Ethernet
Trackpad and keyboard support for both Macs
Audio support only for primary Mac
Powered by LIQUID: Low latency performance at 16ms
Available for Windows
With better display resolution and broader device compatibility, Luna Display is the best solution if you want to extend your display to a second Mac in your everyday workflow.
Mac Compatibility
AirPlay is limited to newer Mac models
The latest version of AirPlay is only compatible with the newest Mac models:
MacBook Pro (2018 and later)
MacBook Air (2018 and later)
iMac (2019 and later)
iMac Pro (2017)
Mac mini (2020 and later)
Mac Pro (2019)
Luna Display works with most older Mac models
Most people don't have multiple new Mac models lying around to use with Airplay. Luna works with a broad range of Mac models and years, so you can put your older Macs to use:
Primary Mac: Luna works with any 2011 Mac model or later, running macOS 10.11 (El Capitan) or later.
Secondary Mac: Use any Mac running macOS 10.11 (El Capitan) or later.
Display Resolution
AirPlay is limited to 1080p resolution
AirPlay only works with 720p and 1080p resolution. It is not possible to change the display resolution with AirPlay.
Luna Display uses the full native resolution
With Luna's Mac-to-Mac Mode, secondary Macs (the Mac being used as the display) will display in their full native resolution — including Retina (if supported by the MacBook model).
You can now use your 4K or 5K computer as a second display at the full resolution. Make the most of every pixel for a super sharp display with Luna. Note that 5K support requires a USB-C Luna. Resolutions beyond 4K require macOS Big Sur or later. → Learn More
Refresh rates have the following limitations for 4K and 5K resolutions:
5K @ 30hz on PC
5K @ 45h on Mac (Big Sur required)
4K @ 60hz on Mac & PC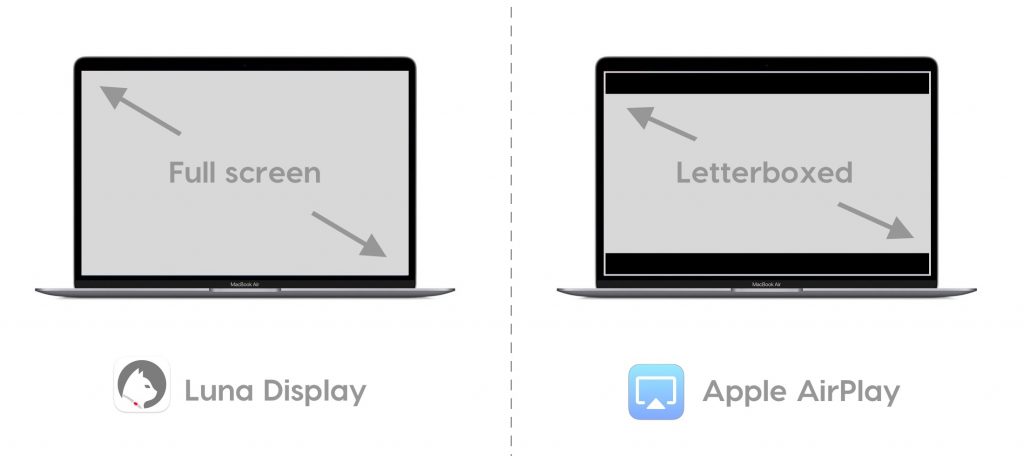 Connectivity Between Macs
AirPlay and Luna Display both offer connections over WiFi or with a cable
WiFi: Both Macs must be connected to the same WiFi network
Ethernet cable
Thunderbolt cable