In the battle of Photoshop vs Illustrator, which is the ultimate winner?
Adobe Creative Cloud is the jewel in the crown of the digital illustration world. It offers several super powerful tools for digital creation, but two stand out among the rest. Photoshop and Illustrator both come with shapes, images, and tools to create works of art, but which is the best?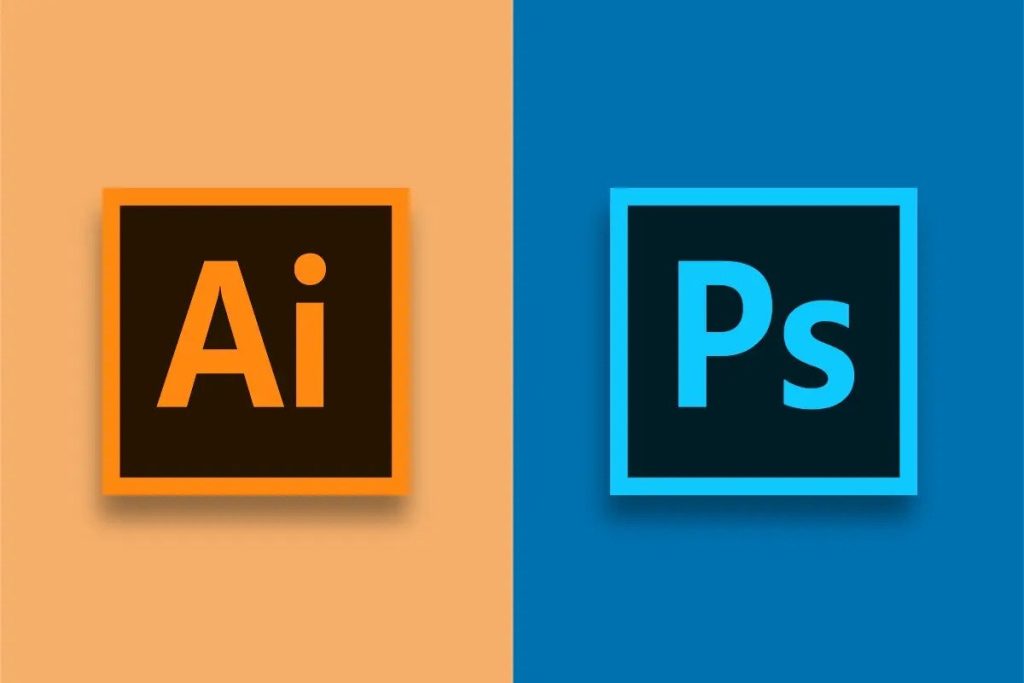 Photoshop vs Illustrator: The Main Difference
As we're about to learn, there are positives and negatives for both programs. That being said, there is one main difference that budding artists need to understand.
Illustrator is for creating graphics, whereas Photoshop is for editing them. Both programs have a range of tools that can accomplish some aspect of the other skill, but neither has the exact same capabilities.
When Should I Use Photoshop?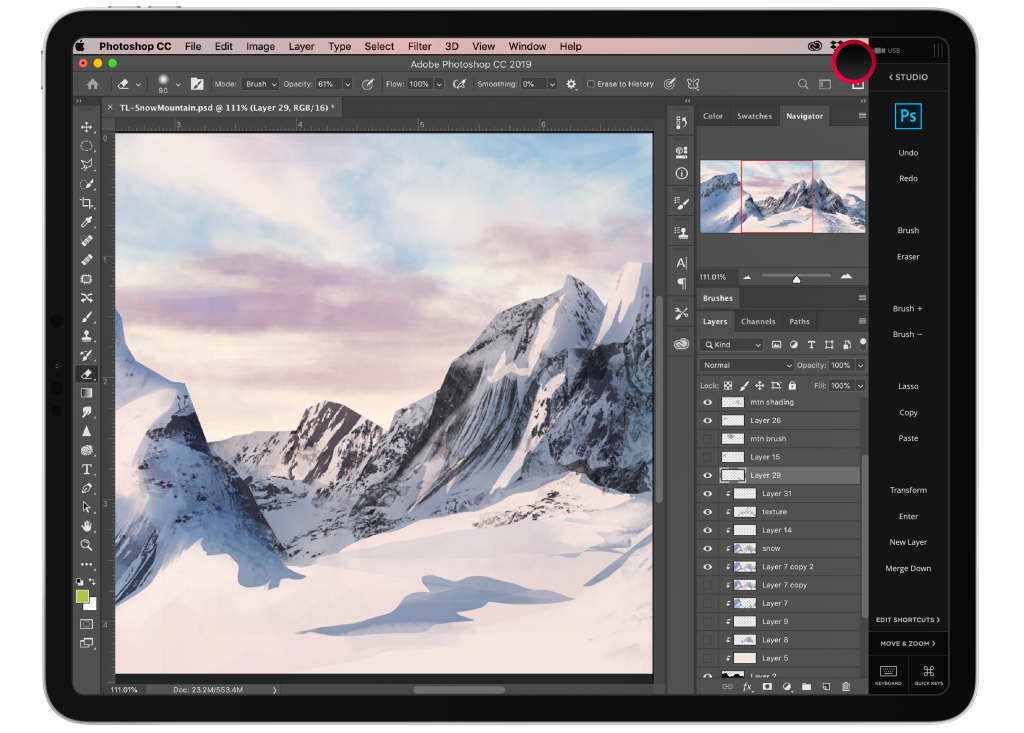 Whereas Illustrator is brilliant for creating graphics, Photoshop is excellent at editing them. Photoshop has quickly become the best photo editing software in the industry. It has tools that target photo composition, lighting, collaging, and much, much more. All the images in Photoshop are rasters. Rasters support more detail like shading, texture, and precise edits.
Even though Photoshop is designed to edit photos, artists also use it to create brand-new raster graphics. Typically, they do this by layering and editing images.
What Are Raster Graphics?
Raster graphics (which are also known as pixel art) are two-dimensional digital images that are represented via a grid of square pixels. The squares are filled with colors and tones to create an overall image.
Advantages
Precise color editing that allows for nuanced shading
Each pixel can be edited individually
Can be saved by a wide range of applications in lots of file formats
Disadvantages
The better the quality, the larger the file size
If you convert a raster graphic into a vector graphic, the quality will decrease
Rescaling raster graphics will result in poor details, colors, and pixelation
Interesting New Photoshop Features
To put an end to Photoshop vs Illustrator, we need to get down to the nitty-gritty. Updates can make or break a digital program, so, what has the Adobe Photoshop team been working on?
AI backgrounds – Use AI to generate custom backgrounds for photographs. Input a prompt or choose from the popular presets.
Adjustment presets – Choose from a new range of adjustment presets which will create a non-destructive adjustment layer.
Remove tool – This AI-based tool allows users to seamlessly remove unwanted parts of images.
Generative fill – Once users have selected part of their image with the lasso tool, they can use the generative fill tool to replace that section with new content.
Best Times to Use Photoshop
Here are a few examples of Photoshop uses.
Use AI backgrounds on a headshot to transform an unprofessional background.
Use the brush tool to create your own hand-drawn creations.
Use the erase tool to remove a blemish on a model.
Create online-compatible photos by reducing file sizes and choosing new file formats.
Use the eyedropper tool to color-match outfits on a photo and create cohesive branding.
Use the remove tool on wedding photos to eliminate unwanted objects like confetti.
Use generative fill on a seasonal campaign photo to replace summery clothes with wintery clothes.
Use the note tool to add feedback and suggestions on a collaborative piece of work.
Pros
Detailed – Photoshop has a comprehensive set of tools that allow artists to create extremely detailed images.
Compatible – Users can pair Photoshop with a wide range of plug-ins that enable special textures, overlays, brushes, and so on.
Community-focused – Over 90% of the world's creative professionals use Photoshop, so there are lots of tutorials and online forums that can help with common problems.
Integrated – Photoshop has an integrated image library, which means that users don't have to trawl through the internet for the perfect photo.
Cons
Steep learning curve – Photoshop is capable of editing images and videos, making animations, creating 3D graphics, and even more. It's no surprise that beginners (and even advanced artists) struggle to keep up with all the tools.
Untested beta versions – Adobe has been known to release untested beta versions of Photoshop, much to the annoyance of artists all over the world. Users may encounter more bugs than expected, especially when new versions have been released.
Bad for vector graphics – Photoshop has limited abilities for vector graphics. Users can't resize graphics without compromising on quality.
When Should I Use Illustrator?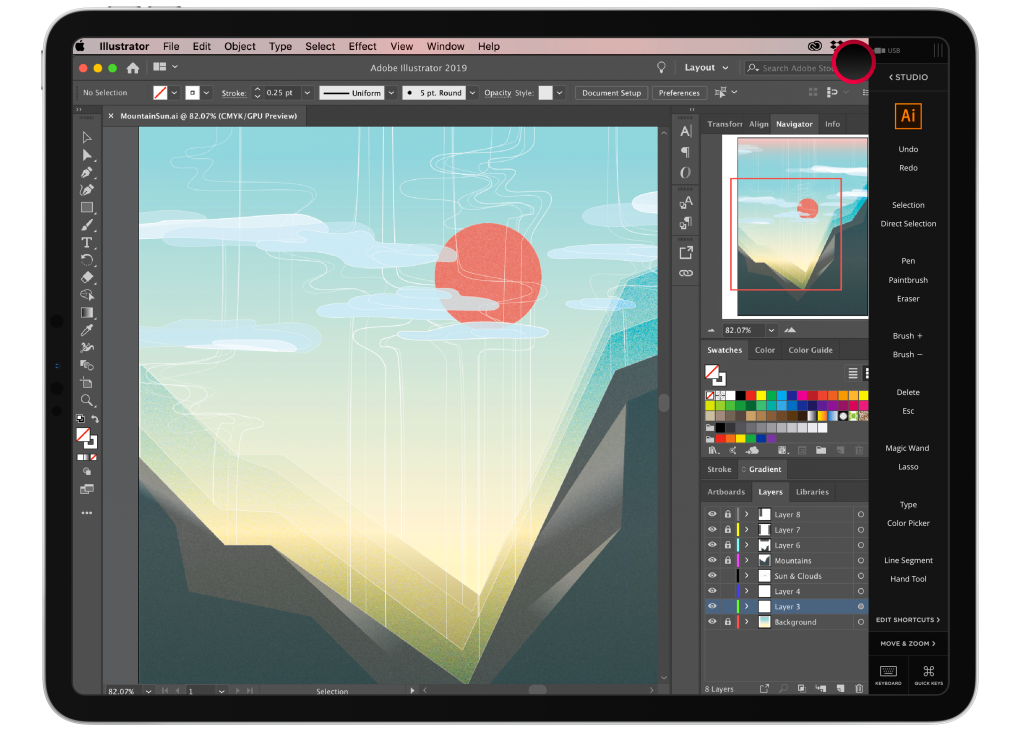 Adobe Illustrator is a graphic design tool. It contains all kinds of features that allow creative individuals to make graphics, illustrations, icons, and logos. All of these outcomes fall under the umbrella of vector art.
Artists who need to create promotional materials tend to choose vector art, which is much more versatile than the alternative, raster art.
What Are Vector Graphics?
Vector graphics are comprised of points, curves, shapes, and lines that are built on mathematical formulas. Users can scale vector images without compromising on quality or detail, whereas pixel graphics lose resolution when they are resized.
Advantages
Maintains quality at any scale
File sizes are smaller than raster graphics
Easier to convert a vector graphic into a raster graphic
Disadvantages
Vector graphics need to be rendered before they can be displayed
The bigger the vector graphic, the longer it takes to render
Vector graphics are more complicated to create than raster graphics
Interesting New Illustrator Features
Before you pick a winner in the battle of Photoshop vs Illustrator, you need to know what sort of tools you are working with. Each year, the Illustrator team announces a new set of features. Let's see what's happening in 2023.
Intertwine – Overlap specific parts of objects and shapes to create unusual designs.
Copy and paste from InDesign – Preserve the effects and formatting on text.
Expand and export 3D – Expand and export 3D vectors into several compatible apps.
Invite to edit – Edit illustrator files with collaborators via a shareable link. Even people who don't have Illustrator can comment on the Illustrator file.
Best Times to Use Illustrator
Here are a few examples of Illustrator uses.
Use the intertwine tool to create unique line logos.
Use the scissor tool to cut apart a vector object or path with a straight line.
Use copy and paste from InDesign to create a cohesive, recognizable brand across all marketing materials.
Use the pencil tools to replicate a hand-drawn aesthetic.
Use the magic wand tool to create full vector shapes around your brushstrokes.
Use the area type tool to create text that follows the curves of shapes.
Use the invite to edit function to get in-app feedback on your progress.
Pros
Personalized – Users can use the tools freehand, which allows them to preserve their artistic style and encourages their art to flow naturally.
Mathematical – Illustrator uses mathematical formulas to create points, shapes, and more. This means that artists can resize a vector graphic without compromising on quality. Illustrator is a brilliant option for large-scale banners or small-scale business cards.
Versatile – Illustrator works on almost any computer system, but the same cannot be said of Photoshop. While you can access the basics of Photoshop on any computer system, an advanced system is necessary for multiple layers, short animations, and big canvas files.
Innovative – Illustrator is making waves in the 3D digital art community with a range of easy-to-use, high-quality tools.
Cons
Bad for raster graphics – Illustrator's tools are not compatible with raster graphics, so any attempt to create pixel images will be slow and arduous.
Steep learning curve – If you are just starting to learn about vector graphics, Illustrator will present a very steep learning curve. It can take months for beginners to develop an intuitive understanding of Illustrator.
Restrictive photo editing capabilities – If your primary focus is editing photos, Illustrator is not the program for you. Lots of artists create their basic graphics in Illustrator and then move on to Photoshop to edit them.
Photoshop vs Illustrator: Price
When you're looking at the benefits of Photoshop vs Illustrator, you can't forget about the price.
| | | |
| --- | --- | --- |
| | Adobe Illustrator | Adobe Photoshop |
| Annual individual subscription, paid monthly | $20.99 | $20.99 |
| Month-by-month subscription | $31.49 | $31.49 |
| Annual up-front payment individual subscription | $239.88 | $239.88 |
As you can see, Adobe Illustrator and Adobe Photoshop cost the same amount. So, why not invest in the full Adobe Creative Cloud? It includes more than 20 apps including Photoshop, Illustrator, Adobe Express, Premiere Pro, and more. Individuals can purchase Adobe Creative Cloud for $54.99 per month.
When Should I Use Photoshop and Illustrator Together?
If you want to break free of the constant debate over Photoshop vs Illustrator, we're right behind you! These programs are both part of the Adobe Creative Cloud family, and they work together create amazing graphics. Lots of artists link Illustrator files to Photoshop files so that everything in Illustrator appears in Photoshop.
Here are a few of the things that you can do when you link Illustrator and Photoshop.
Create mock-ups showing how logos look on t-shirts, bags, and other apparel.
Make collages that combine bold graphics with old-timey landscape paintings.
Place 3D artwork onto 2D backgrounds to create a dynamic, interesting aesthetic.
The possibilities are endless! And if you invest in Adobe Creative Cloud, you will have all the tools you need to make eye-catching creations.
How to Use Illustrator & Photoshop on Your iPad
If you're interested in digital art, you will have heard of graphics tablets. These can be a hefty expense, and they aren't always as quick and seamless as you need them to be. Astropad Studio is a modern alternative that transforms your existing iPad into a professional drawing tablet by mirroring any Mac or PC desktop app onto your iPad.
All you have to do is:
Launch the Astropad Studio iPad and desktop companion apps
Connect your iPad and computer with WiFi or USB
Mirror your desktop on your iPad and draw directly into creative programs like Adobe, Affinity, Clip Studio, and Krita
Did you know? There are iPad apps for both Photoshop and Illustrator, but neither has all the same features as the desktop versions. The only way to get the full Photoshop and Illustrator experience is to use Astropad Studio.
Try Astropad Studio Free for 14 Days
Want to give it a spin? You can try Astropad Studio free for 14 days! Start your free trial
Mirror any desktop app on your iPad
Compatible with Mac and PC
Build your own shortcut panel, custom gestures, and custom quick keys
Utilize custom pressure curves and pressure smoothing
Connects wirelessly or over USB cable