With the power of Apple Pencil, The iPad has become an incredibly versatile tool for artists and designers. If you're looking for a more comfortable and ergonomic drawing experience, a reliable iPad stand is a must-have accessory!
In this blog post, we've curated a handpicked selection of the best iPad stands for drawing. Whether you're a professional, a hobbyist, or a student exploring the world of digital art, these stands offer stability, adjustability, and convenience.
Things to consider when choosing the right iPad drawing stand for your needs
Choosing an iPad drawing stand may seem simple, but it's more than meets the "i." Different stands cater to diverse needs and iPad models. Choosing an iPad stand for drawing isn't a one-size-fits-all decision.
Here's what to consider when picking out an iPad drawing stand:
Comfort
Comfort is key, especially during long drawing sessions. If you're prone to hand cramps, look for an iPad drawing stand that provides ample wrist cushion around the edges of your iPad screen. If neck and back cramps are a concern, consider an iPad stand that can accommodate drawing angles that alleviate neck strain.
Material
Material matters! iPad stands come in a variety of materials including aluminum, plastic, and EVA foam. This will impact the sturdiness, portability, weight, and comfort of your iPad stand.
Versatility and compatibility
Some iPad stands are limited to just one angle option, while others offer multiple angles and orientations for your iPad. Consider all of your use cases for your iPad before committing to a stand.
Device compatibility is important too. Are you looking for an iPad drawing stand that can also work for your laptop or other tablets? You may want to go for a stand with wide-compatibility.
Protection
iPads costs a pretty penny, and protecting your investment means using the right stand. If your iPad typically stays stationary at your desk, then this might not be a priority. But if you like to take your iPad out and about with you, then you want to choose a stand that will hold your iPad in place and will protect the screen no matter your environment.
Portability
Some stand designs are bulkier than others. If you like to switch up your location while you draw, pick an iPad stand that is lightweight and can fold down into a flat profile.
Top iPad Stands for Drawing
Wondering which iPad stands are the best for digital artists? We've narrowed it down to five top contenders to meet a diverse range of needs.
1. Darkboard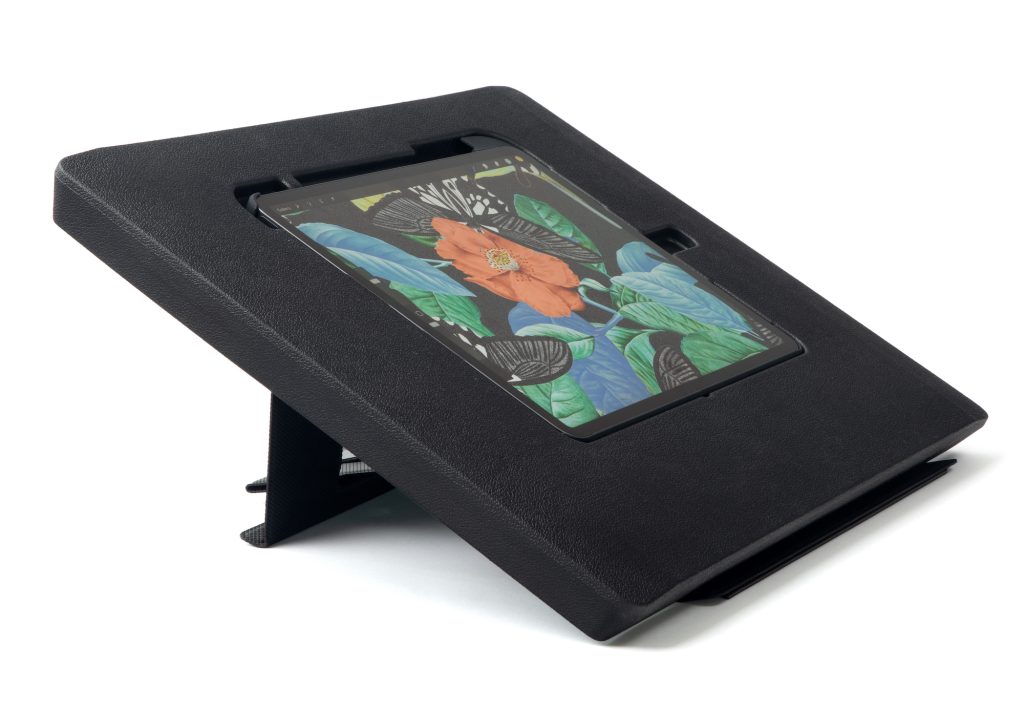 Darkboard is the first truly ergonomic iPad stand for drawing. It extends the area around your iPad to comfortably cushion your arms and wrists during long creative sessions. It's also versatile, and can accommodate three different setups:
Easel Setup: Perfect for drawing or writing, this setup lays your Darkboard at a comfortable 30-degree angle.
Vertical Setup: Flip your Stand around to set up your Darkboard in a vertical, desktop-like position. This is great for using your iPad as a monitor while working.
In Your Lap: Use your Darkboard on its own to rest comfortably in your lap. Great for drawing on the couch or in bed!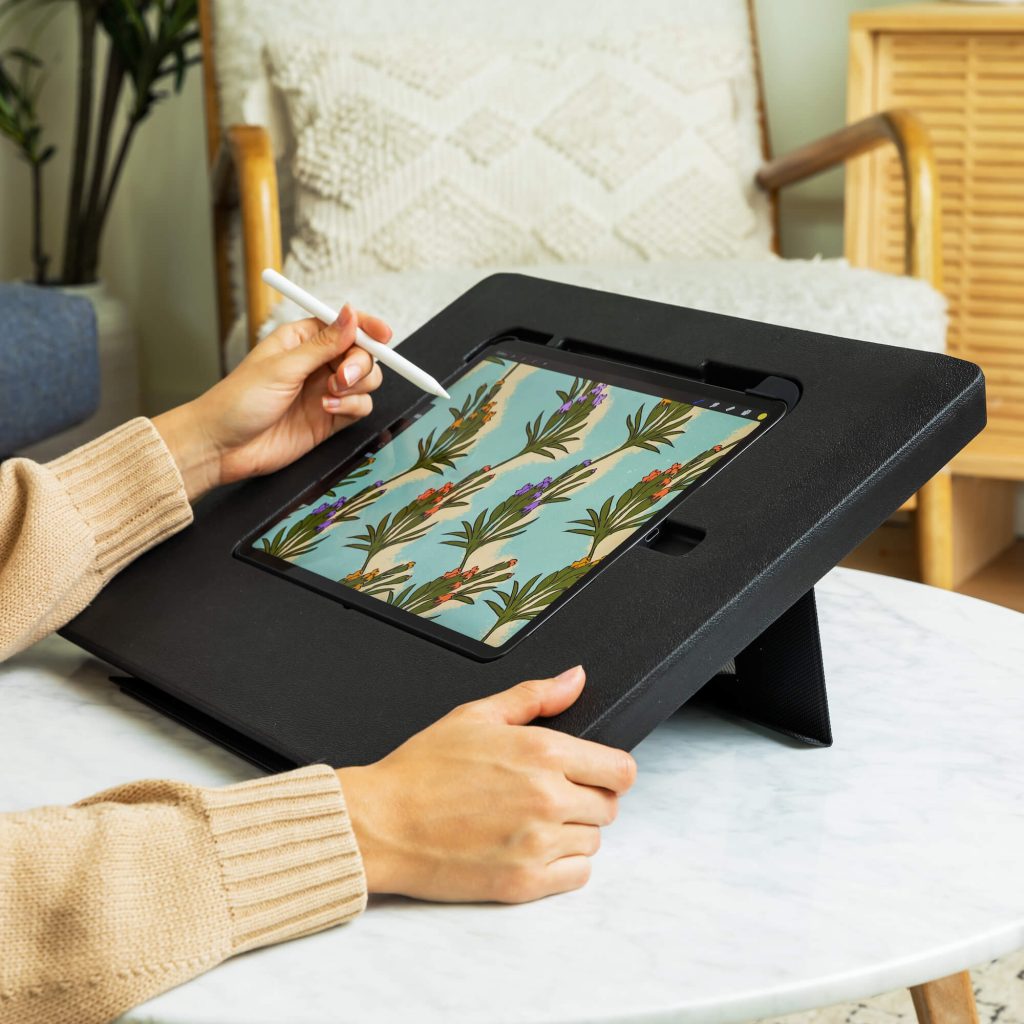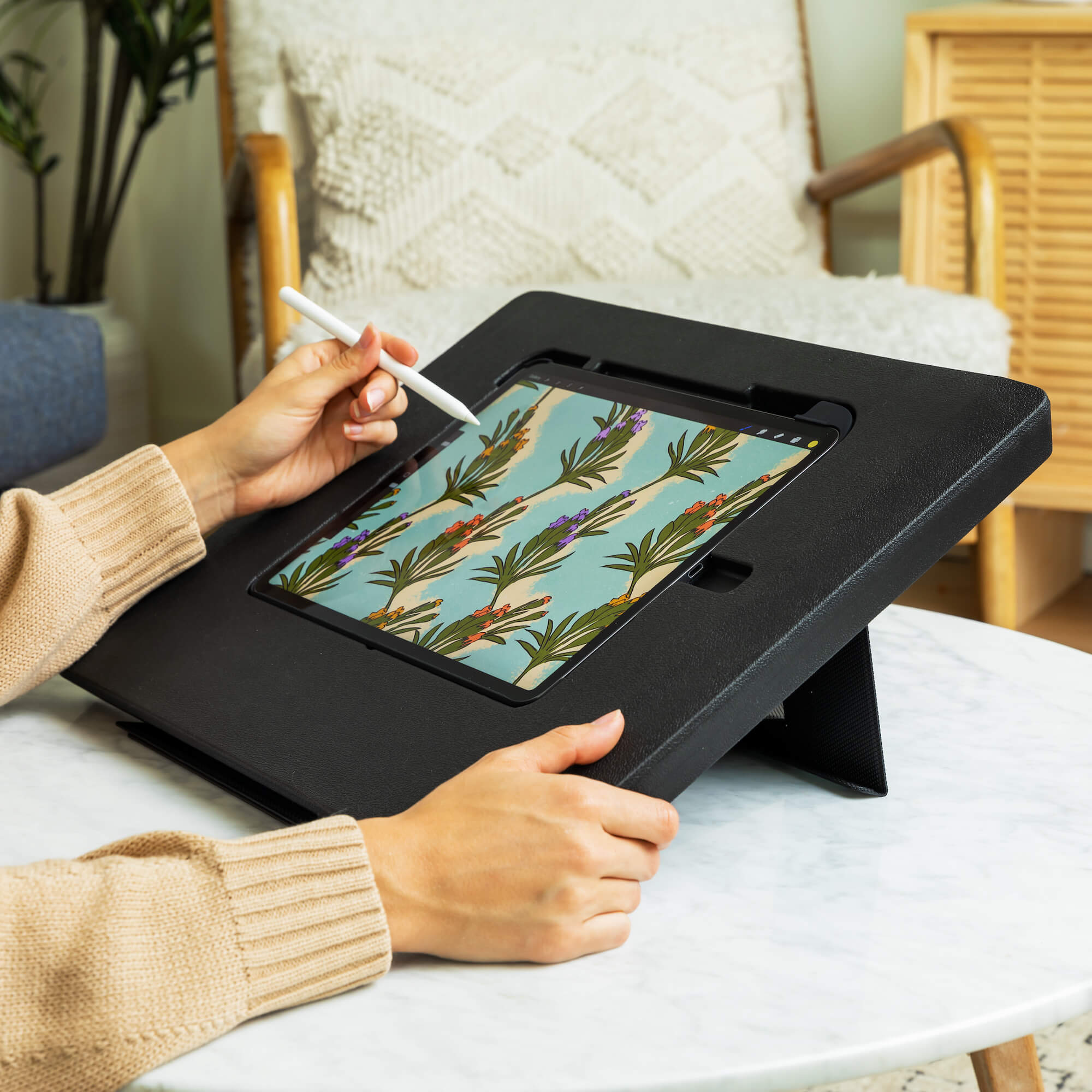 Weighing in at only 1.4 pounds, Darkboard is lighter than the box it's shipped in! This makes it comfortable to sit with for long periods of time and easy to take on the go. Plus, it comes with a neoprene carrying case for added protection and portability.
2. Twelve South ParcSlope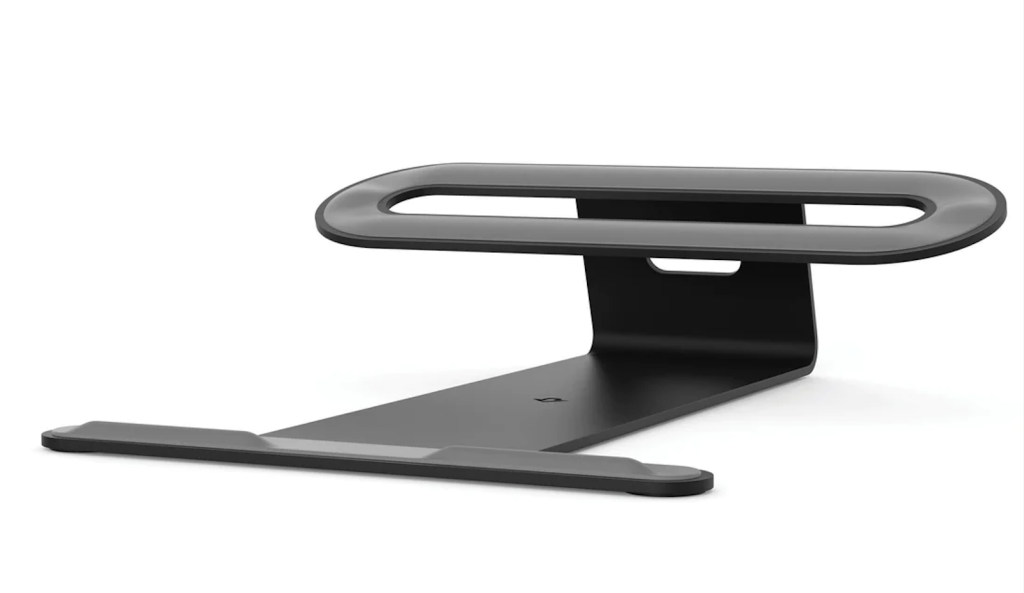 The Twelve South Parc Slope is a versatile stand designed to accommodate both MacBooks and iPads.
It props up your iPad at an 18° angle and is equipped with a soft silicone lip that securely holds the MacBook or iPad in place. Additionally, the open-bottom design allows for efficient cooling, and built-in cable management keeps your workspace tidy.
The main drawbacks are that this tablet stand is not adjustable and does not offer arm or wrist support.
3. KU XIU Foldable Magnetic Stand for iPad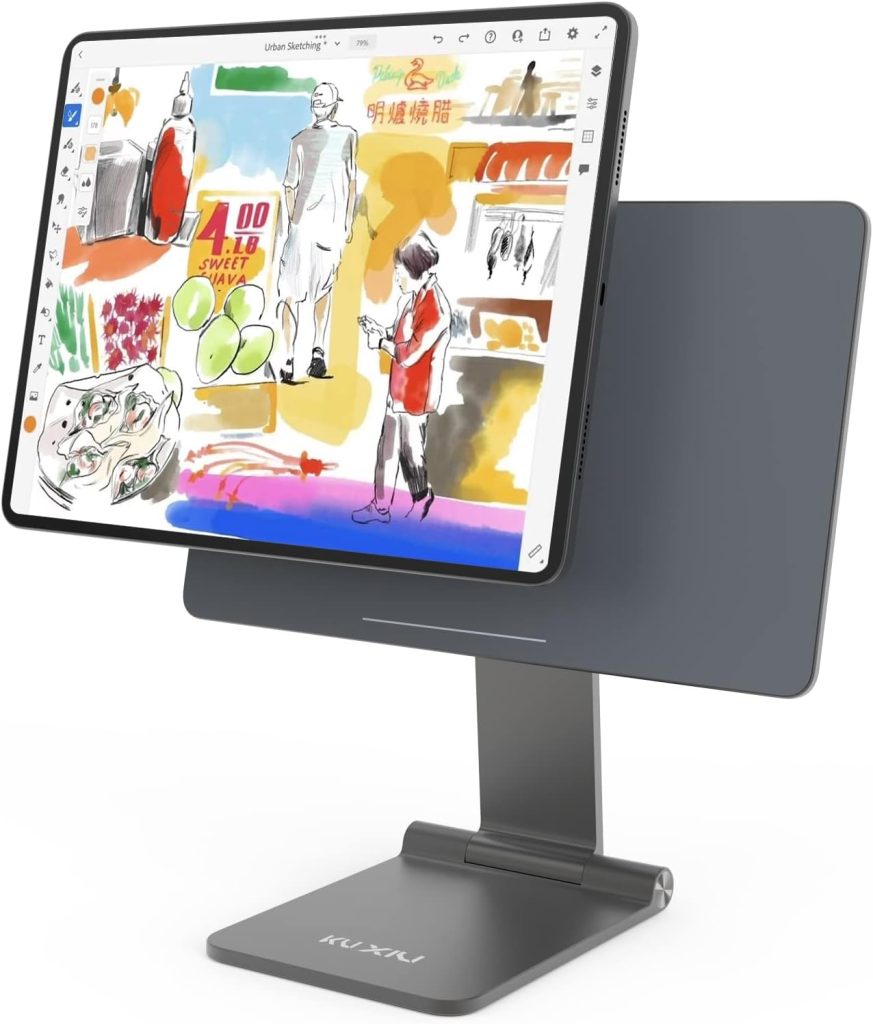 The KU XIU Foldable Magnetic Stand boasts 88 high-quality small magnets, allowing for a secure and easy suction effect with just a light press. The non-slip rubber base ensures stable placement for your iPad.
The stand has two hinges: The upper hinge supports 360-degree rotation in the horizontal plane, allowing your tablet to easily convert between landscape and portrait orientations. The lower hinge can adjust the front and rear folding angle and sight height.
If you're looking for a versatile iPad stand that's suitable for drawing or watching videos this could be a good option for you. Its main drawback is that it doesn't offer arm or wrist support while drawing.
4. Compact Easel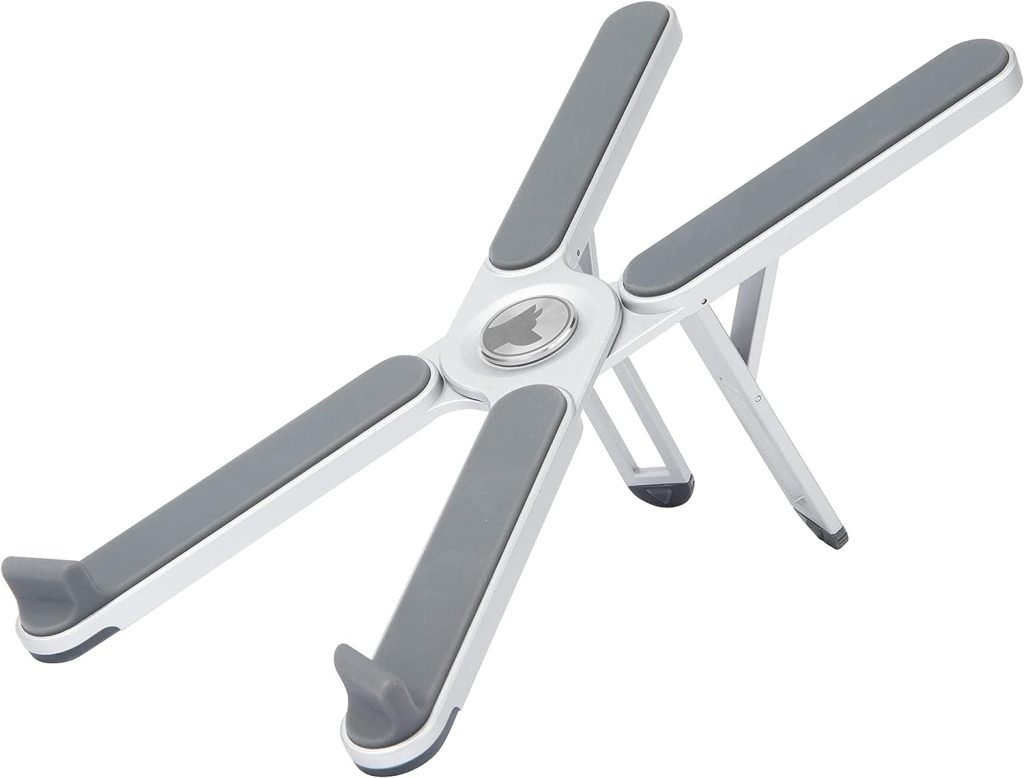 The Compact Easel is an adjustable and widely compatible stand that works for your laptop or iPad. It offers 7 angle options ranging from 8.7°- 32.5°. It's made of sturdy aluminum alloy and silicone padding, and the x-shaped design is conducive to airflow and rapid heat dissipation.
This easel is compatible with a wide range of tablets and laptops, including the iPad, iPad Air, iPad Pro, Samsung Galaxy tablet, Microsoft Surface, etc.
Its main drawback is that it doesn't provide any arm cushion for drawing. But if your looking for an iPad drawing stand that folds down into an ultra-slim profile, then this might be the best option for you.
5. MAX SMART Tablet Drawing Stand
The MAX SMART Tablet Drawing Stand is a sturdy drawing tablet stand that can handle various pressures and weights. This stand is compatible with a wide variety of large screen sizes including Wacom, Cintiq, Huion, Xe-Pen, iPad, Microsoft Surface, and more.
It offers six different angle positions between 15 and 39 degrees and folds flat for easy transportation. Its main drawback is that it does not offer arm or wrist support while drawing.
---
There you have it! No two iPad drawing stands are alike, but we hope this guide helps you choose the right fit for your workflow. Happy drawing!