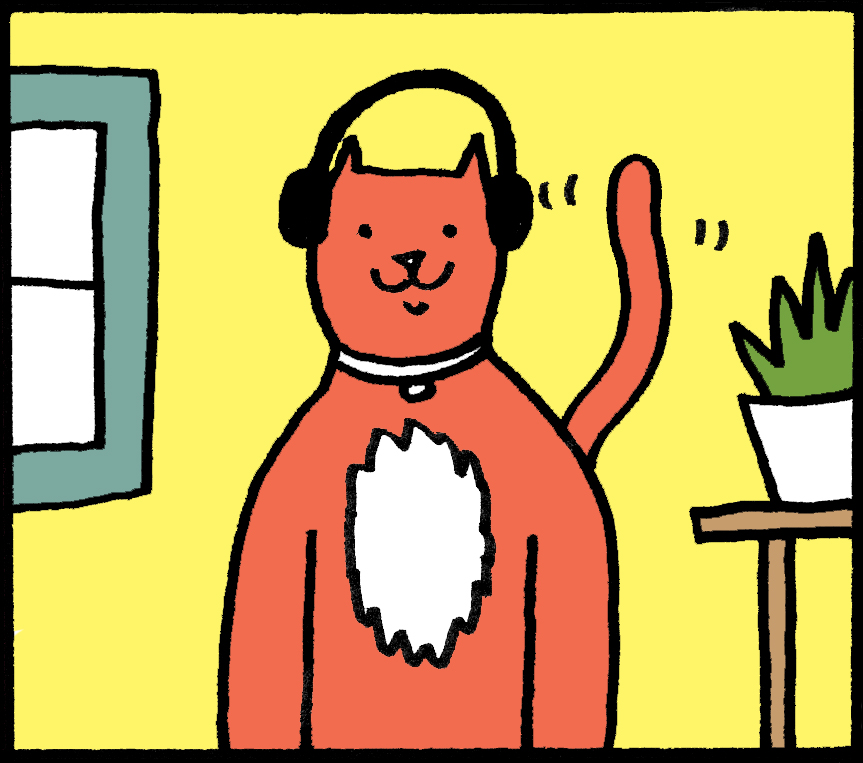 A question we often get asked is how we stay productive while working from home. The answer depends! Everyone is different, and there are many methods to establish a good work routine when you're remote. Being open to experimentation is the best way to find what works best for you. Here are some ideas for you to consider.
Separate your workspace and living space
Separating work and home life is essential for maintaining mental health and productivity, but it's no easy feat. And, if you live in a big city and don't have a lot of extra space, it can be even more challenging. But, you can make small changes to help draw a line between the two. Keeping things separate can help you feel "at work" even when surrounded by a lot of home distractions, and can help you effectively sign out when the workday is over.
These small changes can make a difference when trying to separate home from work:
Lighting: If your workspace is in the same room as your living space, try changing up the lighting. As you get ready to sign out for the day, light a candle or set some mood lighting to signify that you are transitioning away from work.
Reduce distractions: Set up your workspace away from the TV or others who may be home at the same time to avoid distractions. Knowing yourself, create a clear desk space that won't easily interrupt your focus.
Claim your spot: Do you have an empty nook or spare space to take over in your apartment or home? Not everyone does, but if you have a little extra space, now's a perfect time to claim it.
Differentiate modes: Try to imagine that you are in an office with coworkers. Obviously, you are not, but intentional mindset shifts can help set the tone for work and transition from "at home" to "work" mode.
Pack it up: If you work in an open space in your home (like at the kitchen table), make an effort to pack everything up at the end of the day just as you would if you worked in a physical office. If you can, keep a work bag to stow things away in. These behaviors help set mental signals and healthy barriers between your workspace and your no-longer-at-work home space.
Build a routine
Humans are creatures of habit, so it helps to create a schedule and stick to it. When you work in a regular office setting, you typically have a daily commute and routine. Just because the commute is absent doesn't mean the routine has to go out the window too! Developing a loose schedule for working at home can help you maintain a normal work-life balance.
Get up at a regular time, shower, get dressed, eat breakfast, schedule in breaks for lunch and walks. Set up times for deep focus work. Everyone needs some time to unplug and truly dig into their work. We encourage this practice for great productivity. If you're feeling unsure of how to go about it, speak directly with your manager. Find a way to implement dedicated time for focusing.
And make sure you sign off at a normal time. When you're in the comfort of your own home, it's easy to stay online much longer than you would at a regular office.
Filling the silence
In a normal office, you'd likely have coworkers conversing or stopping by your desk. When you work from home, chances are you'll be working in silence. We suggest turning on a podcast or streaming music on Spotify if you miss the buzz of working in an open space. Need something to listen to now that's productivity-focused right now? Try out our curated playlist.
If you're in the group of people who are entirely new to the concept of working remote, check out our other tips on how to ease into telecommuting.
Pets at home
One distraction we can get behind is: pets. Working with a dog or cat or even a lizard has its benefits. Pets enrich our personal lives so even though you are working, don't forget to enjoy the animals who live with you! Take a break to play, go for a walk, and allow them to serve as a beneficial reprieve from work. We definitely enjoy our furry friends' company: meet the pets of Astropad.