Good things ahead in 2021🔮
Happy new year everyone! Despite all the uncertainty in the world, here at Astropad we're feeling optimistic for the year ahead: our Windows beta program is underway, we're on schedule to fulfill Luna Display Kickstarter orders in May, and our team is happy and healthy! There's a lot to be grateful for. 🙏
So let's get you up to speed with our Windows progress: listen to Astropad CEO Matt Ronge's latest Kickstarter audio update — or keep reading below for all the details.
Our biggest hurdle: Ensuring compatibility across hundreds of PCs
Part of building the best Luna Display experience means supporting as many devices as possible — we want to cater to all sorts of workflows.
When we first launched Luna Display in 2017, building Mac support required testing on 40-50 Mac models. But the world of PCs is much more vast. Unlike macOS, the Windows platform spans a multitude of different brands, each with 50+ models of their own. There's also a huge variety of custom PC builds. To get Luna Display to support all of the Windows options out there means compatibility testing and bug fixes across hundreds of devices — no small task!
Luna's hardware engineering is complete; software and firmware work remains
Thankfully, our hardware form factor designs for both USB-C and HDMI have already been finalized and are ready for manufacturing. The remaining work for our Engineering Team is to finish Luna's software and firmware, which includes bug fixes from any device incompatibilities we find during testing.
HDMI is more complicated than USB-C because it includes more PC models
When it comes to testing, USB-C is a bit more straightforward because it's only supported in newer PC models — in other words, less USB-C Windows models for us to test. But HDMI is much broader, encompassing the majority of older PCs and custom builds; there's a lot more to unpack to support HDMI — and we don't want to leave any of you out!
It's difficult to estimate how much HDMI compatibility work remains until we get prototype units plugged into every kind of PC model. But that's where our beta program comes in!
The beta program will be conducted in batches to test Luna firmware
We are launching our beta program for our Kickstarter Luna backers soon. Thank you to everyone who volunteered for the program — we received over 400 applicants! We've been sifting through your applications to strategize our testing process, since we need to test as many devices as possible with our prototype units.
The program will be conducted in batches, beginning with an initial batch of 200 beta testers. To test device compatibility, beta testers will run the Luna Integrity Test, our little software program that automatically analyzes how Luna's software and firmware interact with your device.
If you are selected to be in the first batch of testers, you'll receive an email from beta@astropad.com by the end of the month.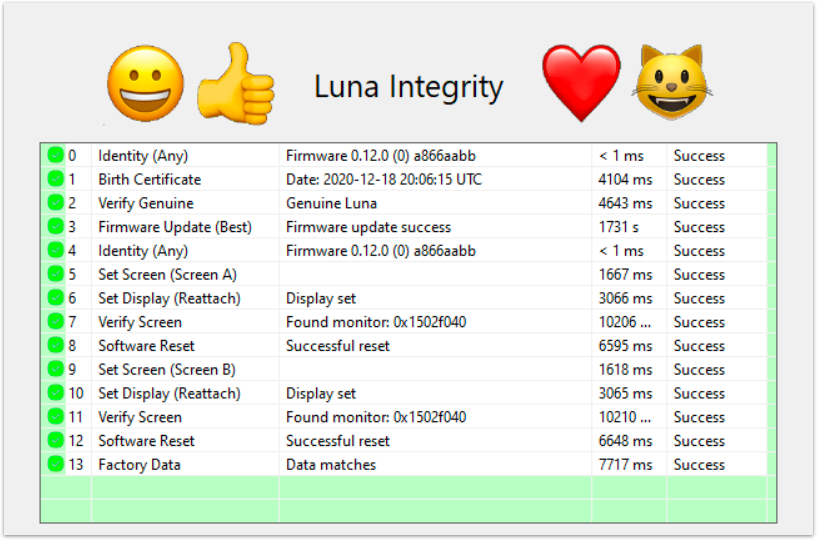 Luna's hardware design and manufacturing facility are ready to go
While we continue to work on Luna's firmware and software, the hardware designs for both USB-C and HDMI are done! Additionally, we've already run manufacturing test batches at our factory in China to guarantee a smooth hardware fabrication.
We've been fortunate to build a strong relationship with our Chinese manufacturing partner over the past three years. Our factory has been able to adapt and stay on schedule despite the pandemic. We are ready to build you some Lunas!

We're growing our Engineering Team
We're looking to expand our Engineering Team to help us bring Luna Display for Windows to the finish line. At Astropad, we seek people who are passionate about building the next generation of creative tools. Our work environment is remote, flexible, and full of learning opportunities.
Embedded Firmware Engineer (Programming in C & Rust)
We're hiring a firmware engineer located in the continental US who is passionate about coding for embedded devices. You will be responsible for developing firmware and software for our existing hardware products and experimenting with new products in the future. → Learn More
Go deeper behind the scenes with the Building Astropad podcast
We like to think of the Building Astropad podcast as sort of a conversational diary — a place for us to document what we've learned through bootstrapping a startup tech business. In each episode, we speak candidly about our product experiments, our failures, and what keeps us up at night.
Here's a sampling of some of our favorite episodes:
You can subscribe to Building Astropad on Apple Podcasts, Spotify, Youtube, or anywhere else you get your podcasts.
---
To all of our backers, thanks again for sticking with us through our journey. The past year was certainly a trying time for everyone — but the support we saw from our Kickstarter community was a silver lining that we're endlessly grateful for. We're wishing you all the best in the year ahead!