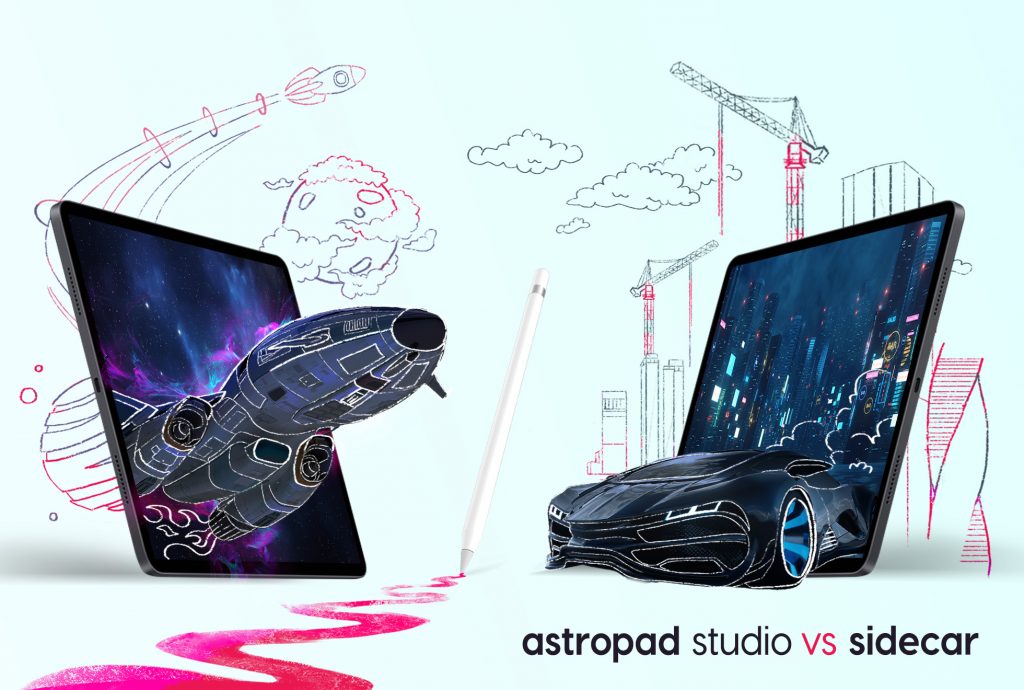 Apple's iPad and Apple Pencil are very powerful tools for digital artists, and you don't have to ditch your desktop software like Adobe Photoshop and Illustrator to use them.
Solutions like Sidecar and Astropad Studio allow you to mirror your desktop screen directly onto your iPad and use your iPad as an input device, similar to what you might experience with a dedicated graphics tablet.
This gives you the full power of your desktop apps combined with the flexibility of the Apple Pencil.
Sidecar is already built-in to your Mac and iPad OS, making it the most convenient and accessible option. However, if you're serious about digital art, it might not be the best fit for you. Astropad Studio was built specifically with digital artists in mind and it comes with a more robust suite of tools to help you improve your productivity and workflows.
In this article we'll compare the two to help you decide which is the best fit for you.
Let's dive in!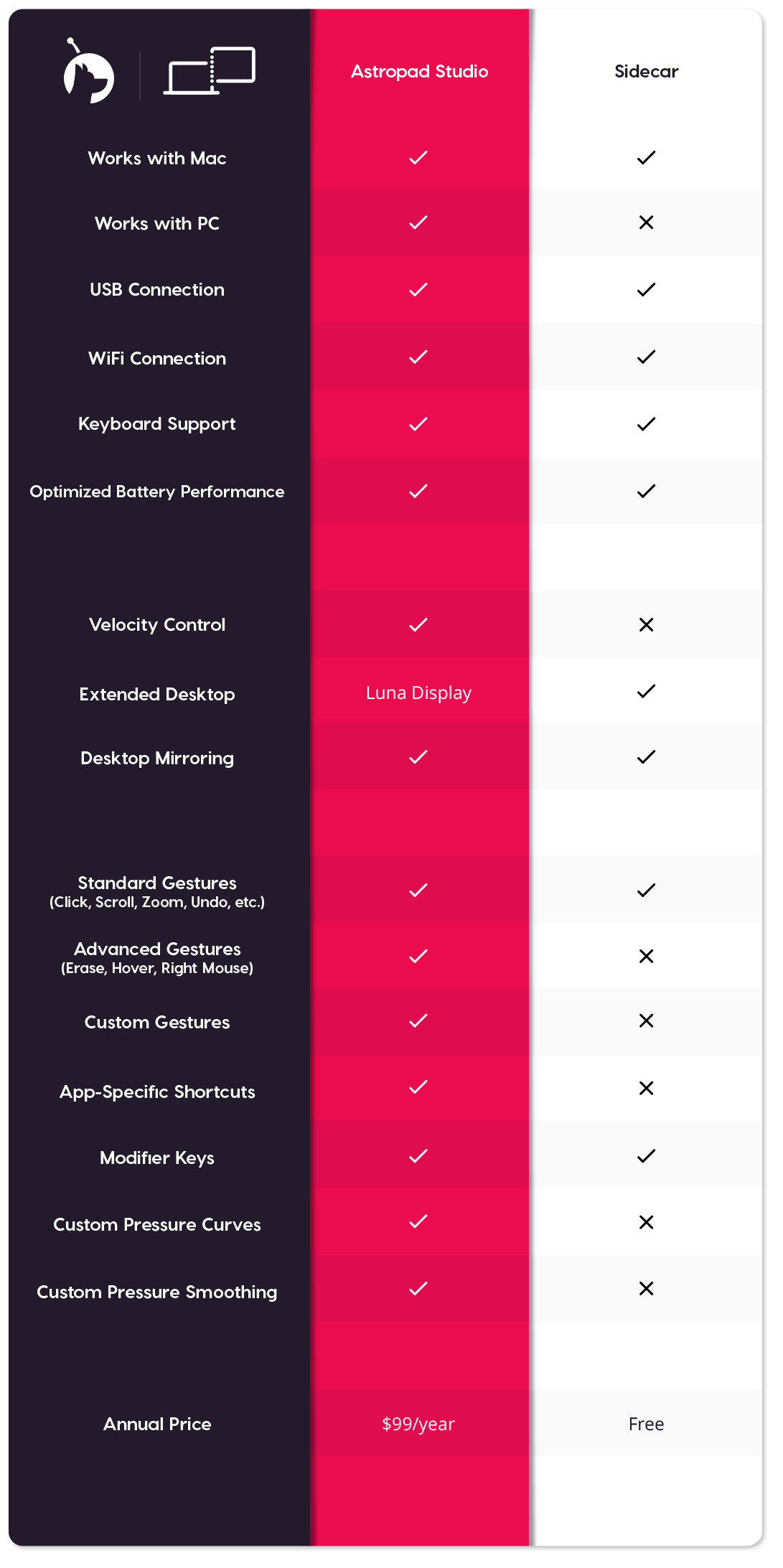 Looking for high-performance screen extension?
See how Astropad's Luna Display stacks up against Sidecar when mirroring and extending your desktop.
Key Differences: Sidecar vs Astropad Studio
In a nutshell, the difference between the two apps is pretty clear:
Apple Sidecar is a free, built-in solution for simple screen mirroring and extension on Macs. It offers a few shortcut and gesture options along with Apple Pencil and keyboard support. This makes it simple to use your iPad as a second display for your Mac or to mirror your screen onto your iPad for some light editing or artistic work. Unfortunately, it falls short when it comes to more advanced workflow tools and customization options that are critical for digital artists.
Astropad Studio is an app that turns your iPad into a professional graphics tablet by mirroring any Mac or PC app onto your iPad screen. Built specifically with artists in mind, Astropad Studio is designed to maximize your productivity and improve your creative workflow. Since no two artists work alike, Astropad Studio provides you with advanced customization features that allow you to create custom shortcuts, gestures, pressure curves, and more.
In the next section, we'll take a closer look at how these apps compare and what they bring to the table when trying to fit into your artistic process.
Which is best for your workflow?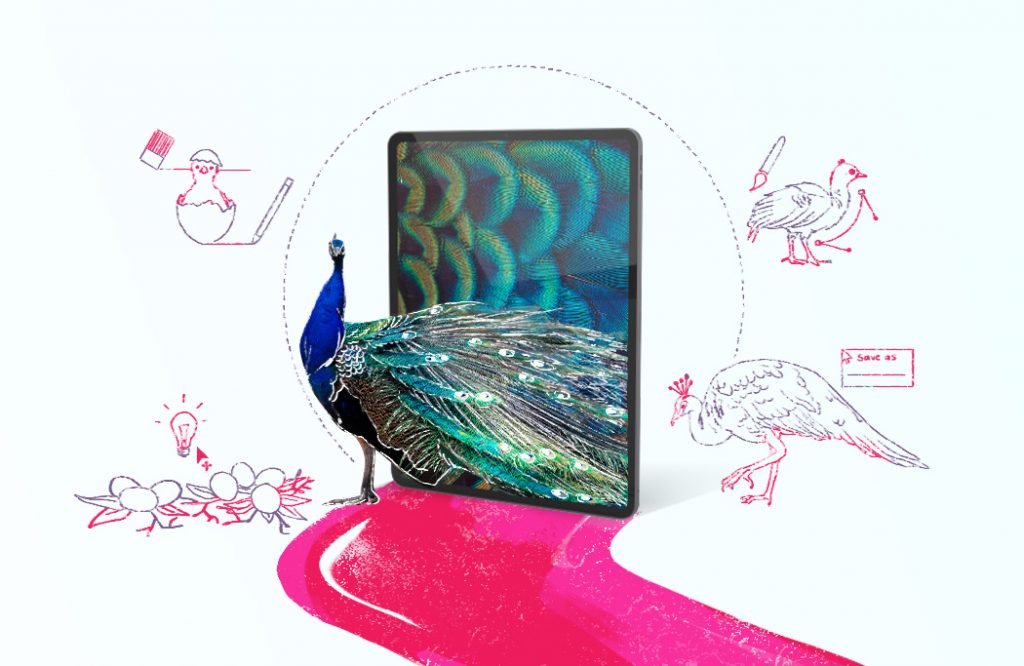 The app that works best for you will come down to your use case. If you're a casual user who just needs to mirror your desktop screen every now and again, Sidecar might be more than enough to suit your needs.
On the other hand, if you're a power user looking for a low-latency, top notch experience for your creative endeavors, an app like Astropad Studio is an investment worth making.
Let's take a closer look at where each app shines.
Sidecar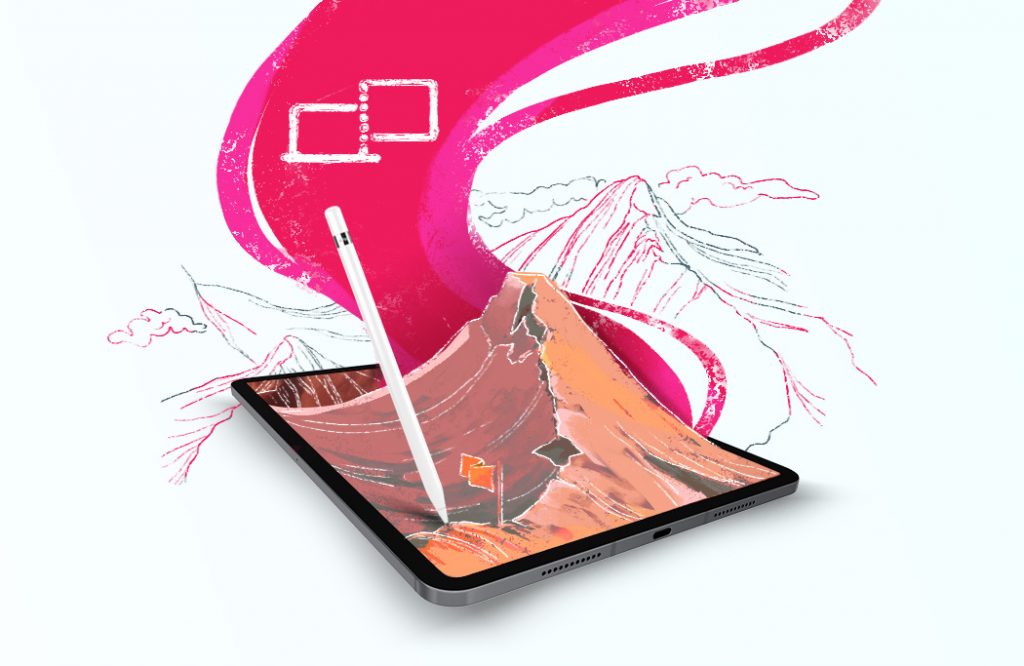 Sidecar is a convenient (and free!) built-in solution for people who want to use their iPad as a second monitor or mirrored screen for their Mac. As long as your Mac and your iPad meet the basic system requirements, you can turn on Sidecar and get to work.
This is great if you're looking to add more screen space to work setup or if you just want to do some light design or editing work using your Apple Pencil.
The Sidecar user interface is easy to navigate and includes a few features to help improve your iPad workflows:
Basic Gestures offer navigation for some basic one, two, and three combinations that cover everything from copy/pasting all the way to simple swipe-based undo/redo actions.
Sidebar shortcuts allow you to use Mac modifier keys like Command, Control, and Shift to better control your apps through your iPad. However, this is limited to default keybinds within the app, so you won't have a ton of customization or personalization here.
App switching will let you suspend your Sidecar session so that you can use iPad apps before resyncing and continuing to use your iPad as a display. This is a great feature when you need to use iPad apps while in the middle of mirroring your screen.
You can also use Sidecar with your Apple Pencil for writing, drawing and sketching and see acceptable results for light usage. The app begins to fall short in a few areas, though.
First, stroke quality leaves a lot to be desired. In many instances, it's not uncommon to get splotches, skipped lines, and uneven stroke pressure in Sidecar.
Second, if you're the type of person who loves customizing their workflow and maximizing their productivity, you might be left wanting more options.
Both of these downsides are likely because Sidecar wasn't built specifically with artists in mind.
And that's where Astropad Studio comes in.
Astropad Studio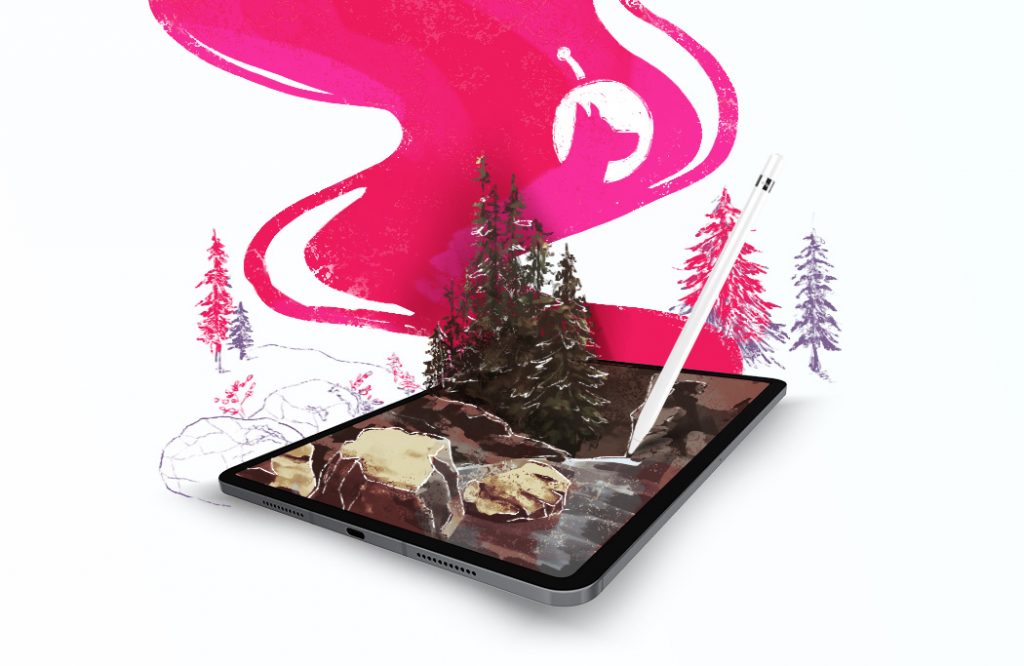 Astropad Studio was built with professional artists in mind and it's stocked with a robust set of features specifically designed for artistic and creative workflows.
In no uncertain terms, if you're serious about art, Astropad Studio will be a gamechanger for you.
Here are just a few of the features that are waiting for you when you integrate Astropad Studio into your creative setup:
Low-latency responsiveness is essential when you're looking for a smooth drawing experience. Astropad Studio uses a technology called Velocity Control, which analyzes your network conditions multiple times every second and adjusts image quality to maximize responsiveness. This keeps every input clean and precise.
Crystal clear image quality helps you actually see what you're trying to draw! Astropad Studio runs on LIQUID, a proprietary video technology that improves image quality for maximum performance and output. This helps you take advantage of your Retain display for maximum clarity through every stage of the artistic process.
Magic Gestures in Astropad Studio are a cut above what you'll see in Sidecar. All gestures inside Astropad Studio are tailored to artist workflows and your most commonly used tools. With Magic Gestures, everything from the ability to erase, hover, or right click is covered. You can even create custom gestures to match your unique work style.
Customizable app shortcuts give you easy access to program-specific shortcuts so that you can keep your workflows organized and efficient. Plus, our sidebar automatically adapts to whatever desktop app you're using for ultimate workspace customization. You can even add your own sidebar shortcuts, whether you want to quickly select a color picker or duplicate entire layers.
Custom pressure curves help you adjust your pressure to match the line style you're trying to achieve. This is something absolutely critical for serious artists looking to keep things consistent while working on a glass screen. In Astropad Studio, you can choose between Hard and Soft pressure curve options, or you can create your own style. You can even adjust your pencil strokes to avoid jitter and keep your lines clean and smooth.
And there's so much more to it than that. Over the years, our team has worked with countless artists to improve the digital drawing experience on the iPad.
It's why Astropad Studio is used in animation and design studios around the world and by individuals working on projects that you'll see in Triple-A games and on the silver screen.
And here's the best part: You don't even have to take our word for it. Try Astropad Studio free of charge for 14 days.
We know you won't be disappointed.
FAQ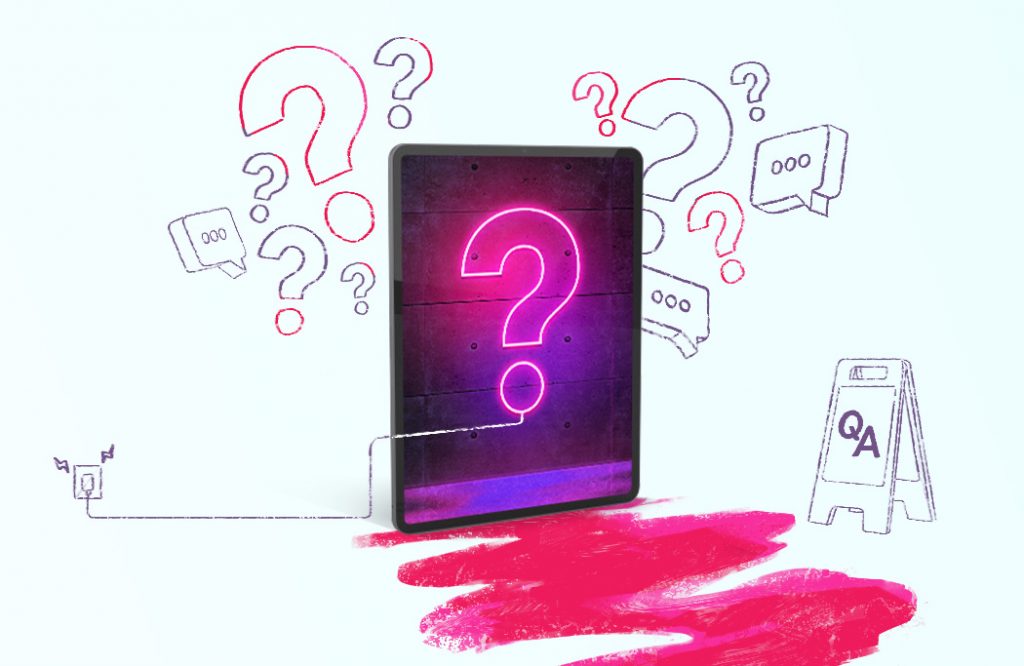 Is Astropad Studio compatible with my computer?
Astropad Studio supports both Mac and Windows computers, including older Mac models than Sidecar just doesn't support.
Here's the breakdown of what technology Astropad Studio supports:
Mac 2013 or newer on macOS 10.11 El Capitan or later.
iPad iOS 9.1 or later, including iPad mini 2 and iPad Air 2013 or later, iPad Pros 2016 or later, and iPad 5th generation 2017 and later.
Microsoft Windows 10 64-bit, Build 1809 or later.
You can find the full list of our system requirements here.
How much does Astropad Studio cost?
Astropad Studio costs $99/year or $12/month.
I'm worried about lag and performance. What do I do?
If you're worried about lag, tethering your iPad to your computer with a cable will always deliver the best performance.
That's true for both Astropad Studio and Sidecar because cabled connections provide more throughput for the information traveling between your devices.
Astropad Studio offers Velocity Control, which optimizes image quality based on network speed. This can go a long way in creating a seamless experience, but a wired connection is a surefire way to guarantee better performance.
Should I get Astropad Studio or Luna Display?
Ultimately, this comes down to whether you need a second display or an art-focused software tool. Both apps offer superior performance within their areas of expertise.
While Astropad Studio brings superior art performance and can mirror your macOS screen to your iPad in a pinch, Luna Display is a cut above the rest for desktop extension.
Better Art with Astropad Studio
Overall, Sidecar and Astropad Studio are both great options for the right user.
Sidecar is a good built-in solution for Mac users who need basic screen mirroring or extension functions. Its Apple Pencil and touch support combined with simple shortcut features make it a great fit for anyone wanting to use their iPad for a quick productivity boost.
But for digital artists who really want to transform their iPad into a graphics tablet, Astropad Studio is the way to go. Its extensive customization options and artist-focused productivity features make it the best choice for digital artists who want a workspace they can tailor to their unique needs.
Want to give it a try?
Download Astropad Studio from the App Store today and sign up for a 14-day free trial to experience next-level performance every time you sit down to draw.