Exploring the differences between standard Apple Pencil tips and Rock Paper Pencil
The Apple Pencil has empowered users to maximize the creative potential of their iPads.
But digital artists and notetakers might not love the slipper screen and inconsistent drag of their Apple Pencil on iPad. So what if there was an Apple Pencil tip replacement that was more precise and authentic to a pen-on-paper feel?
Rock Paper Pencil is an all-in-one product that does just that. Let's take a look at this iPad accessory and see whether it is a good fit for you.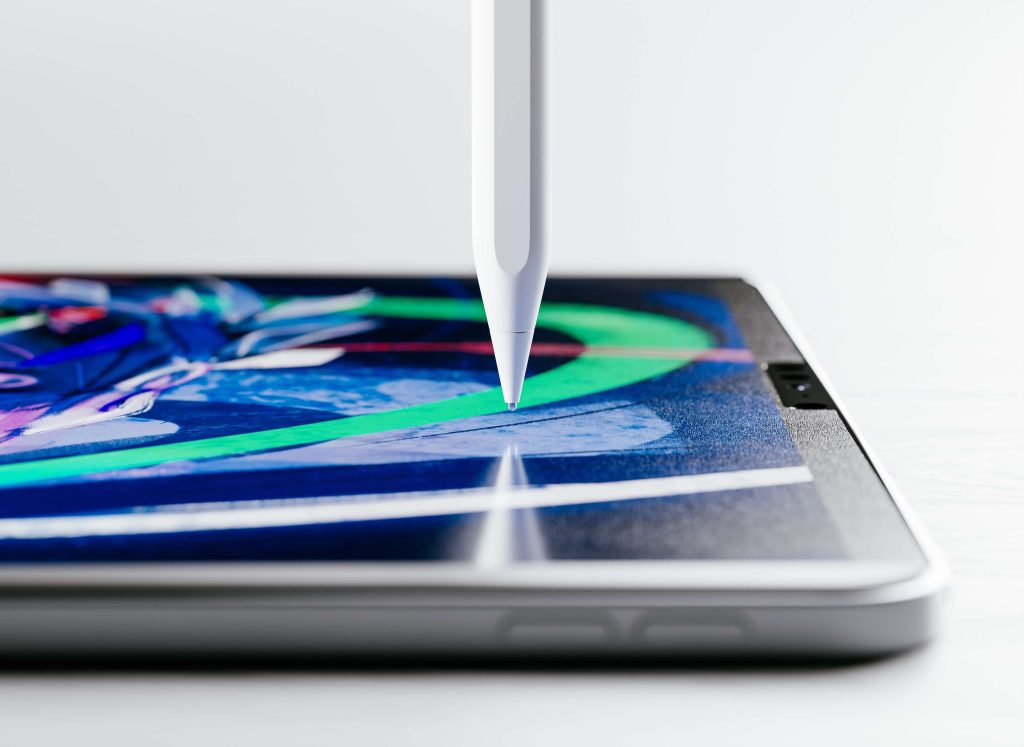 What Is Rock Paper Pencil?
When it comes to paper-feel iPad accessories, a lot of the focus rests on the screen protector. But what about the Apple Pencil Tips?
Rock Paper Pencil is the only product on the market that combines a paper-feel screen protector with stylus tips that replicate the feeling of a ballpoint pen.
The iPad screen protector has a built-in nano-texture that replicates the subtle grainy friction of writing or drawing on a piece of paper. On top of that, the Apple Pencil Tip replacements emulate the drag that you would feel with a typical ballpoint pen. By combining a textured screen with textured pen nibs, Rock Paper Pencil is ideal for iPad users who want to take realistic notes and create hand-drawn art.
Apple Pencil Tips vs. Rock Paper Pencil Tips
The standard Apple Pencil Tips offer pressure sensitivity, tilt control, and much more. The only caveat is that they are designed to complement slippery, drag-resistant iPad screens. Artists and notetakers who prefer the feeling of writing on paper will notice that standard Apple Pencil Tips do not align with their workflow.
Rock Paper Pencil combats the slippery, inconsistent drag that comes with branded Apple Pencil Tips. The ballpoint tip combined with the subtle grain of the screen protector ensures that each stroke is realistic and consistent, making for an unbeatable pen-on-paper feel.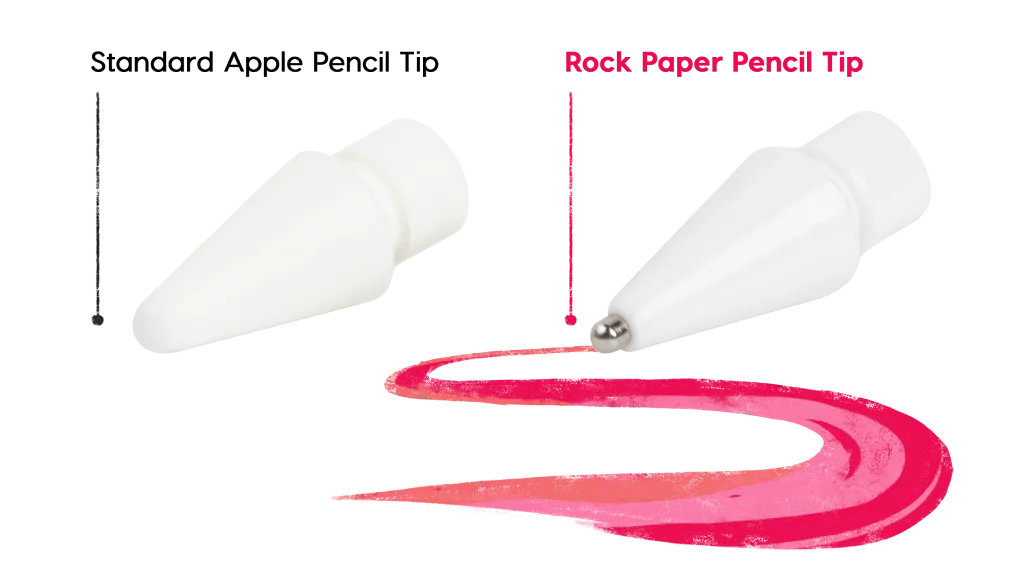 Who Should Use Rock Paper Pencil?
If you use your iPad casually for the occasional internet search and Youtube video, chances are that you do not need Rock Paper Pencil. This product is aimed at heavy iPad users who want realism, precision, and durability.
Realistic: Nanotechnology ensures that you get a realistic pen-on-paper feel every time! Artists can translate their characters to a paper-like screen, and notetakers can create consistent letters, words, and paragraphs.
Precise: Rock Paper Pencil's ballpoint Apple Pencil Tips allow for controlled and precise lines when drawing and writing.
Reusable: Rock Paper Pencil is not the only screen protector on the market that emulates the feeling of writing on paper, but it is the most eco-friendly and durable option. Other brands like Paperlike can only be used once, whereas Rock Paper Pencil's screen protector comes with two magnetic strips that allow users to install and remove it with ease. Besides, other brands don't come with Apple Pencil Tip replacements!
So, who is a good candidate for Rock Paper Pencil?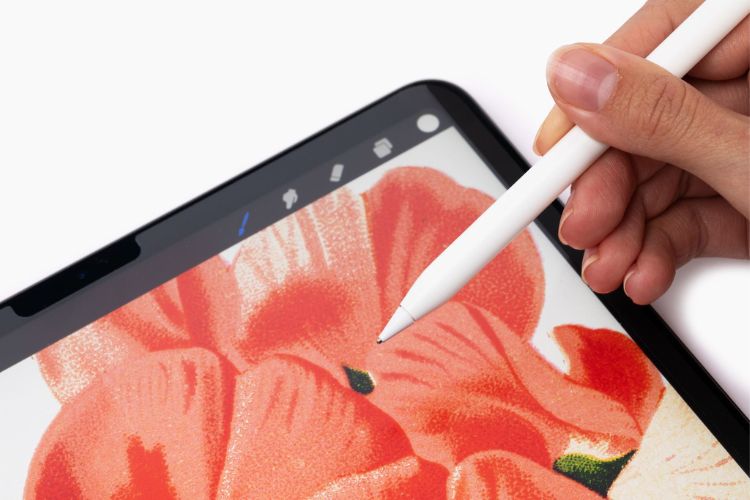 Artists
Graphic designers and even burgeoning artists harness the power of iPads to create amazing, eye-catching works of art. But how do they translate their drawings and sketches to a technological medium? Rock Paper Pencil is one of the few products that considers this problem from every angle. This cohesive iPad accessory transforms your iPad screen into a piece of sketchbook paper and your Apple Pencil into a ballpoint pen.
Notetakers
Whether you are a student, researcher, or an avid writer, you may have discovered the benefits of using an iPad for notetaking. Note apps offer endless reams of digital paper, a whole plethora of tools, and the option to take notes side-by-side with Google tabs. And when you add a screen protector and Apple Pencil Tip replacement that creates a pen-on-paper feel, you will massively streamline your workflow. Writing on a normal iPad screen can feel strange and disjointed, so Rock Paper Pencil is the perfect solution for notetakers who want the benefits of modern technology and the familiarity of writing on paper.
What Does Rock Paper Pencil Come With?
Rock Paper Pencil is a complete solution to the age-old problem of slippery iPad surfaces.
1x reusable screen protector
2x ballpoint Apple Pencil Tip replacements
1x storage folder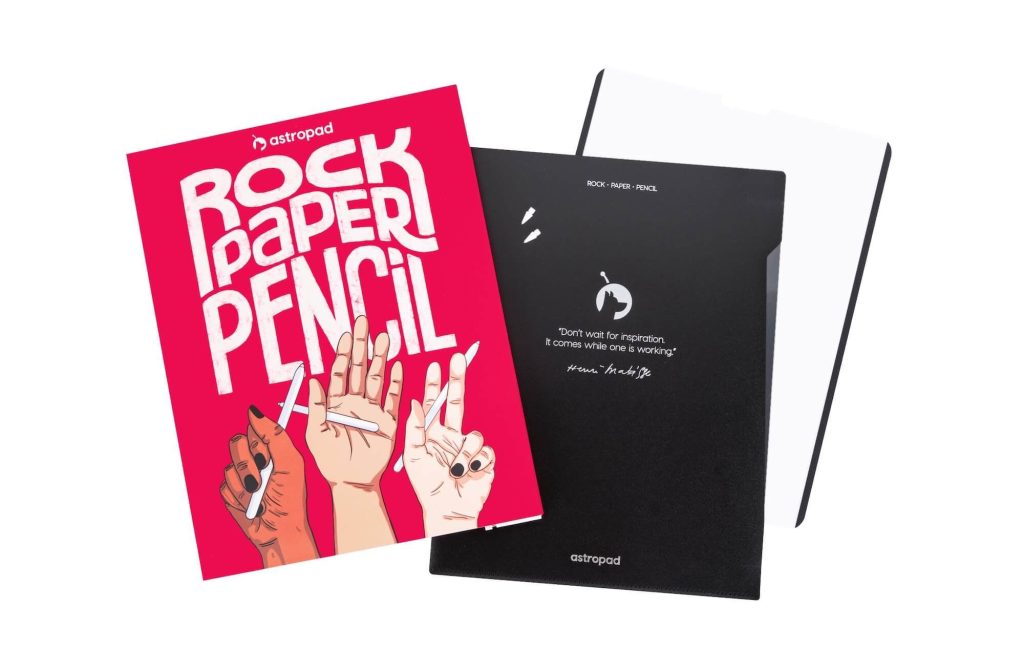 How to Install Apple Pencil Tip Replacements
Installing Apple Pencil Tips is super easy; anyone can do it.
Turn the Apple Pencil tip counterclockwise to loosen and remove it from the Apple Pencil.
Place the new tip on the metal prong
Screw on the Apple Pencil tip replacement clockwise
There you have it! You can install Rock Paper Pencil's Apple Pen Tip replacements just like a normal Apple tip, so there are no extra steps. Just twist, remove, and add a new nib.
Final Thoughts
Apple Pencil Tips might be brilliant for casual iPad users, but regular iPad users need extra accessories to get the most out of their iPads. Graphic designers, researchers, and students who want to translate their hand-drawn creations onto iPads will benefit from the unbeatable pen-on-paper feel of Rock Paper Pencil.
Intrigued by the idea of an Apple Pencil Tip replacement that feels just like a ballpoint pen?