In the battle of Adobe Fresco vs Procreate, which app comes out supreme?
Adobe Fresco vs Procreate, which is your winner? Both apps are excellent for artists who want to dip their toes into the world of digital art. They boast an impressive array of brushes, tools, and even 3D abilities. But which is the best?
In this guide, we will look at the pros and cons of each app and discover interesting animation features, brushes, and more.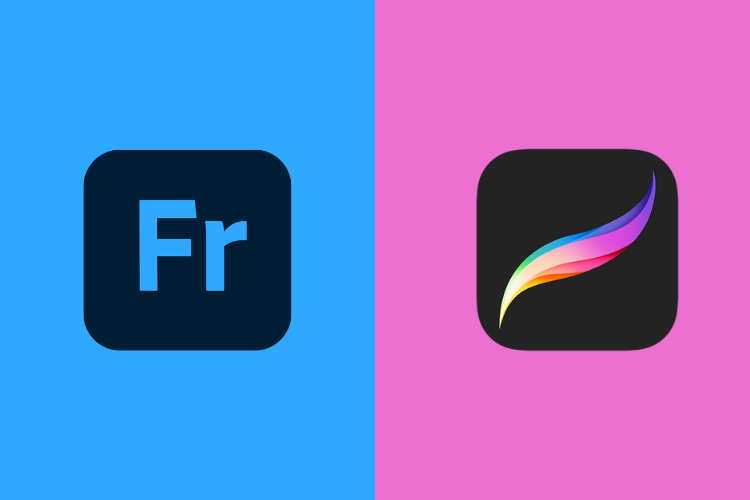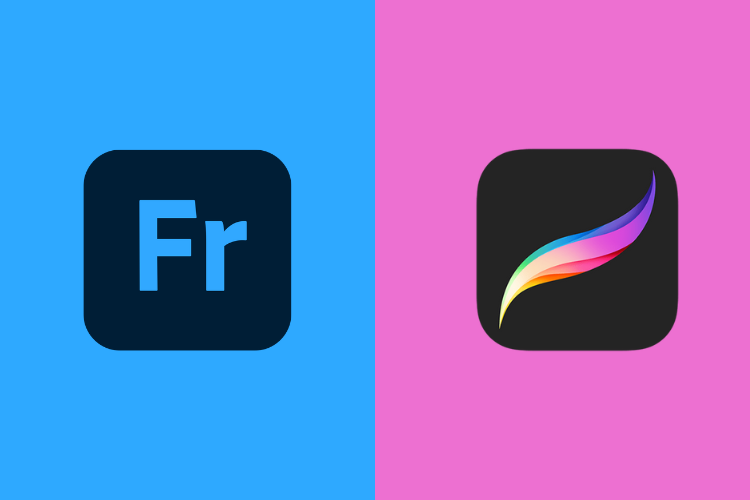 Adobe Fresco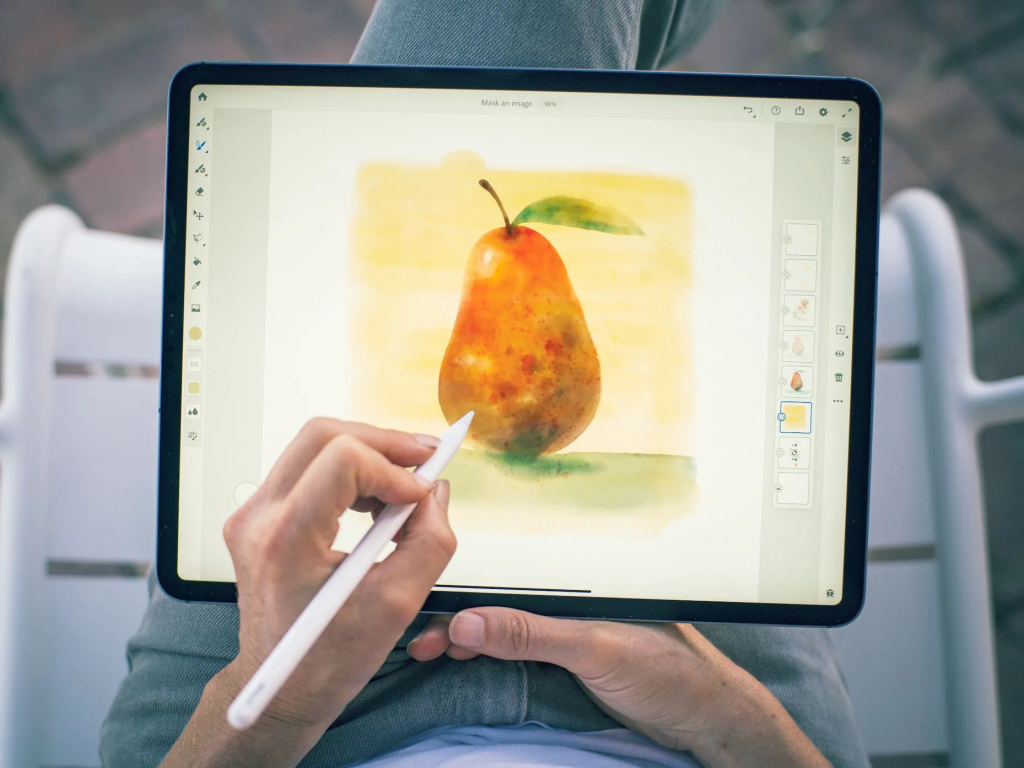 Adobe Fresco is a free digital painting and drawing app. It has a brilliant range of digital brushes that artists of all skill sets can appreciate. Artists can expect realistic textures and precise brush strokes.
Adobe Fresco caters to people who want to get more out of their artwork. With Fresco, you can live stream your art and create animations. This app offers live brushes, pixel brushes, and vector brushes.
On top of that, the app has excellent motion graphic capabilities. Artists can take advantage of the built-in motion path lines to create fantastic animations.
What Can I Use Adobe Fresco On?
You can use Adobe Fresco on iPads and iPhones that support IOS14 or later operating systems. It also works on Microsoft Surface Pro and any Windows desktops that run Windows 10 version 1903 or Windows 11 version 22000.
You can even use Adobe Fresco with some Wacom drawing tablets. The most popular compatible tablets are Wacom Intuos and Wacom MobileStudio Pro.
Here are some of the systems that do not support Adobe Fresco.
Apple computers
Android
Other types of tablets
As we dive deeper into Adobe Fresco vs Procreate, we will discover one of the main similarities between the apps: neither is available on Android systems.
What Styluses Can I Use With Adobe Fresco?
If you are using Adobe Fresco on an iPad, you need to buy an Apple stylus. If you are using a Microsoft Surface Pro tablet, you will have to buy another compatible stylus.
Adobe Fresco Features
Live Brushes – Live Brushes are an excellent feature for artists who want to create authentic art. They look just like the real thing! The Watercolor Live Brush bleeds and the Live Oil Brush has a creamy, realistic quality.
Pixel and Vector Brushes – Pixel Brushes are basic raster brushes, and Vector Brushes are made from smooth, mathematically-produced straight or curved lines. Choose your favorite type of brush to create artwork for different mediums and purposes.
Full-Screen Mode – Full-Screen Mode enables artists to remove distractions and focus on their craft.
Paint Inside – Paint Inside allows you to place brushstrokes within certain boundaries, meaning you can color specific objects.
Polygonal Lasso Selections – You can create repeating polygonal shapes with this nifty new feature.
3D Typography – Artists can easily make typographic art that stands out from the crowd with this 3D tool.
Best Times to Use Adobe Fresco
The best way to find your winner in the battle of Adobe Fresco vs Procreate is to look at the uses for each app. Here are a few examples of Adobe Fresco uses.
Use the Liquify tool to create abstract, surrealist artwork.
Use Live Brushes to create realistic reproductions of your favorite watercolor paintings.
Use the built-in motion pathways to streamline your animation process.
Take advantage of the cloud system and edit your artwork on your iPhone.
Use the Pixel Brush to create artwork for games, apps, and online graphics.
Use the Polygonal Lasso Selections tool to create quick, symmetrical patterns.
Pros of Adobe Fresco
Animator-friendly – Artists can animate their artwork with frame-by-frame detail and versatile motion paths.
Cloud compatible – Adobe Fresco uses cloud documents, so your art syncs to the cloud. You can start a digital drawing on your iPhone and finish it on your iPad.
Adobe suite complementary – Adobe Fresco is designed to work with Photoshop. These apps can be used together to edit, add text, create new artwork, and more.
Free – Believe it or not, this innovative app offers a free version!
Modern – The brains behind Adobe Fresco have been busy. Since this digital tool first hit the app store, it has had 24 updates and received more than 100 new features. When you use Adobe Fresco, you will always get the most modern, up-to-date digital drawing tech.
Versatile brush types – Adobe Fresco has Vector Brushes, Pixel Brushes, and Live Brushes, so it caters to every kind of artist.
Cons of Adobe Fresco
Full version requires a monthly cost – The free version of Adobe Fresco offers some of the best digital art tools, but not all of them. To get your hands on everything that Adobe Fresco has to offer, you will have to pay a monthly fee.
Limited shape and text tools – If you wanted to experiment with text options and shapes, Adobe Fresco might not be the best option for you.
Brush customization options are limited – It is possible to create your own brushes in Adobe Fresco, but this app does not offer as many options as Procreate. On top of that, it is impossible to import brushes that you have made in other software.
Not available on Android – Artists who have Android technology cannot access Adobe Fresco.
Learning curve – There is a slight learning curve associated with Adobe Fresco, which might not appeal to artists who want to hit the ground running.
Procreate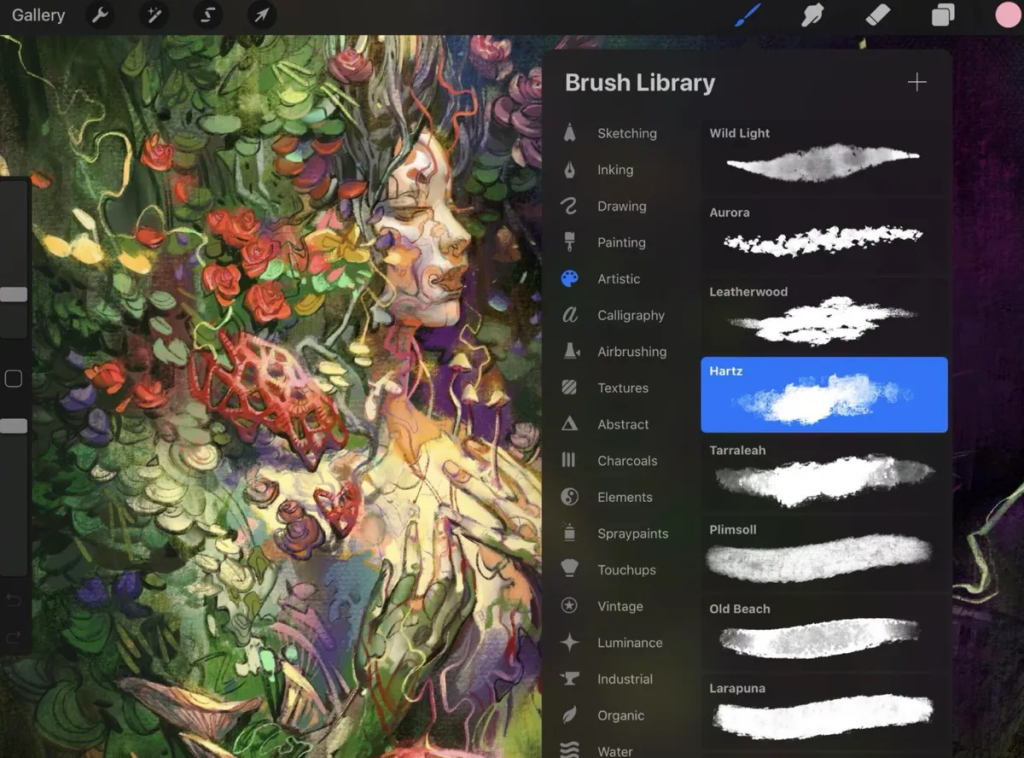 To settle the battle of Adobe Fresco vs Procreate, let's take a deeper look into Procreate.
Procreate is a pixel-based digital art app that was designed exclusively for iPad users. With Procreate, the sky is the limit. The low learning curve, array of art tools, and simple user interface have catapulted Procreate into the mainstream. When people think of digital art tools, they often think of Procreate.
This app has all sorts of brushes, including charcoal, paintbrushes, pencils, and more. When you combine Procreate with a compatible stylus, you can transport your work into a digital format without losing your unique style.
As well as digital art tools, Procreate also has helpful editing tools. Artists can manipulate layers, masks, and groups to build their vision. The great thing about Procreate is that everything is powered by Apple's Valkyrie engine and that, along with Apple's ProMotion technology, allows artists to paint at speeds of up to 120fps.
What Can I Use Procreate On?
As long as your iPad runs iPadOS 14.4 or a more modern operating system, you can use Procreate.
Procreate has also made an iPhone adjacent app called Procreate Pocket. It does not have the exact same features, but it has an impressive array of digital drawing tools for people who want to create art when they are on the move.
What Styluses Can I Use With Procreate?
Procreate works with Apple styluses. Buy whichever stylus your iPad is compatible with, and you will have a fully functioning digital art stylus.
Procreate Features
Two-Finger Undo – The Two-Finger Undo feature allows users to undo their last move, meaning they can effortlessly alter their canvas without interrupting their workflow.
3D Model Painting – This tool allows artists to paint straight onto imported 3D models.
Animation Assist – This interface comes with a whole host of animator-specific tools. Onion-skimming, Instant Playback, and a Virtual Timeline allow artists to edit specific frames and whole animations.
Streamline – Make every loop, curve, and line that you draw super smooth. The Streamline tool creates a professional finish.
Symmetry – The symmetry tool allows artists to create perfectly symmetrical artwork, so nothing is left to chance.
Augmented Reality – With this tool, users can see their 3D designs in real spaces.
Best Times to Use Procreate
Here are a few examples of Procreate uses.
Use the Animation Assist tool to create full-scale, detailed animations for competitions and school projects.
Use the Brush Studio to create brushes that reflect your artistic style.
Use the Watercolor brush to create realistic replicas of your favorite local outdoor spaces.
Use the Symmetry tool to create perfectly proportioned patterns for backgrounds and wallpaper.
Use the Augmented Reality tool to stress-test your newest 3D creations before moving to production.
Pros of Procreate
One-time purchase – Once you have paid the $9.99 app fee, you have all of Procreate at your disposal. There are no hidden fees.
Customizable – Artists can customize each brush in the Brush Studio. This allows users to create truly unique pieces that reflect their style.
Intuitive Hand Gestures – Procreate is built to work with your touch. Features like the Two-Finger Undo, Three-Finger Redo, and Four-Finger Hide UI blur the divide between artist and canvas.
Accessible – The brains behind Procreate have implemented a range of accessibility tools. Single Touch Gestures, Feedback Sounds, and Color Descriptions make it easier than ever for everyone to unleash their creative potential.
Cons of Procreate
Does not support motion paths – Artists who want to animate their work are not able to move objects along curves and complicated shapes.
Not available for Android – Procreate is an Apple product through and through, meaning it is not available for artists who prefer Android.
Limited color settings – Procreate allows users to customize color most of the time, but it does not give artists the power to adjust color settings on a whole document. Because of this, lots of artists make their final touches in Illustrator.
No vectors – This digital art tool does not have the ability to create vectors. It only supports pixel art, which restricts the file size and the number of colors that are available.
Adobe Fresco vs Procreate: Price
To really get to the bottom of Adobe Fresco vs Procreate, we need to look at the price.
Adobe Fresco is free to download, but Procreate will set you back $9.99. The only catch is that the free Adobe Fresco app is not the full version. If you want to unlock the full power of Adobe Fresco, you need to pay $9.99 a month.
On the other hand, Procreate will never ask you to pay a monthly fee. Artists pay a one-time fee of $9.99 to download the app.
Adobe Fresco vs Procreate: Final Thoughts
So, which well-known app is the overall winner?
While the answer will depend on your personal preferences and digital drawing goals, here are our final thoughts:
Fresco is the best option for artists who want to:
Create and edit animations screen-by-screen to create detailed, professional clips
Switch between vector and raster brushes to create a range of artwork for different mediums
Procreate is the best option for artists who want to:
Quickly learn how to use digital art tools and start creating their own work
Create realistic hand-drawn creations with charcoal, paint, and other brushes
Take advantage of the pixel format to create very detailed artwork
Draw Comfortably with Darkboard iPad Stand
While iPads are a great digital drawing tool, they can often be uncomfortable to work on. Our iPad Stand, Darkboard, extends the area around your iPad to comfortably cushion your arms and wrists during long creative sessions.
Whether you want to work from your desk, your couch, or on the go, Darkboard accommodates three different setups:
Easel setup – This 30-degree angle allows you to comfortably draw or write at your desk without straining your hands, wrists, or eyes.
Vertical setup – With a vertical setup, you can use your iPad just as you would use a computer monitor. Connect your iPad to a compatible keyboard for the full experience.
In your lap – Of course, you can also place the Darkboard on your lap. This is ideal for people who want to relax in bed or on the couch while they draw.
Join over 1,600 artists who are using Darkboard and shop now!